Oath Rebranded in Verizon Restructuring as 'Verizon Media Group/Oath'; Advertising Association/WARC Expenditure Report
by Romany Reagan on 9th Nov 2018 in News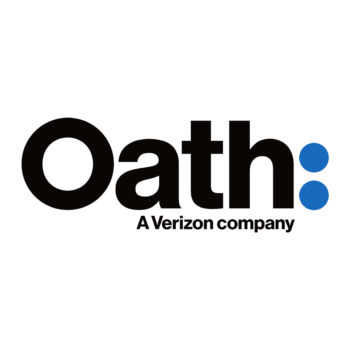 In this weekly segment, ExchangeWire sums up key industry updates on ad tech from around the EMEA region – and in this edition: Oath Rebranded in Verizon Restructuring as 'Verizon Media Group/Oath'; Advertising Association/WARC Expenditure Report; Xaxis report: 
Custom KPIs Used by Almost 9-in-10 UK Marketers Signalling Move to Accountable Strategies; and Trustworthy Accountability Group (TAG) Study Finds 84% Less Fraud in Tag Certified Distribution Channels.
Oath Rebranded in Verizon Restructuring as 'Verizon Media Group/Oath'
Verizon Communications Inc. announced Monday the rebranding of Oath, parent of AOL and Yahoo, as 'Verizon Media Group/Oath' as part of a general overhaul of the telecom's operating structure, according to an announcement. The new operating structure will focus on three customer-facing areas: Consumer, Business, and Verizon Media Group/Oath.
These groups will be supported by a network and IT organisation, and corporate-wide staff functions. The changes will be effective 1 January, 2019. Verizon expects to transition to financial reporting under the new structure during second-quarter 2019.
"This new structure reflects a clear strategy that starts with Verizon customers", said CEO Hans Vestberg. "We're building on our network transformation efforts and the Intelligent Edge architecture to deliver new customer experiences and optimise the growth opportunities we see as leaders in the 5G era. We're focused on how our technology can benefit customers' lives and society at large."
Verizon Consumer Group will include the consumer segment for both the company's wireless and wireline businesses, including wireless wholesale. It will be led by Ronan Dunne, currently executive vice president and president of Verizon Wireless.
Verizon Business Group will include the wireless and wireline enterprise, small and medium business, and government businesses, as well as wireline wholesale and Verizon Connect, the company's telematics business. It will be led by Tami Erwin, currently executive vice president, wireless operations.
Verizon Media Group/Oath sits at the intersection of media, advertising, and technology, helping people access and receive media, entertainment, gaming, news, commerce and other services. It will be led by Guru Gowrappan, who was previously announced as Oath CEO.
All three groups will be supported by corporate-wide network, IT and staff functions.
Verizon adds there will be no leadership or staff changes.
Advertising Association/WARC Expenditure Report: UK Advertising Delivers 20th Consecutive Quarter of Growth & Strongest Total H1 Ad Spend Since 2014
UK ad spend rose 6.4% year-on-year to reach £5.6bn in Q2 2018 – the 20th consecutive quarter of market growth. Coupled with an overall ad spend rise of 7.2% year-on-year during the first half of 2018, to a total of £11.4bn, this was both the strongest second quarter and first half since 2014.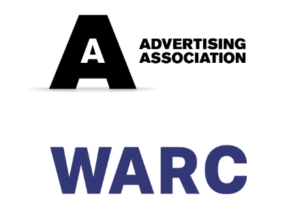 This record investment, highlighted in Advertising Association/WARC Expenditure Report data, published yesterday (8 November), means full-year outlooks for 2018 and 2019 have been upgraded to +6.3% and +4.9%, respectively. This would lead to a projected ad spend total of over £23.5bn for 2018.
Overall market growth is being driven by increased spend on online advertising. Internet advertising – inclusive of online revenues for newsbrands, magazine brands, broadcaster video-on-demand, and radio station websites – continues to grow at a rapid rate and, consequently, full-year projection figures have been upgraded by 3.5 points to 13.3% growth this year. This would result in over £13bn being spent on online advertising in the UK this year.
Data show that mobile accounted for over half of search spend for the first time in the second quarter. Further, display formats are also growing strongly – online video attracted half a billion pounds during the three months to end-June.
The TV market grew ahead of expectations in the second quarter of 2018, with total spend rising 1.9% to £1.2bn. Spot advertising – 89% of the total – rose for the third consecutive quarter, and the 1.4% growth rate was ahead of forecast.
The figures come as the UK Government seeks to come to an agreement with EU on Brexit and are based on a positive outcome to negotiations, as is sought by both sides.
Xaxis report: 
Custom KPIs Used by Almost 9-in-10 UK Marketers Signalling Move to Accountable Strategies
An overwhelming majority (86%) of UK brand marketers now use custom KPIs to link marketing activity with business objectives, compared with only a quarter (24%) of marketers still relying on click-through rates as their primary metric.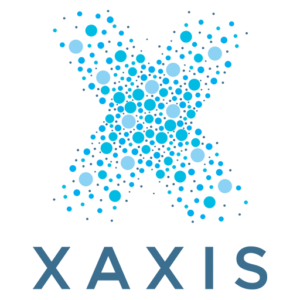 New research from Xaxis, GroupM's advanced programmatic media arm, highlights that 8-in-10 (81%) digital marketers are looking to increase investment in outcome-driven media based on custom KPIs in the next 12-24 months. This is in direct response to organisational priorities identified as increased efficiency (50%), better use of resources (40%), and aligning marketing strategies with business objectives (38%). Surprisingly, ensuring that all ad campaigns run in brand-safe environments – an issue that is consistently highlighted – was a lower priority for UK marketers (23%).
The majority (81%) of brand marketers feel it is essential for digital campaigns to drive a direct correlation with business outcomes, with more than three-quarters (77%) agreeing they see a positive impact on their marketing budget if objectives are met; while a similar proportion (76%) believes the understanding gives them measurable competitive advantage within the market.
However, this forward-thinking approach to digital media evaluation doesn't present a complete picture of the UK digital advertising ecosystem. Looking back over the past five years, 7-in-10 (71%) UK marketers feel it has become more difficult to evaluate digital media spend. A similar proportion (73%) are open to changing their primary method of digital media evaluation in the next year or two, due to this increasingly complex ecosystem. Among those looking to change, barriers identified include budget and resources (20%), as well as current methods being too embedded both internally (16%) and externally (17%). Only a small fraction of marketers (6%) believe there would be no barriers in changing how their organisation evaluates digital media spend.
Commenting on the findings, Harry Harcus, UK and pan-regional managing director of Xaxis, said: "The study follows increasing frustration from marketers with current attribution methods and marketing strategies that do not contribute to wider business objectives. While it's disappointing to see proxy metrics such as click-through rates still being used in some cases as a primary measure – with the UK responsible for the highest level across Europe – we're reassured that the overwhelming majority of marketers understand the advantages that outcome-driven media can offer and are demanding accountable strategies. This indicates that industry education around more effective measurement is starting to have a demonstrable impact on the market."
Trustworthy Accountability Group (TAG) Study Finds 84% Less Fraud in Tag Certified Distribution Channels
The Trustworthy Accountability Group (TAG), an advertising industry initiative to fight criminal activity in the digital advertising supply chain, yesterday (8 November) released an updated analysis by The 614 Group showing a reduction in fraud of more than 84% in TAG Certified distribution channels vs the broader industry average.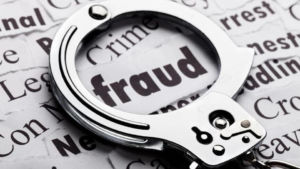 The analysis measured more than 75 billion ad impressions in 2018 from five of the largest ad agency holding companies, and it found that invalid traffic (IVT) rates were held to less than 2% in TAG Certified channels for the second year in a row. The 614 Group expanded its analysis from 2017 to include Sophisticated Invalid Traffic (SIVT) and a broader range of inventory types, including billions of video, mobile web, and in-app ads.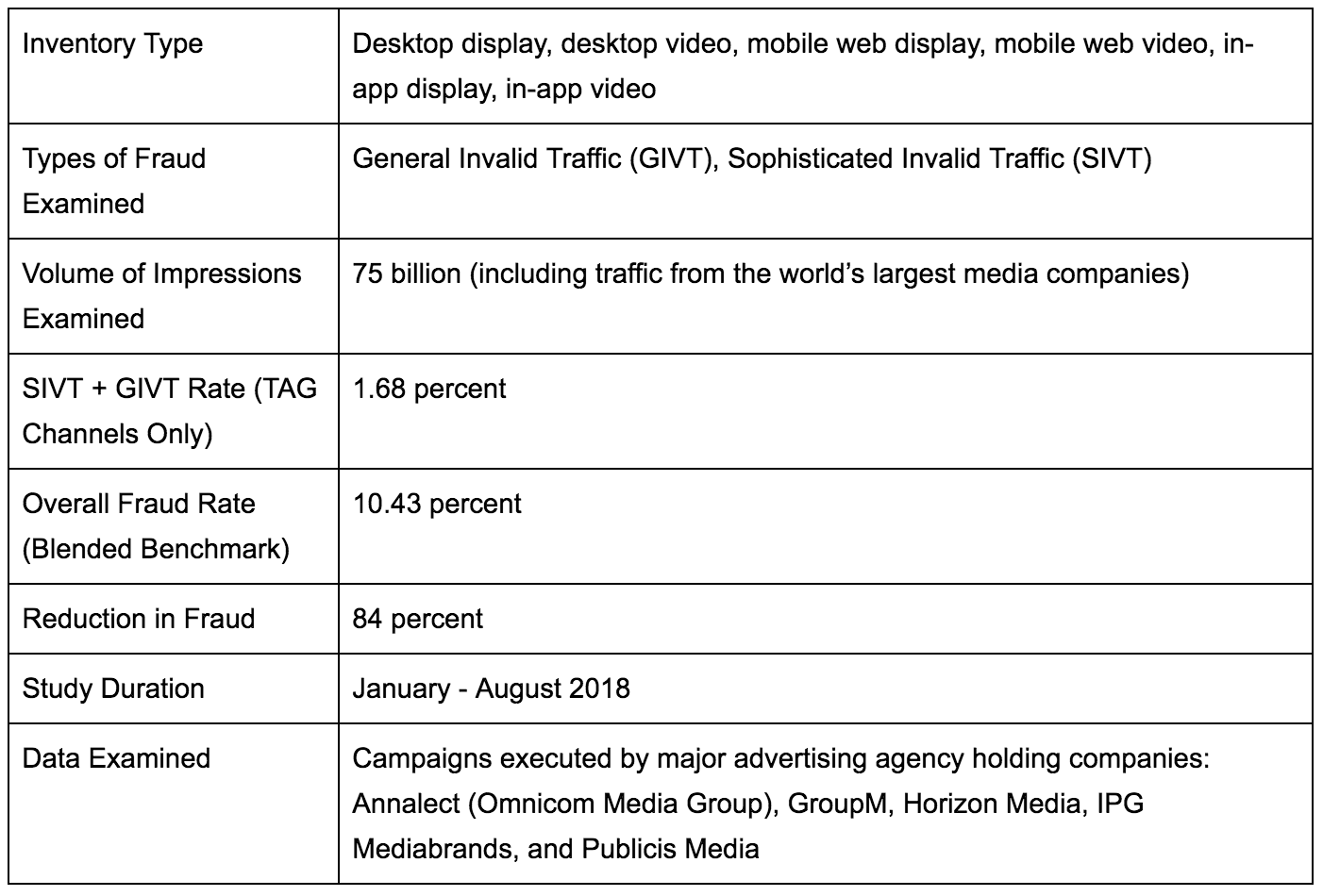 The full study can be found here.
Additional information about TAG's Certified Against Fraud Program and how companies from across the advertising ecosystem can received the TAG Certified Against Fraud Seal can be found here.