Programmatic Technology Is Heralding New Growth in OOH
by Mathew Broughton on 8th May 2019 in News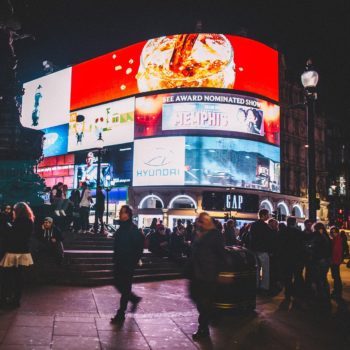 Out of home (OOH) advertising has been around for centuries, however the addition of programmatic technology and sophisticated data management methods have made this format one of the most exciting and rapidly developing sectors within the ad industry. In this article for ExchangeWire, Sue Hunt (pictured below), chief revenue officer of VIOOH, discusses how programmatic is affecting the oldest advertising medium, as well as what steps can be taken to scale OOH advertising going forward.
Advertising's oldest medium is becoming its most exciting new channel. And in an era dominated by digital and shaped by technology, out of home (OOH) is delivering incredible new levels of innovation, effectiveness and efficiency.
Certainly the introduction of programmatic technology to outdoor will help make it more accountable and accessible, more flexible, and more creative. Automation, and in turn, programmatic, promises to take the best of outdoor and enhance it.
But the industry is changing, so it's important to acknowledge and understand the market's perceptions. In particular, we need to make sure that the term 'programmatic' is well defined and the market is properly educated around its use in DOOH; something we have set out to do over the coming months.
During Q1 2019 we developed our 'State of the Nation: The Future of Digital OOH' report. As part of the report we commissioned qualitative research with expert practitioners working across the outdoor and programmatic industries, including in-depth interviews with Cecile Blanc (Xaxis), Stuart Hall (GroupM), JP Major (MediaCom), Adrian Witter (Kinetic), Ben Wilkins (Regital), Ruth Zohrer (Mindshare WW), Graham Tricker (Liveramp) and Paul Sambrook (Rapport).
They believed (as we do) that outdoor will continue to grow fuelled by digital and programmatic trading and technologies. In fact, our respondents believe that accountability, measurability, and accessibility will bring a new generation of buyers to DOOH.
However, it is incumbent on the industry at large to ensure that the right information is shared and understood; this is not programmatic as digital buyers know it. Programmatic relates to the tech and data involved in the planning, trading, and delivery of advertising; not to a specific channel.
It is crucial to educate programmatic practitioners on the particular attributes that OOH offers as well as the differences. Standards will be different; data is different; measurement differs.
So we are focusing on the positives of programmatic and redefining the expectations of the industry. And by educating the market we can ensure it's well versed on the differences of DOOH, as a one-to-many medium and not a one-to-one medium.
DOOH – even powered by programmatic – will never be, nor should it be, a one-to-one environment as experienced online. Data in OOH is very different to the traditional usage in programmatic and digital – the 'clicks' are different and personalisation is about getting the right messaging to the right audiences, at the right time, place and mindset. Measurement metrics are more audience-based and better for that.
A major benefit, and instrumental difference, is outdoor ads are not placed within a content environment, and so will never compromise an advertiser's brand – and unique to OOH, full completion of ads is guaranteed. Additionally, all audience-based data is compliant with the EU's General Data Protection Regulation (GDPR) and audited, so can be incorporated into the planning, trading and measuring of campaigns.
Ultimately, advertisers will be getting more from their budgets, because programmatic will enable granularity, and targeted audience planning and buying will increase efficiency and effectiveness, brand safety and measurement. For media buyers, programmatic DOOH really does connect the sweet spot of being able to deliver brand and performance marketing.
Programmatic DOOH also offers advertisers possibly the only environment in which you can feasibly target at scale valuable 16 to 34-year-olds outside of social media. Add in the ability also to target those young people on phones and through social media and you have a rich, connected campaign. An advertiser's first- and third-party data can be used to optimise its OOH campaigns and create a more unified user experience across all media channels.
All of this is why we expect to see more budgets through digital impression-based audience currencies, and that, too, is an education piece – because the currencies are not the same. Above all, it's about keeping it simple, making it a tangible, accessible and attractive proposition for brands and their agencies.
However, our research shows collaboration and closer working relationships are integral to really accelerate change in OOH. Get this right, together, and the industry will be able to affect true change.