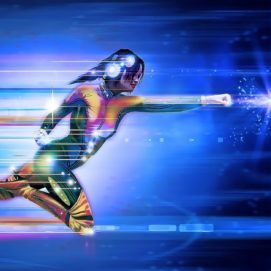 Writing exclusively for ExchangeWire, Andrew Morsy (pictured below), managing director international, Peer39, takes a creative look at how content, rather than audience, is set to become the point of focus for the digital advertising industry.
If digital advertising was a blockbuster movie, its hero would be the audience, around which all action is centred. As a result, an entire industry has grown up around the targeting of ads based on consumers' personal information and internet habits.
But as the ecosystem's storyline unfolds, a variety of plot twists are casting doubt on audience targeting's suitability to continue this supporting role. Data restrictions imposed by the General Data Protection Regulation (GDPR) and the imminent California Consumer Privacy Act (CCPA), the Information Commissioner's Office (ICO) concerns around the use of personal data for advertising, and Google's tightening of the rules around political targeting ahead of the election; all suggest audience targeting will become more of an extra than a main character.
It's time for the spotlight to shine elsewhere – on digital content. In particular, contextual targeting using on-page content is ready to step in and play its part. This isn't a totally new concept; contextual was a key method of digital ad placement before audience targeting took off. But the technique hasn't just waited patiently in the wings for behavioural targeting to bomb at the box office. It's been learning new lines and perfecting its performance ready to take centre stage once more. Here are three reasons content is becoming the new digital hero.
An immersive backstory
Every hit movie needs a captivating backstory and digital advertising is no different. Advances in contextual targeting enable a semantic approach that goes beyond the words on a page to analyse the relationship between those words and gain a deep understanding of what digital content is actually saying. Analysing every web page holistically to comprehend its true meaning allows the messaging of ads placed within content to really resonate with their environment.
When advertisers truly understand the digital environment, they gain unparalleled insight into the context of the individuals engaging with content. A consumer's immediate needs and priorities can be gauged more accurately from the content they consume in the moment than from any amount of historic personal data. By placing ads in a context that resonates, brands can capture the user's attention when they are in the right mindset to engage. They can create their own semantic categories for maximum effect and can bring in other contextual data points such as local weather conditions that make targeting even more precise and relevant without using personal information.
Effective conflict resolution
No movie plot is complete without an element of drama, but there are certain types of conflict advertisers would rather resolve, to preserve and protect brand integrity. Consumers hold brands accountable for the credibility of the content they advertise alongside and almost two-thirds will cease buying from a brand if they view its advertising next to false, objectionable or inflammatory online content. Advanced contextual targeting can resolve this conflict and maintain brand safety in a variety of ways.
Firstly, it can ensure advertisers proactively avoid ad placement adjacency around harmful topics such as crime, profanity and hate speech. But contextual targeting is more nuanced than just avoiding obviously damaging subjects. Advanced sentiment analysis can be used to identify and categorise opinions in online content to discover whether the attitude expressed towards a topic, product or brand is positive or negative. Advertisers can evade placement alongside content that expresses adverse views about their brand and can make use of vertical-specific segments to help them avoid association with negative content that relates to their industry.
A touch of star quality
From the studio sets and outdoor scenery to the actors and scripts, a quality environment is essential for an epic movie, and it's just as important for digital advertising. According to World Media Group (WMG), a global alliance of a dozen leading news and media companies, digital ads viewed on trusted editorial sites associated with high-quality journalism generate a more engaged consumer audience. By fully understanding the digital environment, contextual advertising helps brands ensure their ads only appear on high quality, content-rich pages with minimal ad clutter and viewable placements, dramatically enhancing consumer perception of the brand and its messaging.
In addition to quality environments, brands also need scale, and contextual targeting can achieve this by analysing every potential web page in real time to determine meaning and suitability. In addition, by algorithmically predicting which pieces of content have a high likelihood of going viral using factors such as publish date and social media shares, advertisers can target trending content and achieve immense reach without sacrificing quality.
While the audience itself will always remain the star of the show in digital advertising, targeting that audience through personal or behavioural data is raising privacy concerns and no longer guarantees blockbuster success. It is time to consider both audience and environment. Advanced contextual targeting provides an immersive backstory that places ads within content that resonates with users in the right mindset, a resolution to the brand safety conflict that allows brands to protect their integrity, and a touch of star quality that places ads in premium environments at scale. In an evolving privacy-friendly landscape, content is becoming the new hero of the digital advertising plot.