When Digital Ads Go Rogue, and the Quest for Nuanced AI
by Mathew Broughton on 16th Mar 2020 in News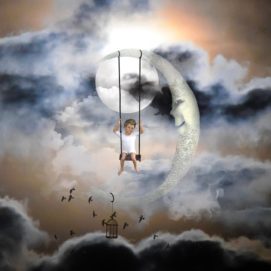 In this exclusive article written for ExchangeWire, Omar Amath, head of ad and data operations (pictured below), agenda21, highlights how third-party content verification platforms can assist in ensuring brand safety, while aiding publishers reclaim revenue lost to over-zealous block-listing.
News stories about badly placed digital ads, in which the brand, media owner ad agency involved are all pointing the finger at one another, are ten a penny these days. But this week saw a new take on the argument, in which they both the brand and the platform took issue with an ASA ban, denying anyone was at fault.
An audio ad for Warner Bros new film It Chapter Two was found to be playing on a 'Classical Lullabies' playlist on Spotify. Which meant it was conceivable that toddlers up and down the country were having their slumber interrupted by the terrifying tones of Pennywise the clown lilting "for 27 years I dreamt of you. I craved you" before loudly and desperately shouting "Oh I missed you!".
After a complaint from a listener, the Advertising Standards Authority banned the ad, saying it was "likely to cause distress to young children, and that it should have been appropriately targeted to avoid the risk of them hearing it".
As Warner Bros and Spotify both deny responsibility, who is to blame?
Shockingly, no-one really. On the one side Warner Media claims to have selected targeting parameters of ages 18-44 and the 'Real-time,' genre. Brand safety was exercised. Block lists were in place, with the ad not containing violence, offensive language, gore or any elements of the film. And the advertiser was buying in a trusted, safe and premium environment.
So, what really went wrong? The context of the ad nestled amongst a lullaby playlist on the Spotify platform was the issue, not the content. In its defence, Spotify claimed that targeting parameters used by the advertiser were appropriate because Spotify themselves did not believe 'Classical Lullabies,' were primarily directed at children. The ASA disagreed and upheld the complaint.
In the main, agencies and brands are aware of brand suitability versus safety, and the apparent, nuanced approach we are all taking to ensure ads are placed amongst appropriate content. This has overtaken the still mandatory need to ensure inappropriate content for the brand is avoided.
But what we are seeing now is the rise of third-party content targeting and verification solutions. Most recently, publisher Reach has launched a content verification platform, Mantis, that allows advertisers and marketers to navigate to appropriate content without the need for an exhaustive blocklist based on keywords or page labels. It offers up a solid solution for brand safety, suitability and sentiment. Their solution has been developed to sit on the end publisher, rather than with middleware providers or agencies and brands. Others, such as Peer 39, also exist in this space.
The issue has always been third-party platforms having greater visibility on content categorisation rather than the media owner itself. With Mantis, Peer 39, and those like it in the market, it could be a viable solution to this conundrum due to the way they leverage dynamic scanning of content via the CMS instead of the usual URL or page scans. This has the added advantages of both reducing the need for excessive blocklist usage, which severely restricts advertiser reach, and of being optimal for user experience and page load performance. It also inherently makes GDPR and privacy a non-concern in this instance.
Going forward we can expect to see the continued rise of contextual verification technology. At the end of 2019, Integral Ad Science's acquisition of AdmantX signalled their intent to bolster their capabilities in the content verification and semantic targeting arena by purchasing their Natural Language Processing (NLP), technology.
With the prevalence of tech such as Mantis surface, we're starting to see publishers act on a vast swath of revenue opportunities that have, up until now, been lost due to aggressive blocking by advertisers. Some numbers being touted are as high as a 40% reduction in blocking rates of content.
Blocking potentially great content in premium environments and on a brand-by-brand basis starts to unravel a level of complexity that must be addressed in order to provide the brand suitability factor needed to ultimately make AI-powered content verification platforms a true success and a genuine solution to the Spotify and Warner Bros scenario.
Let's hope, for parents everywhere, that classical lullabies and horror movies can live a separate life around content from now on.
TagsAIBrand Safety