Adapt or Die: 7 Things Inflight Advertising Can Learn From TV Broadcasters
by Grace Dillon on 26th Aug 2020 in News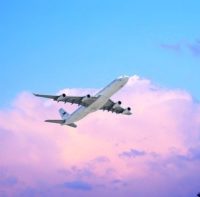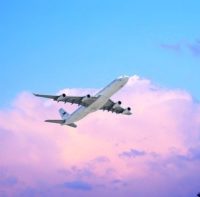 Few industries remain untouched by COVID-19, but travel has been hit particularly hard by the global pandemic. Now, as the world begins to re-emerge from lockdown, it's time for the travel sector to get back in action and look for ancillary sources of revenue. Ryan Afshar (pictured below), co-founder and head of commercial at Inadvia, writes about how the in-flight advertising sector can learn from TV broadcasters when it comes to starting again during the new normal.
As the aviation sector navigates its most challenging period in its existence, one thing is certain: change is coming. Technology and digital services will undoubtably be key in helping to transform the sector for the better.
Ancillary revenues streams will become more critical than ever for struggling airlines, with advertising revenue set to play a central role in the recovery plan. Captive audiences are increasingly viewing premium content on both seatback and BYOD (Bring Your Own Device) screens, and when we marry this to access to valuable first party data, the advertising opportunity becomes huge - estimated to be worth over $6bn (£4.6bn) by 2035. However, in order for that to be realised, the sector needs to focus on building the foundations of a new type of advertising business. One that is fit for purpose in today's advertising world, where digital advertising spend as overtaken non-digital for the first time.
When building a new, digitally focused advertising business, there are key learnings that airlines and their partners can derive from looking at the experience of broadcast TV and digital publishing.
1) Understand who your true competition is
For many years broadcast and digital publishers continued to view their direct rivals as their competition for ad revenue. Meanwhile GAFA were increasingly taking market share from underneath their noses. Inflight advertising has yet to fully grasp this reality. To capture a decent slice of the much larger ad investment pie, the inflight advertising ecosystem needs to build out their own set of unique data-driven ad products. This will create the potential to attract advertising investment away from the duopoly of Google and Facebook, but also from other media channels. It remains to be seen what the outcome of the big tech anti-trust trial will be, but GAFA will undoubtably have their eyes set on new sectors to disrupt in order to continue to grow their topline revenues and overall enterprise value.  Along with education and health, aviation could be next on their hit list.
2) Know your audience
Increased regulation of data privacy, the much talked about 'cookie apocalypse' and Apple's recent announcement to all but kill off the IDFA, is fundamentally changing the digital advertising landscape. Those media owners that have access to valuable data about their audiences are in a strong position in the post cookie/mobile ID world. Airlines and their inflight entertainment and connectivity (IFEC) partners have a great deal of rich and unique data about their passengers. Using this data to fuel a new innovative and addressable advertising solution will help them immensely in building a highly attractive walled garden to which advertisers will undoubtedly flock.
3) Scale is important
Competing with the big tech walled gardens is difficult when you don't have scale. Being able to execute a campaign across 30 markets at the touch of a button makes life a lot easier for global advertisers and their agencies. There are numerous examples across the globe where broadcasters and premium publishers are increasingly working together to provide scaled solutions to their advertising partners. They have largely been doing this through joint ventures, co-ops or coalitions and are often underpinned by a shared or proprietary ad tech platform. The key players in the aviation sector should not be afraid to explore a more collaborative business model. Their focus should be to create scaled inflight audiences and aggregate inventory in a one-stop solution, ideally powered by purpose-built technology. This will make it far easier for advertisers to plan and buy audience-driven campaigns across multiple airlines, rather than having to work with a long list of partners to execute.
4) Don't be afraid to embrace advertising technology
A few years ago, the words 'automation' and 'programmatic' would be viewed negatively by many premium publishers, especially TV broadcasters, in relation to their legacy advertising businesses. Many believed that their advertising revenues would suffer significantly by opening up to new trading methods and data-driven audience targeting workflows. Over time, they came to understand that programmatic advertising did not necessarily equate to a 'race to the bottom' marketplace with low CPMs and questionable brands or creative. On the contrary, having an addressable advertising solution with the ability to also support programmatic advertising demand, would actually lead them to higher brand counts, higher yield and a much better inventory fill rate. Inflight advertising has historically had a blind focus on the campaign CPM as a measure of success, in the face of dwindling ad investment and increased unsold inventory. All whilst giving very little back to the advertiser in terms of measurement, audience targeting or proven ROI. This is simply unsustainable in today's digitally-focussed advertising world.
5) Hire the right talent
There is one thing saying that you want to transform a business to be more digitally focused, but without restructuring the organisation to reflect this goal, it is impossible. Having the right skill sets within both the product and commercial teams is critical for success. If you look at any major broadcaster or large digital publisher today, in addition to 'traditional' commercial sales roles, their org structures will now include campaign analysts, programmatic traders, yield managers and data scientists. If the inflight advertising sector wants to embrace digital transformation and compete for a larger slice of overall advertising investment, then they need to build teams that will allow them to execute on that vision. It is also important to have the right product strategy and tech infrastructure in place to be able to continually adapt to the requirements and standards of the ever-evolving advertising ecosystem. It is undeniably more complex than before, but the rewards are worth it.
6) When to build, when to partner, and when to acquire
Many broadcasters and digital publishers will be very familiar with this dilemma when thinking about their experience with advertising technology. There are dozens of examples of large media corporations wasting precious time and capital trying to build their own in-house advertising technology solution, thinking it would be straightforward. They subsequently discovered that it is a lot harder than they initially thought and reverted to acquiring an established company, albeit at a much higher price. You only have to look at some of the LUMA Partners' market reports to see just how many ad tech companies have been snapped up by the big media companies and telco's over the last few years. The Inflight advertising sector can learn a lot from this. The aviation ecosystem is very different to the wider media industry, with many nuances and challenges that are unique to the sector. Whether an airline or IFEC chooses to build their own tech, partner with or acquire a technology partner, they need to ensure that this important strategic decision adds immediate value to their business. Any investment should match the ambition to create a successful inflight advertising proposition fit for the future.
7) Think about a holistic platform
The tech stacks of many broadcasters and publishers have grown significantly in recent years which has largely been centred around them trying to retain control. That is to say: retaining as much control as they can of their audiences, inventory, pricing, data, content, buyers, creative approval and ad serving. Clearly it would be preferable to be able control all of these components within one single owned-and-operated platform, but that is becoming increasingly difficult due to the proliferation of ad tech partners and the dominance of Google and Amazon in particular across digital media technology systems. The aviation industry has an opportunity to avoid going down the same path, however, and to maintain much of this control within the sector. Key digital services such as connectivity, content management, ad serving, monetisation and e-commerce are all still managed and largely owned separately by various vendors within aviation. A company which manages to bring all of these digital services under one roof, underpinned by a holistic technology platform, will be a force to be reckoned with. There are a number of players for which this vision is entirely possible, but it remains to be seen who will step up to the plate.
The journey for broadcasters and premium digital publishers to evolve their advertising businesses and transform to digital-centric enterprises is certainly not over. Many of them continue to push boundaries and strive to change the perception of their advertising offerings. Some have struggled more than others but there have been many success stories, which should be admired.
Whilst many industries have been severely impacted by COVID, the aviation sector has been hit harder than most. Further consolidation is inevitable and big changes are already happening, with many more on the horizon. Likewise, inflight advertising needs to adapt or die. The smart aviation companies that learn from other advertising channels that have already undergone digital transformation, will ultimately succeed. Only by placing digital advertising at the heart of their transformation, will they be able to take a significant share of the USD $6bn (£4.6bn) inflight advertising opportunity.
Ad TechDigital MarketingTechnologyTravel