Adomik Presented the 2021 Annual Results in the French Programmatic Market at IAB France's Programmatic Barometer Webinar
by ExchangeWire PressBox on 25th Feb 2022 in News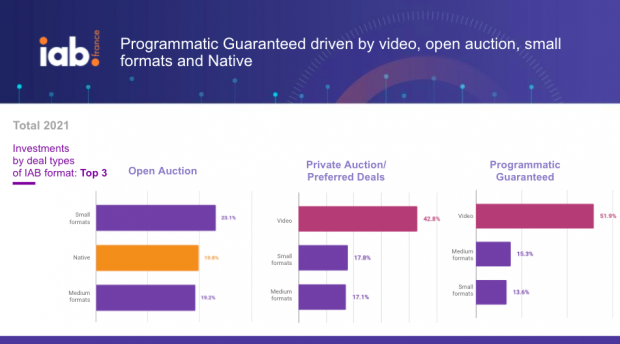 IAB France hosted its third Programmatic Barometer webinar/in-person event, presented by Jean-François Bernard, CPO of Adomik, Philippe Framezelle, managing director of Adverline, and Arthur Millet, general director of IAB France.
This market study includes data from + 500 publisher sites and Apps and 30 main media groups, sales houses and advertising networks of the French market: it aims to show the dynamism of the programmatic market, to bring more insights to the market, with more granularity and more consistency, and to gain clarity for all players in the value chain through regular monitoring of the programmatic buying in France.
Here are some key findings of the French programmatic market analysis presented at the webinar: 
Overall growth by 20% compared to 2020, in programmatic advertising: regaining its pre-Covid level.

The analysis by device revealed that connected TV is still a minority but is on the rise, while mobile In-App is in decline: unidentified devices and connected TV increased from 0.4% to 1.5% between 2020 and 2021.

The analysis by format showed the continued growth of Instream Video: the most invested programmatic format, yet with a low volume of impressions. 

In terms of CPM, though the Programmatic CPM is still not quite the same level as 2019 in 2021, it was catching up in the second half of 2021.

When deep-diving into the different transaction types, we notice the continued growth in Programmatic Guaranteed, which relies mainly on the Video format, and a decline in investments in Private auction.

Finally, they concluded with the top advertisers and bidders, noticing that 80% of investments were made by 300 advertisers and 6 bidders in 2021, in a less concentrated market than in 2020.
"The constant progression of programmatic guaranteed shows that programmatic is increasingly used for the premium inventory buying" – Jean-François Bernard, chief product officer and co-founder at Adomik 
The data presented in the study is based on Adomik's programmatic market index Benchmark for the French programmatic market. Benchmark aggregates the programmatic revenue data of leading Publishers worldwide to create a unique market index, and provide trends and sales opportunities; it gives full visibility into demand, transaction types, CPMs, devices, formats, etc. 
The full study is free and available on demand: Get your copy here or watch the replay here.

Adomik
The Adomik platform is built with the publisher in mind: Over the years, working closely with small and large publishers, Adomik has developed deep expertise in monetisation and data science, which has been applied to building the best platform...
Powered by PressBox