How DOOH Tech is Evolving and What This Means for Advertisers
by Mathew Broughton on 27th May 2022 in News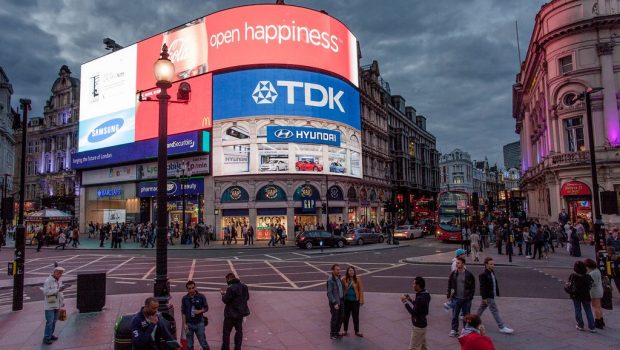 In association with VIOOH.
Ahead of ATS London 2021, Gavin Wilson, chief revenue officer, VIOOH, discusses the opportunity within programmatic digital out-of-home (pDOOH), and how the medium driving recovery in out-of home following the coronavirus pandemic.
During the pandemic, many advertisers turned to programmatic DOOH (pDOOH) advertising for the first time. With advertisers being less willing to invest in long-term media buys in the face of uncertainty about the future, the flexibility and highly targeted nature of programmatic DOOH was needed more than ever.
Now that the world is mainly back to 'normal', albeit a 'new' normal, the use of pDOOH has become a key driver in the recovery of OOH. In the US, programmatic pDOOH is currently growing at the same rate year-on-year as when programmatic display was starting out - from 2010 to 2013 programmatic share of digital display advertising achieved 4.5x growth, and from 2019 to 2022 programmatic share of DOOH advertising has achieved 4.6x growth.
While media owners are continuing to invest in their programmatic sales teams and education programmes, agency and advertising executives are also showing their commitment to the future of programmatic DOOH by investing in expertise. In fact, at the end of last year, nearly nine out of ten (88%) UK executives stated that they plan to invest in programmatic DOOH expertise in the next year.
This is just the beginning. Programmatic is still a relatively new media buying method for OOH, but one which is forecasted to become a significant percentage of DOOH in a relatively short space of time. In fact, pDOOH ad spend is predicted to reach an impressive USD$116.5m (£92.90m) in the UK next year and will be 10.6% of overall DOOH spend - this is a 2.8% increase from this year's forecast. Programmatic has increased the accessibility of DOOH to a much wider pool of brands - as any brand with a DSP should be able to buy DOOH programmatically. It has also extended DOOH beyond traditional OOH buyers, agencies and specialists, to digital programmatic teams, who will plan and buy campaigns on this channel as part of a multi-channel strategy.
Programmatic trading has also lowered the barriers to entry, meaning that many new, smaller brands are able to include DOOH within their campaigns for the first time. The flexibility, location-specific targeting and trigger-led nature of programmatic DOOH provides the efficiency and agility these brands need, in a timely manner, and is delivering incremental revenue for the media owners, validating their decision to enable programmatic trading.
Other key developments that are driving interest in programmatic DOOH include:
Always-on deals
The programmatic DOOH channel is expanding beyond the programmatic guaranteed and non-guaranteed deals, to include always-on deals, set up at the DSP level which are then accessible to multiple advertisers. Always-on deals are a conduit to an open marketplace in that they provide a bid stream to the DSP to monitor volume, CMP floors and screen data, which is extremely useful for planning and forecasting.
Creative moderation enhancements
The public nature of DOOH calls for more stringent creative moderation and in some cases, a large number of creative restrictions need to be considered. Automating the moderation process whilst retaining media owner control, means faster approvals and confidence for advertisers that ads will be appearing on the right screens in appropriate locations.
Real-time bidding and playout
Technical advancements in platform-screen connectivity have resulted in the reduction of time between when an ad is won and when it is played, to a matter of seconds. This allows advertisers to deliver flexible and highly targeted strategies, such as being able to play an advert for a London tourist attraction at St. Pancras International at the same time as hundreds of travellers arriving on the Eurostar, and if there is a train delay, the ad timing can also be easily changed.
Standardisation
Currently, there are OOH committees that are working on standards for DOOH to help reduce fragmentation in the DOOH process and make it easier for DSPs to streamline their buys across multiple OOH SSPs. Whilst still in development, having the key industry players work together to align on this is key to reducing friction in the buying process, and enabling future demand.
Programmatic DOOH is increasingly able to seamlessly participate in omni-channel campaigns, with a flexible position in the customer engagement journey across both brand awareness and performance objectives. Coupled with the developments in the pipeline, programmatic will continue to make it even easier and more desirable for more advertisers globally to invest in DOOH.
---
ATS London 2022 will be taking place at Central Hall Westminster on 14th and 15th June. Tickets and further details are available via the ATS London 2022 homepage.