Leading the Conversation: the Latest Trends in Singapore
by Hannah Dillon on 6th Sep 2022 in News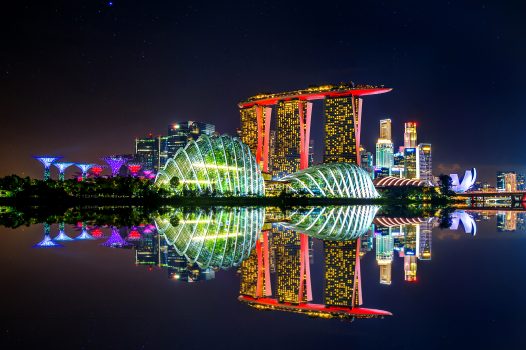 With ATS Singapore just two weeks away, we take a look at what's going on in the city, and the wider APAC region. Read on for expert advice from some of our ATS Singapore speakers, as they discuss first-party data, privacy, and advertising's 'moral evolution'.
Located in the heart of Southeast Asia, Singapore is at the centre of a digital economy expected to hit USD300bn (£257.7bn) by 2025, and boasts its own thriving tech market. Over the last decade, the country has produced 13 unicorns, including Gojek, Tokopedia, and Traveloka, and over 100 homegrown startups have expanded into South-East Asian markets this year. And, just this week, the country kickstarted Q4 2022 by opening its first digital bank , in a prominent move towards digitisation nationwide.
Recognised internationally as a hub of innovation and a beacon of growth, Singapore is reflective of the wider APAC region, where digital ad spend has more than doubled since 2016. To better understand the developments driving APAC forward ahead of our return to Singapore, we turned to the industry for their perspective.
What trends are you seeing across the ad tech industry in APAC in 2022?
There is a general lack of urgency in brands figuring out their 1st Party Data strategy. As a result, the next 18 months will likely see a lot of clutter in promotional / lower funnel activity, as brands rush to build out their 1PD pools. For the early movers in this space, we are advising them to pivot from purely lower funnel tactics, to higher value brand experiences that can be delivered across the customer journey, and (very importantly) can capture a more representative category audience across more need states.
What are you looking forward to hearing more of at ATS Singapore?
ATS has always been equal parts informative and provocative – something quite unique in industry conferences, and ultimately very helpful in navigating a dynamic industry. After its 2 year absence from Singapore, and with some really big changes coming our way in the industry, I'm honestly waiting to hear as many POVs as I can, from as many people as humanly possible!
Ronnie Thomas, TBWA
What trends do you see across the ad tech industry in APAC in 2022?
Consumer Privacy will continue to become a critical trend. Marketers will need to be very clear about how consumer data is used, shared, stored, with whom and for what purposes – a new era of transparency that gives people more control - and this will build trust. It makes sense for marketers to request permission upfront from the consumers. There is not a tonne of benefiting misleading because, without permission, data holds little value for a marketer.
With governments worldwide now limiting data collection practices, consumers still look to brands to ensure the quality of digital ad experiences. Advertisers are starting to substitute that audience data with contextual intelligence. Rather than supporting all the data management and privacy regulations capturing and leaving personally identifiable information, many marketers will switch to advertising in contextually relevant environments and use that as a proxy for the audience. 
Advertisers have a real opportunity to make an impact without sacrificing specificity. With the imminent "death of the cookie", marketers will have to get innovative about their marketing, leading to a better connection, personalised, contextual offerings, and overall happier consumers. Regulatory bodies like IAB will play a key role in privacy compliance and setting the standards for contextual targeting. 
What are you looking forward to hearing more of at ATS Singapore?
ATS Singapore draws one of the region's largest audiences of programmatic advertising and marketing technology industry experts and focuses on challenges facing the programmatic advertising and marketing technology industry today. The entire industry ecosystem will be present at the event, providing attendees with the opportunity to learn and network. I'm looking forward to attending thought-provoking sessions, meeting peers and sharing learnings on emerging technology, consumer privacy, measurement and more.
Laura Quigley, Integral Ad Science
What trends are you seeing across the ad tech industry in APAC in 2022?
Ad tech has been asked for a moral evolution from policy makers and consumers. The big trend that I see is ad tech leading the conversation towards purpose and longevity for the advertising industry.  Consumer choice is at the forefront and we will continue to see the focus on data compliant traffic  and  leveraging addressability at scale through cohorts rather than hyper personalisation. I would like to see and be part of more use cases of how is ad tech putting consumer at the centre and use technology to build better experiences for them while yielding high returns for ad investments. I am excited for engaging storytelling as it adapts itself to metaverse and Web3 
What are you looking forward to hearing more of at ATS Singapore?
All the topics are extremely interesting, thought provoking, and crucial to the growth of our clients business – from how brands can fully utilise technology for brand building, to using data and tech to automate creative personalisation and of course how the new data regulations will impact how we target, plan, and measure everything that we do. However, one of the most important topics for me personally is how we as an industry can make an impact on environmental sustainability. We have been talking about it for so long, it's about time we take actions – this is why I'm proud to be working in a network where we're not only discussing these topics, but making commitments and taking actions towards a more sustainable future, truly making advertising work better for people. I am looking forward to hearing more about how we can do more to drive suitability even further through a collaborative approach with common objective
Rose Huskey, WM Global
​​
What trends are you seeing across the ad tech industry in APAC in 2022?
Rise of Web3 & the Metaverse: given APAC ranks amongst the top adopters across crypto, NFTs, gaming and the like, it's great to see brands and businesses joining this space and showing the excitement. Moving forward, my hunch and hope will be to see people move beyond more awareness-focused initiatives, to truly building rich communities to thrive long-term. 
Gaming immersion: Once again, APAC reigns supreme when it comes to adopting and time-spent, and people are finally properly taking notice. I think we'll see brands move away from building one-offs or doing high-level product placement in new spaces - and we'll see them start to really focus on gaming and gamers across all touch-points as a part of their experience mapping and creation. 
What are you looking forward to hearing more of at ATS Singapore?
"This will be my first year at ATS - and my first live event in Singapore, so I'm pretty excited. Very keen to hear from people across many different businesses and disciplines to geek out on gaming, the metaverse, data, and the like - and be inspired by those around me."
Tessa Conrad, TBWA
---
ATS Singapore 2022 will take place on 21st and 22nd September at Parkroyal Collection Marina Bay. Tickets and further information are available via the ATS Singapore 2022 event hub.