Now & Next: Online News
by Anya Fenge - Davies on 26th Jul 2015 in News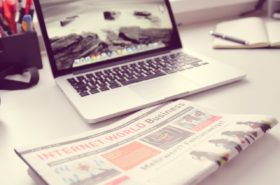 Now & Next is a new feature from ExchangeWire Research. In Now & Next, we review the latest research, provide impartial insight and analysis of current trends, and provide predictions for the future of advertising and marketing technology. This feature focuses on online news. 
Have smartphones become the default for news?
Globally, 66% of smartphone owners use this device to access news at least once a week. For one quarter, a smartphone is the primary access point for news, according to the 2015 'Reuters Institute Digital News Report'.
Almost half (46%) of the world's news publishers' traffic originates from a mobile device. Despite the increase in availability of news apps, users prefer to access news from a mobile browser. The UK is the only market to buck this trend, with 51% of consumers accessing news via the BBC News app.
Young adults are almost three times more likely to engage with online news, 60% of 18-24 year olds engage with news online, compared to only 22% of those aged 55+. This clear divide can be explained by the older generations reluctance to engage with new technology. Regardless of age, few people turn to print media as a primary news source, and in some markets (France, Italy, Brazil, Spain, the US, Ireland, and Australia) social media has overtaken print for news consumption. Printed newspapers are most popular in Japan and Finland, where 14% of news consumers primarily turn to this format.
Almost half (45%) of news consumers use two or more devices to browse news content, the Reuters report found. Although these figures focus on news consumption, they also reveal an important trend for marketers; consumers are increasingly engaging with digital content on multiple devices. Marketers should look to employ sequential, cross device messaging, providing consumers with real-time optimised ads across multiple devices.
The advent of the phablet has led to a decline in the popularity of tablets; Canalys research reports a 12% year-on-year decline in tablet shipments in Q4 2014, versus 2013. Although dominant in the workplace, the computer is no longer viewed by many as their primary device due to a widespread adoption of tablets and smartphones. However, this finding doesn't signal the replacement of one device with another; instead consumers are supplementing desktop and laptop use with mobile, as highlighted in comScore's 'Global Mobile Report.'
Less than 40% of marketers are able to collect and integrate mobile data with other sources of data, according to Signal. It is notoriously difficult to integrate mobile ID data with cookie-based data. Media giants, such as Google and Facebook, are able to link mobile and desktop data through user sign ins. However, brands are reluctant to share data with the ad tech/media owner combinations, as they fear that it will lead to manipulation of ad prices. The development of an independent DMP, with the ability to integrate mobile and cookie-based data, would resolve this issue, allowing marketers to integrate cookie-based and mobile data.
88% do not trust the accuracy of social media news content
Globally, 37% of consumers perceive TV to provide the most accurate news content. Only 12% believe social media presents accurate news information. This perceived inaccuracy could be warranted, with one notable case of inaccurate news broadcast recently; the death of Queen Elizabeth, reported on Twitter.

Source: The Independent UK
Content discovery
Although an overarching majority of consumers access news from traditional 'trusted' brands, such as CNN, the way in which consumers discover content is changing. Homepage news views have dropped from 58% to 42% year-over-year, whilst the number of articles read per week is up from 45 to 60 per person. In the US, 40% of Facebook users iscover news stories from their Facebook feed, rather than going directly to a news provider's homepage.
The popularity of homepages as a way to access news varies widely in different markets. In Italy (66%), Spain (54%), Germany (45%), and France (40%) the homepage is the primary access point for news. In contrast, in the UK (52%) and Finland (63%) dedicated news websites are often where the news journey commences.
In the US, two-thirds of consumers prefer to exchange information in lieu of payment for content, according to Microsoft's 'Value Exchange Study'. This figure is even more pronounced in China, where only 12% of consumers are willing to pay for digital services.
Consumers in the UK are the least likely globally to pay for digital-only news. Three quarters would not pay for digital-only news, whatever the price. Consumers in the US and Australia are also reluctant (67% and 63% would not pay for digital-only news). Teads estimate that an ad free internet would cost £140 per person, per year. A sum that 98% of respondents stated they would not pay. This highlights an increasingly pressing issue for those in the digital publishing industry: how to monetise their online product, whilst appeasing consumers who don't wish to pay for digital content and are often put off by advertising.
Almost half (45%) of consumers in the US no longer use a television as their primary viewing source, according to Accenture's 'Optimizing Data-Driven Video Advertising' report. The Reuters report supports this, finding that only 31% of those under 45 watch scheduled TV news bulletins, compared to 58% in 2010 (Pew Research Center).
Unlike the US, in France (58%), Germany (53%), and the UK (41%), TV remains the primary source of news for the majority, according to the Reuters Report.

Source: The Reuters Institute Digital Report 2015
Globally, almost a quarter (23%) of the population watch news videos online. However, publishers and marketers need to take caution as 29% of online news consumers were put off by pre-roll ads. Consumption of digital video increased by 43% from 2013 to 2014, according to research by Adobe. However, there are still those who are yet to be convinced; 40% stated that they found reading text more convenient than watching digital news; whilst 21% cited preferring a bigger screen as their reason for not engaging with digital video news.
What does the future of news look like?
As consumers become more comfortable engaging with news content on mobile devices, news publishers will use advertising to supplement revenue.
Integrating disparate mobile and cookie-based data sets will allow publishers and marketers to quantify the effect of mobile advertising.
Marketers will continue to move away from display advertising in favour of native, with native ad spend set to rise to 15% of spend in 2015, according to research from the IAB.
The move towards native will make native technology platforms, such as Distroscale, attractive acquisition options to the integrated stack solutions like Oracle, Adobe and Rakuten Marketing as well as DSPs looking to provide a holistic buying solution for marketers.
It is unlikely that consumers will ever be willing to pay even a small amount for digital content forcing publishers to maximise alternative revenue streams, such as advertising.
Fortunately for marketers research has shown consumers are willing to exchange information in return for digital services. Savvy publishers and marketers can use this data to provide increasingly tailored sequential marketing campaigns.