What to Look for in 2017 Across Mobile, Video & AI
by Lindsay Rowntree on 11th Jan 2017 in News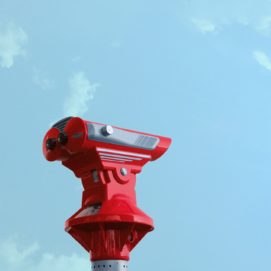 All eyes are on mobile, video, and artificial intelligence (AI) as we enter 2017, with growth and innovation in abundance across the three sectors. What does growth and innovation look like and how will it further enhance the digital marketing capabilities that exist today? Josh Ong, director, global marketing and communication, Cheetah Mobile outlines to ExchangeWire the developments we should expect to see in 2017.
Predicting is a notoriously foolish undertaking, but here's an easy call: that mobile device that you're reading this on (or is at least within arm's length right now) will be the centre of the media universe.
2017 is the year, after all, when mobile ad revenues are projected to eclipse their counterparts on desktop, a recent research report predicts. Mobile is also expected to consume about five hours a day of the average UK consumer's time.
There are other things happening in the advertising world, of course, but mobile will continue to be the focal point of all the action. As tools and data improve, marketers will aim to capitalise on the intimate nature of mobile as a medium. With a much closer read on consumers' activities and desires, this will be a new landscape for marketers. Here are five ways marketing will evolve in 2017:
Social video ads will become the prime format
That's not the same as making viral ads, though. Smart brands are designing videos that are created with social platforms in mind, while engaging consumers in more dimensions than just a cheap gimmick. Look for social video ads to take greater advantage of the platforms they run on, with features like custom challenges, promoted hashtags, and influencer tie-ins. Video content is expected to drive 85% of search traffic by 2019, globally.
Ubiquitous broadband and fast wireless networks are driving the trend, as are phones with ultra-fast processors, like the iPhone 7, and the popularity of Facebook, Snapchat, musical.ly, and Instagram, where video has become the lingua franca.
AI and machine learning will enhance personalisation
The nature of machine learning and artificial intelligence is that improvement doesn't occur incrementally, but exponentially. Futurist Ray Kurzweil has predicted that we'll see 20,000 years of progress in the 21st century, rather than the standard 100. For instance, the most consumer-facing component of AI – voice-recognition – gets better and better because it is able to learn from millions of consumers at once.
Applying this horsepower to marketing personalisation, we can expect to quickly see improvements there as well. No more retargeted ads for things you've already bought, for instance, and ads will become so smart that consumers will find them helpful, rather than creepy.
Vertical video will challenge horizontal for dominance
Way back in June 2015, Snap CEO Evan Spiegel made a case at Cannes for vertical video. His reasoning was solid: Most people are viewing video on their smartphones these days and smartphones are designed to be held vertically. While this makes intuitive sense, desktop and TV have a horizontal orientation. That said, recent research has shown that vertical videos have a 90% completion rate versus 14% for horizontal. Stats like that will convince more marketers to try vertical. In 2017, vertical will become more of an alternative format than a curiosity, a trend that will continue throughout the decade. Combine these vertical videos with the social horsepower of the first point, and you've got a hit.
Influencer marketing will get smart
Influencer marketing jumped the shark in 2016 as public fails like Scott Disick's inept Instagram promotion and Naomi Campbell's variation on the same convinced many that throwing money at celebs with large followings but no affinity for the brand was a dumb idea. The FTC and Facebook's sudden interest in influencer marketing was also evidence that the jig was up. That's why marketers will usher in a smarter version of influencer marketing in 2017 that relies on 'micro-influencers' who might have just a few thousand followers, but greater credibility and engagement with their niche audiences. This long-tail, data-driven strategy will outperform the 'spray and pray' types of influencer marketing.
'Continuous context' will become a reality
Did you see that ad on desktop or your phone? For a consumer, the likely answer is "who cares?" Cross-device tracking may still be a hairball for marketers to untangle, but from a consumer's point of view, there's no real delineation between screens. With the proliferation of smart devices in our lives (watches, glasses, voice-activated speakers, etc.), the best marketers will use multiple signals to understand customer context and the purchase process. As cross-device targeting improves, expect marketers' messages to evolve to become nuanced in their frequency and sequential in their messaging. If a multi-screen campaign isn't moving the consumer through the purchase funnel, then you're doing it wrong.