Dear Publishers: Advertisers Need Your Help to Stay Effective in a GDPR'd Europe
by Romany Reagan on 24th May 2018 in News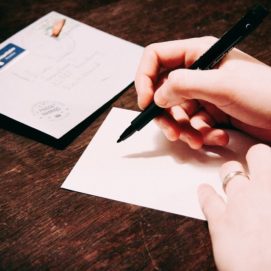 The General Data Protection Regulation (GDPR) amplifies the reliance of advertisers in Europe on publishers' consent and contextual data. After all, these factors are essential to the survival of the entire digital advertising ecosystem. In this piece for ExchangeWire, Eric Tucker co-founder & executive chair; and Nuno Jonet VP product (both pictured below) Pocketmath, aims to provide both discussion and practical suggestions for publishers.
Targeting strategies that previously served advertisers will be crippled. Publishers will be compelled to evolve to survive. As the GDPR's 25 May effective date approaches, despite flurries of last-minute activity we've observed, advertising budgets have been broadly retreating ahead of GDPR. 
Truly, the GDPR poses a struggle that programmatic advertisers and publishers can overcome – only if they work together.
Shifting from audience to publisher profiling
Traditionally, data providers buy and sell audiences as lists of device IDs and cookies. Some of this data can still be used through consent, but much will be gone on the 25th. That only leaves us with what the advertising ecosystem knows about publishers. The absences of explicit audience targeting and user profiling increase the emphasis on profiling publishers. This means that the more publishers tell advertisers about who they are and the interests of the people who visit them, the more they earn.
What publishers can do now
Publishers have taken steps to collect consent and become GDPR-compliant. To become more successful, they must transmit maximum consent, context, and understanding of their audiences to the advertising ecosystem. Investing in these specific areas will realise more benefits for advertisers and publishers:
GDPR Transparency & Consent Framework
The Internet Advertising Bureau (IAB) Europe released a vital framework for the best proven, effective digital advertising methods that employ user data. Unlike independent efforts by publishers, the GDPR Transparency & Consent Framework communicates consent throughout the advertising ecosystem.
 Publishers designate specific users' consent. The framework ensures this consent flows to advertisers, DMPs, and voluminous vendors and providers in between. In turn, advertisers can more fully utilise all data legally available. European authorities will pay close attention to the framework, while clarifying ambiguities around GDPR. The framework's success relies on its wide adoption.
Accurate content categories
 Monetisation SDKs allow users to specify content categories. At Pocketmath, we feel that you can further drill down and pick the right categories. Things that are too vaguely tied to content lead to less relevant, non-performing ads; and mediocre performance leads vendors to de-prioritise publishers.
Keep it honest. While you may have objectionable content, designate categories as such. Some brands don't want to advertise on dating sites, but plenty of advertisers will still take interest. You don't want brand-safety vendors to negatively flag your reputation for your failure to disclose. For instance, if you're talking about a car crash, automakers may not consider you 'brand safe', but insurance companies will pay handsomely.
Whatever you do, don't leave categories blank.
For web publishers, SEO drives monetisation benefits as well
Doubling down on SEO techniques pays back with more ad income too. Sophisticated advertisers rely on platforms like Peer39 and Grapeshot, that perform contextual analysis of content. They search like search engines do. Of course, there's Google's ad business, which you bet is very contextually aware.
So, organise content, specify keywords in headers, optimise URLs, provide sitemaps, properly use HTML5's semantic tagging, etc.
For app publishers, app store optimisation (ASO) likewise pays benefits on two fronts
Vendors analyse app store listings, reviews, and categories for app ranking, reputation, brand safety, and all-important context. Like SEO for web, ASO will pay dividends for advertising as well as rankings.
All the ideas above boil down to one concerted effort: optimise for advertising. Let's call this
'OFA'. Publisher efforts for search-engine relevance, app store rankings, and the management of data have numerous positive effects on multiple fronts. OFA, the front with the most rapidly growing importance, will greatly benefit from these efforts.
The relationship between advertisers and publishers has often been contentious. With the European Union's GDPR, working hand-in-hand is more important than ever.
As one of many vendors in the digital advertising ecosystem, Pocketmath (a DSP – an ad-buying platform) is at one of the many intersections between publishers and advertisers. We match advertisers' needs to what's available from publisher inventories. We see what works for advertisers and what does not.
So, our dear publishers: package your inventory to sell and let's thrive together. We'll make sure higher CPMs and other good things will happen.