IPA Bellwether Report Shows Muted Ad Spend Ahead of GDPR: The Industry Reacts
by Hugh Williams on 24th Apr 2018 in News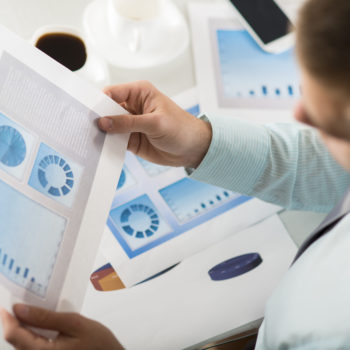 Market budget growth lost further momentum during the first quarter of 2018, according to the IPA Bellwether report published last Wednesday (18 April). In fact, budgets are growing at the slowest rate since recordings began in 2016.
Report highlights
- Internet continues to perform best, but main media slips into contraction
- Ad spend set to rise by just 0.8% in 2018
- Muted ad spend growth predicted for 2018 and 2019
In line with the trend seen since the end of 2012, UK marketing budgets were increased further during the first quarter of 2018 as marketing executives helped launch new products, bolstered events marketing, and continued to enhance the role of digital platforms within their marketing strategies. This is according to the IPA's Q1 2018 Bellwether Report released 18 April 2018.
However, latest data revealed that growth momentum was lost amid reports of challenging market conditions and financial pressures squeezing budgets. Underlying sales were reported in some instances to be a little softer, whilst investment funds were being directed away from marketing to other business areas.
The Q1 survey indicated that 22.9% of companies benefited from an increase in their marketing budgets during the latest survey period, compared to 17.9% of companies that recorded a fall. The resulting net balance of +5.0%, down from +8.6% in the previous quarter, was the lowest recorded by the survey for two years.
Encouraged by positive returns from previous digital marketing campaigns, panellists continued to step-up their adoption of internet advertising during the latest quarter. The Q1 survey results indicated that internet marketing spend was raised for a 35th successive quarter at the start of 2018, albeit at a slower rate.
Whilst once again the strongest of all Bellwether categories, the net balance of +8.7% was the lowest recorded by the survey since the end of 2015. Within this category, search/SEO expenditure also grew at a slower rate, with the net balance falling to +5.6% from +12.4% in Q4 2017. Meanwhile, there was a stagnation in mobile advertising observed, with an equal proportion of marketers revising their budgets up to those indicating a fall, resulting in a net balance of +0.0%, from +6.0% in Q4 2017. Spending in mobile failed to rise for the first time in a year and a half (+0.0%, from +6.0%).
ExchangeWire spoke to some of the online advertising industry's top thought leaders about what the latest report means:
Carl Erik Kjaersgaard, CEO, Blackwood Seven, says: "The general slowdown of marketing budget growth revealed by this Bellwether report tells us two things: firstly, that the shadow of Brexit continues to foster uncertainty across all industries and advertising is no exception. Secondly, the reduced spending on main media advertising and the continued growth of internet ads reflects the growing pressure CMOs are under to show accountability for spending and clear ROI, as basic digital viewability metrics allow marketers to better show their workings. My advice to marketers, however, would be to ensure they are using the most sophisticated modelling techniques to make all media accountable and ensure the effects of traditional media on digital aren't being missed by more simplistic algorithms."
Evangelos Sideras, joint managing director, UK, Media iQ, notes: "While budgets continue to lack growth, marketers need to ensure they are spending what they do have wisely. Using marketing intelligence tools will ensure that adverts are targeting the right audience, through the right channel, at the right time, in the right moment. Investing in this area will allow for access to data that can inform, not only digital media campaigns for the best possible results, but also genuinely impact business outcomes. Data science, insights, and AI can be used to influence campaigns through all channels, as well as look to solve business challenges outside of advertising KPIs. As budgets steady, it's important that planning conversations are opened up across all mediums to truly make the most of what's available."
Despite the choppy outlook, Ruth Manielevitch, director of business Development EMEA, Taptica, points out that there is also cause for hope: "Overall, it's encouraging to see there is still an upward revision in spend, and regardless of the external market conditions, budgets are still being directed towards digital marketing campaigns due to ongoing positive returns. Internet advertising is still achieving a net balance of +8.7% and mobile spend, though leveling out, is holding firm. On the ground, we're feeling optimistic; and challenging times will only serve to encourage the industry to up its game, rather than rest on its laurels."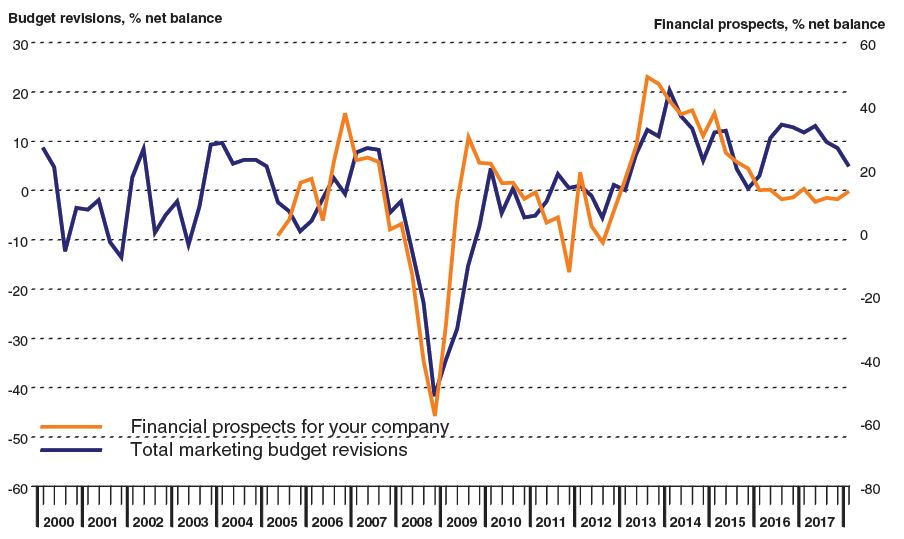 Internet provides the silver lining
Despite a slow down in growth across most marketing areas, internet continues to grow. Michael Todd, head of advertising industry relations, Google EMEA, says: "Despite the gloomy outlook, there are reasons to remain optimistic. First off, we're starting to see UK wages rising again. The Bellwether report finds that company financial prospects remain positive and 2018 ad spend predictions have been revised up.
"From a digital perspective, 35 quarters of consecutive growth for internet advertising is hugely positive. This continued investment growth trend suggests that marketers are increasingly (and rightly) seeing the internet as a place for both customer engagement and longer term brand building."
Ed Bussey, founder and CEO, Quill, shares this sentiment: "The latest Bellwether report reflects the ever-growing importance of online marketing for brands – which has seen positive budget growth for 35 quarters in a row – while they simultaneously dial down investment in media advertising, including TV, radio, and cinema. As consumers increasingly abandon the high street in favour of e-commerce, brands have no option but to invest in their customers' online experience and how they differentiate themselves online from their competitors."
Wayne Blodwell, CEO and founder, The Programmatic Advisory, highlights that "given the amount of attention dedicated to mobile advertising innovations from tech companies and the consumer shift to mobile devices, it is surprising to see there is 0% net change in mobile budgets. The fact is that while the technology is available to execute engaging mobile campaigns to targeted audiences, it is difficult to track and measure performance and, ultimately, attribute revenue to mobile and, thus, understand true ROI.
"Digital advertising is only cost-effective when you understand the value of every aspect of the supply chain. Until marketers are able to do this in mobile and cross-channel, we may well see mobile budgets continue to stagnate."
Rupert Graves, CEO, AdUnity and co-founder, MMaP 2018, notes the promise for direct marketing in the report: "The forecasted growth of direct marketing proves how seriously marketers are taking GDPR and publishers really need to capitalise on this trend. Historically, direct marketing has only been about mail, email, catalogue, and call centres; this has changed with GDPR. Any kind of individually targeted commercial communications now come under 'direct marketing', this includes targeted advertising on any device, from PC and mobile to connected games consoles, smart TVs, and other IoT devices."
Alex McIlvenny, VP sales Europe and UK country manager, Ligatus, highlights the opportunity for native advertising: "Although ad spend is a little down overall, native advertising continues to provide a more user-friendly and appropriate platform for digital advertisers, notably contextual executions, by allowing ads to blend seamlessly within the editorial content they are placed alongside, thus providing a non-intrusive and enhanced user experience."
How do you solve a problem like GDPR?
The effect of GDPR on ad spend is already starting to show, even before the regulation takes force. Emma Newman, country manager, UK, PubMatic, notes that "advertisers' focus on events in Q1 highlights the importance of activities that drive engagement and build one-to-one relationships. For some sectors, such as marketing, a fair proportion of event budget has likely been put towards events that focus on GDPR, of which there have been many. The boost in online ad spend is also likely to have been driven by GDPR, as businesses seek to drive customer opt-in to communications ahead of 25 May.
"Post-GDPR, we may see a renaissance in postal direct mail, as this remains an opt-out channel rather than the opt-in regime required for digital activity. Advertisers know from pre-internet days that direct marketing is a strong vehicle for delivering targeted communications and there is great potential for this channel in the coming years.
Similarly, Margaret Wagner, EVP, EMEA growth officer, Merkle, says that "tellingly, use of data and, specifically, the implementation of GDPR seems to be front of mind for marketers, whether they view it as a threat or an opportunity. I believe we'll soon see a gulf emerge between those who can comprehensively address and resolve GDPR concerns and those who cannot – which will itself play out in terms of where investment lands in the quarters ahead".
However, Colin Wallis, executive director, Kantata Initiative and co-founder, MMaP 2018, says: "While the IPA Bellwether report, and many industry pundits, attributes the restrained growth of digital marketing to economic concerns about Brexit and uncertainty around GDPR, there is another si​​de to the story. Even before the Facebook/Cambridge Analytica scandal emerged, there was a growing tide of consumer dissatisfaction with digital advertising – and, therefore, ad tech – as evidenced by the spectacular rise in the use of ad blockers. Advertisers are very aware of the bind they are in and are holding back budget in the hope that public perception of digital advertising improves."
Problems beyond GDPR
Ashley MacKenzie, founder and CEO, Fenestra, feels that GDPR isn't the only issue facing the industry: "Though challenging market conditions are clearly a factor in the overall slowdown of marketing budgets, the slowdown of digital growth is likely to be because of a lack of trust in what is being paid for, a lack of trust in what is being delivered, and caution around GDPR. When it comes to transparency in the media supply chain, the attention is still firmly on digital advertising. The elephant in the room is that there remains a huge issue with transparency across all channels and the distrust this engenders can be seen industry wide. You will need independent players in the industry to reset the market and bring trust back to our industry."
Matthew Bloxham, senior analyst, Bloomberg Intelligence, highlights that "the UK has been an important source of growth for the major ad agency groups, particularly WPP. The slowdown in marketing budget growth observed in the latest IPA Bellwether Report should be warning shot across the bow.
"It is perhaps a little surprising to see that marketing practitioners' appetite to spend money on digital campaigns has not been significantly impacted by the recent brand-safety and data-privacy scandals. Perhaps a sign of that is the industry has growing self-confidence in how to avoid online pitfalls, and confirmation of the irresistible momentum of the internet.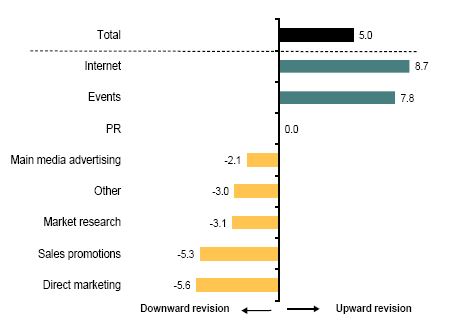 "Net negative revisions to budgets for main media campaigns confirm the challenging environment for advertising-funded broadcasters like ITV. It underlines the urgency needed to pivot business models towards online and subscription, not an easy task given the formidable competition in this arena."
Nick Morley, EMEA MD, Integral Ad Science, says: "With the digital advertising industry so focused on verification and transparency in recent years, 2018 is so far proving to be the year of action. With increasing industry initiatives – including the release of the IAB Tech Lab's Open Measurement SDK, and the support of independent third-party accreditations such as JICWEBs – the ecosystem has a renewed focus on improving transparency and accountability. So, it should come as no surprise that the Q1 2018 IPA Bellwether Report shows signs of slower growth – the industry is simply focused on building a sustainable ecosystem, meaning high-growth forecasts weren't the top priority for Q1."
The future is secure
Despite the findings shown in the report, Jodie Stranger, CEO UK group and president global clients EMEA, Starcom feels that there is cause for hope: "2017 was a year of uncertainty. The first quarter of 2018 has shown this uncertainty has spilt over into this year – with continued concerns about the actual outcome of Brexit negotiations and the implementation of GDPR next month. However, looking forward, it's encouraging to see anticipated growth across the majority of marketing categories. Especially in main media advertising, with an expected growth of +7.7% in the coming financial year."
Carl White, co-founder, Nano Interactive, also points out that "the continued growth of internet spend for a 35th consecutive quarter underlines how marketers continue to recognise the huge potential of digital to create more effective and relevant advertising strategies.
"However, with this growth slowing, there's also no room for complacency. In an uncertain economic environment, the industry needs to demonstrate total commitment to tackling ad fraud, providing brand-safe environments, and offering full transparency around data sources and ad placement."
Ed Preedy, MD, Europe, GumGum, agrees: "With internet spend growing for the 35th consecutive quarter, it's clear that marketers recognise the huge potential offered by digital when it comes to serving evermore creative and relevant ad messages. However, given that this growth is slowing, amid Brexit and brand-safety concerns, there's no room for complacency. Realising the potential of digital and driving continued growth in the channel will mean encouraging a comprehensive approach to brand safety, as well as promoting great creative work that drives real ROI."
Katherine Munford, managing director, Data2Decisions, feels that measuring ad effectiveness is key to the future of sustained ad spend: "We live in a complex and constantly changing world – one in which marketing can be a powerful force for growth, if you know where to focus. Marketing effectiveness has become increasingly important for brands as they weather continuing challenges. Increased online marketing budgets point to the importance of performance marketing when market conditions are challenging. Although increased investment in digital has proven to be effective in delivering short-term sales targets, marketers should still look to achieve the right balance between brand-building media and sales-activation strategies. Going forward, effectiveness should be measured in a holistic and connected way, to deliver both long- and short-term business growth."
As well as effectiveness, Jo Lyall, managing director, Mindshare UK, feels that the future lies in the hands of technology such as AR: "In a slowing market, the focus on effectiveness becomes even more important as marketers must find opportunities to innovate and learn, whilst also banking on tried and tested channels. Digital budgets continue to see growth as advertisers can capitalise on the improved effectiveness that data and technology can bring. Mobile advertising might have stalled in its growth, but the channel remains essential to many business models and consumer needs. We have recently conducted research to show that technology such as augmented reality will start to play a key part in consumers purchasing decisions as it evolves from the 'evaluation' or 'post-purchase' stages to facilitate direct purchase – so we believe that mobile will still be a strong contender for marketing dollars in the years to come."
Paul Wright, MD, UK, FR, MEA, AppsFlyer, notes: "Over the last few years we've seen significant growth within the industry overall, especially within the online and mobile sectors, and these figures are still on the up. Despite some challenges – such as mobile ad fraud – we will continue to see marketers shifting even more budgets to mobile in the long run. With mobile having firmly cemented itself as the first screen for consumers, marketers who are always testing, measuring, and optimising their mobile campaigns will be the ones who win biggest. When marketing budget is under pressure, the need to correctly attribute and analysis becomes even more critical."
Looking ahead
Andrew Buckman, EMEA managing director, Sublime Skinz, feels that there are interesting times ahead for the industry: "As brands continue to look to online for their ad-spend budgets, the significant investment being made in digital advertising, and the resulting growth, is certainly an encouraging element to take away from the report. But, it's important to bear in mind this increase has again been slight, and acts as a further indication of the troubled economic times ahead.
"The results of the next report will be very interesting, aside from the continued effects of an unpredictable economic climate, it will also reveal the impact of the looming GDPR implementation."
Andy Evans, CMO, Sovrn, agrees that GDPR will make the Q2 Bellwether report particularly interesting: "Clearly, ongoing uncertainty around Brexit and GDPR will have contributed to the slowing down of budgets in Q1. It will be interesting to see how this plays out in Q2 once GDPR is live from the 25th of May and some solid plans around Brexit are locked down. With company financial prospects remaining positive, however, there is hope for future growth and improved industry financial prospects going forward. In my opinion, this is likely to be a 'bump in the road' for an industry faced with an unpredictable economic climate."
Marketers must get their budgets in order quickly, according to Wayne St. Amand, chief marketing officer, Visual IQ, a Nielsen Company: "Marketers continue to play the waiting game in the pre-Brexit climate, but this strategy could have implications in the long term. With consumers constantly bombarded by content, brands must provide experiences that seize individuals' attention and deliver seamless brand creative to stand out from the noise. To do this, marketing budgets need to be committed soon or returns will ultimately suffer. To put it simply, results still matter and it requires smarter investment choices to deliver them."
Data is king
Going forward, improved data measurement practices must be put in place, according to Martin Pavey, CMO, Flashtalking: "In a challenging economic environment, it's promising to see internet ad spend up for the 35th successive quarter. This stands in stark contrast to TV, radio, and cinema where spend fell into the negative. The shift in priorities reflects the accountability of online advertising – in particular, the ease with which marketers are able to target ads to individuals online and measure ROI.

"Whilst budgetary obstacles present a challenge for the industry as a whole, by using data to inform their strategies, advertisers can make the most out of more modest budgets. One way to do this is by harnessing technology to overcome the limitations of outdated modes of data-measurement practices to ensure they target their investment efficiently."
Chris Dobson, CEO, The Exchange Lab, agrees with this sentiment: "The industry is in transition and, in these turbulent times, having an effective digital strategy is more imperative than ever. Brands need to be actively engaging and owning conversations with users across relevant digital channels if they want to make an impact.
"Data is at the crux of this. As marketers come under increasing pressure to prove the effectiveness of their strategies, we expect to see the adoption of programmatic go up, as it systematically proves its worth and extracts value from the data. In turn, this will accelerate the normalisation of business models within the ad-tech ecosystem, and those who have only survived on high non-disclosed margins, and are yet to make profit, will find themselves under intensified pressure."
Ad FraudAd TechAugmented RealityDataDigital MarketingInvestment