Is In-Housing Viable in a World of Walled Gardens?
by Ciaran O'Kane on 2nd Aug 2018 in News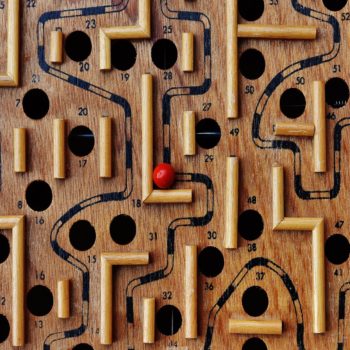 Having done a number of Road to ATS video segments, panels, and op-eds on the future of the service layer of late, I am reminded of just how complex media buying is at a global scale.
There is a common misconception that programmatic has made in-housing easier for brands. Some marketers think the algo can now do all the heavy lifting, making activation an easy process. So, why bother to work with an agency or third party?
I know of very few brands that have successfully, fully in-housed programmatic. I know of many more brands that have tried, and (quietly) gone running back to their agencies within months, because they just couldn't make it work. Or there are the brands that have quickly realised that end-to-end in-housing isn't viable, so opted for a hybrid model: keeping programmatic 'strategy' in-house, and enlisting third parties to manage everything else for them.
In-housing seems very plausible – until you realise the 'unseen' human resource that goes into programmatic buying.
You still have to aggregate PMP deals with media owners across different markets – you'd be making a grave mistake to assume you can conduct all relationships in English across the EMEA, APAC, and LATAM regions. Someone still needs to execute campaigns and optimise towards objectives. And, more importantly, someone still needs to take responsibility when everything goes to shit.
The increased number of channels that are going programmatic (audio, OOH, and TV, to name but a few) is going to overwhelm marketers looking to in-house activation.
But the one area in which I see the most complexity is the proliferation of walled gardens. Everyone wants one. And everyone wants their own unique identifier to make their walled garden stickier for marketer spend. The current ecosystem is looking messier than ever.
I can't begin to articulate how difficult this will be to manage from a measurement and attribution standpoint – and why I think in-housing will be a failed experiment. Brands will need a partner to navigate the changing media landscape on a global and local basis.
In the list below, I outline six emerging walled gardens that will soon be giving brand managers migraines in the near term. My advice to brands: find a consultancy/holding group/specialist that can help you figure out the media-buying conundrum that now faces you.
1. The Amazon walled garden
Those cheering on the growth of Amazon's power in advertising need their heads examined. Out of all the U.S. media platform businesses, Amazon is by far the most dangerous. Granted, nobody can touch its sales data. But it makes it impossible to pull out data for proper attribution and targeting. How anyone will frequency cap across Amazon, Facebook, and Google is beyond me. These three will probably represent the majority of digital media spend in the coming years, but who actually accounted for that conversion? They all mark their own homework. No independent oversight will leave marketers scratching their heads. Add to this the fact that Amazon owns and runs private brands, and brands will rightly be worried about giving up their data.
2. The ad-funded Netflix ecosystem
I am absolutely convinced that Netflix will get to 500 million subscribers in the next five years. But they won't all be 'subscribers' in the current sense. Netflix will launch an ad-funded model in the next twelve months that will allow it to add hundreds of millions of new users. This will be the end of the archaic TV targeting system. Both BARB and Nielsen will be irrelevant in the connected TV world.
Netflix will buy an SSP and DSP to build out its programmatic walled garden. It will offer granularly targeted ads across all its programming. Like YouTube, there will be only one access point to buy through its DSP. My sense is it will either be The Trade Desk or MediaMath. It will probably also champion the six-second ad to ensure a quality user experience.
3. Connected TV and other ad-funded streaming models
Netflix won't be the only streaming service to launch an ad-funded model. Disney is rumoured to be launching something similar to Netflix. With its own Disney catalogue, as well as its newly acquired Fox assets, expect to see a number of global Disney streaming services on the market soon. I am hearing that they are currently reaching out to agency partners to ascertain how they can launch a programmatic ad model.
Marketers must also be aware of the burgeoning ad ecosystem of connected TV (particularly Roku). This is likely to be a little more open. But don't rule out Roku making it difficult to buy media through integrated third-party tech.
4. Apple locking down iOS for its ad service
Apple has been deliberately making it impossible for any cookie-based targeting on iOS. This is a big problem in the U.S. and UK (given the market penetration). Only last week, the advertising community wrote an open letter to Apple, complaining about recent technology changes on their platform. I doubt Apple will reverse their recent changes, as they clearly intend to build a big business. Their hardware sales are clearly reaching a plateau. Services will have to shoulder a lot of that growth – and advertising is an easy win for Cook and co.
They will start with app search, targeting the DTC (direct-to-consumer) market. They will then look to help monetise iOS apps with their own ad network. Eventually, they will move up the funnel with some branded play. Remember they have all the data. They could easily opt-in users. The privacy grandstanding by Cook won't last long. Apple will be as big a player as Amazon in the coming years. And will doubtless be another headache for marketers, as they look to engage iOS users.
5. The media-telco collective
Telco and media mergers are all the rage right now. Ever since AT&T got their hands on Time Warner, most telcos have been eyeing up media assets, as they look to compete with the FAANGs (Facebook, Apple, AT&T, Netflix, and Google) of the world. The AT&T acquisition of AppNexus highlighted the telco intent to connect user data with automated buys.
Those enriched impressions will doubtless increase yield for AT&T across O&O and third-party inventory. I suspect the only way you could buy would be through the AppNexus DSP.
Could other telcos follow the AT&T strategy? Could they look to unlock the value of their user data by walling off access through their own buying platform? Europe would be a tricky market to do this in, given the tight restrictions of GDPR – but it could be an option for other markets. Yet another potential headache for marketers.
6. More channels, more problems... for brands
I sat on my first-ever panel at Cannes this year. The discussion centred on the future of OOH. It was enlightening, as I got a real insight into how badly the OOH space has been caught off guard by the rise of data-driven media buying. Google is stalking their sector like a hungry tiger. Armed with Android location data, Google can build accountable attribution around OOH spend.
Rightly or wrongly, OOH vendors are looking to offer an end-to-end solution. Some are open. Some are closed. My sense is they will follow the former option in a panicked strategy. Bad for marketers, of course.
But unless JCDecaux, et al, start buying location-based solution providers, they have no hope of competing with Google. The big G has the data and programmatic nous to turn OOH into a proper programmatic channel. OOH will be messy until all this is resolved.
Audio is another growth area for programmatic. But again, incumbents are trying to build closed systems. Pandora recently acquired Adswizz to offer solutions on the buy and sell side. It will be interesting to see if Pandora allows buyers to just buy Pandora inventory. I find it amazing that vendors would not integrate with TTD, DBM, Mediamath, and as many demand sources as they can. Yield is more important than some proprietary access.
I do not see a future in moving to a 100% in-housing strategy. The growing complexity around multi-channel activation would overwhelm an in-house media-buying team. Add to this the resource required to activate programmatic buys on a local level, and you get a sense of how big of an undertaking it would be to in-house all programmatic buying.
AdvertisingAgencySkillsTechnology