Didomi is the First European Company to Offer a TCF-Compliant Consent Management Solution for Connected TV
by Grace Dillon on 17th Mar 2021 in News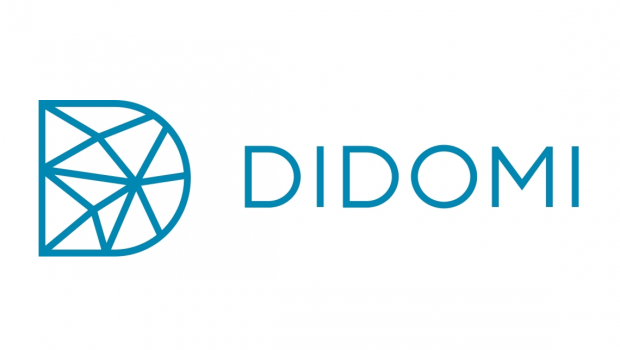 Didomi builds technology that allows organisations to place customer consent at the core of their strategy, and the most recent step in this journey is the expansion of its compliance solution to collect consent for connected TV (smart TV) and OTT applications. 
Thanks to a bespoke Didomi CMP, CTV app publishers are now able to integrate a compliant and performant consent architecture into their video on demand (VoD) experiences, whether they are subscription-based (SVoD) or advertising-based (AVoD).  
Connected TV advertising: The next big growth driver?
Consumer demand for streaming digital content is increasing immensely.
It is estimated that 61.5 million consumers across Europe use connected TV devices on a daily basis, on which they can watch their favourite content on selected devices whenever they want. In the US, 64% of households are switching from cable services to OTT services. 
Between April 2019 and April 2020, which marked the beginning of the COVID-19 pandemic's global impact, the number of consumers with connected TV increased by 54%, and revenue generated by OTT services is expected to reach more than USD $58bn (£41.8bn) by 2024.
The move away from linear TV and the exponential increase in streaming holds enormous potential for advertisers and publishers. 
The digital advertising industry widely considers connected TV advertising the next big growth driver. In North America alone, the OTT market is expected to double over the next 5 years, growing by over USD $94bn (£67.7bn), according to analyst firm Digital TV Research. 
Various players, from streaming platforms to telco providers and publishers, are all racing to build the best possible data and technology stacks to attract advertising dollars. According to The Trade Desk, connected TV inventory has already increased by 54%. 
Why does the industry need a consent management solution for connected TV?
Watch history, device information, profile-based content suggestions, personalised ads…These are all great features, but there's one element that underpins them. They all rely on personal data.
And, to use personal data, you need consent. 
To be specific, you need GDPR-compliant consent, which must be freely given, specific, informed and unambiguous. In Europe this consent must be opt-in based, the result of a positive action, in contrast to the opt-out based "do not sell my data" of some US regulation, like the CCPA.
Consumers demand transparency and control when it comes to their personal data, and connected television sets should by no means be an exception. 
So, how can you tap into this pool of potential revenue without compromising your users' data rights? 
This is where Didomi steps in. 
The Didomi Consent Management Platform for connected TV
Didomi is launching its Consent Management Platform for broadcasting companies with their own CTV application who need to collect users' consent for access to personal and device data. 
The solution runs on both Apple and Android TV, allowing brands to easily collect, optimise and leverage their users' consent, which is essential to run analytics, optimise user experience or monetise through programmatic advertising.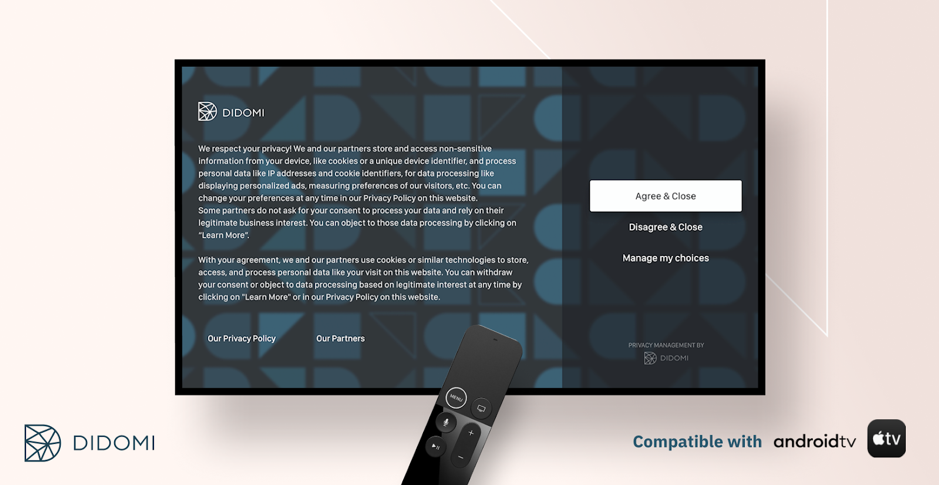 The aim? Brands can prioritise user trust thanks to transparent, easy to implement, and easy-to-use interfaces. 
The result? A new world of advertising opportunities.  benefit from customer data that is gathered in a compliant manner, while seeing higher engagement and increased user trust. 
Consumers, on their side, are free to choose what data to share and how to stay connected to their favourite brands across multiple touchpoints. They can benefit from personalised content suggestions and ads, but only if they want to.

It's a win-win situation, and this is why Didomi is so dedicated to consistently evolving and adapting to market needs. 
The first European CMP offering a CTV solution approved by IAB Europe.
The IAB Europe's Transparency and Consent Framework (TCF) helps parties in the digital advertising chain ensure that they comply with the GDPR. They set up a standard that makes it easier for organisations to identify vendors whose consent management offerings are GDPR compliant.
The Didomi solution is the first European CTV consent solution to be approved by the IAB Europe as Transparency and Consent Framework (TCF) compliant.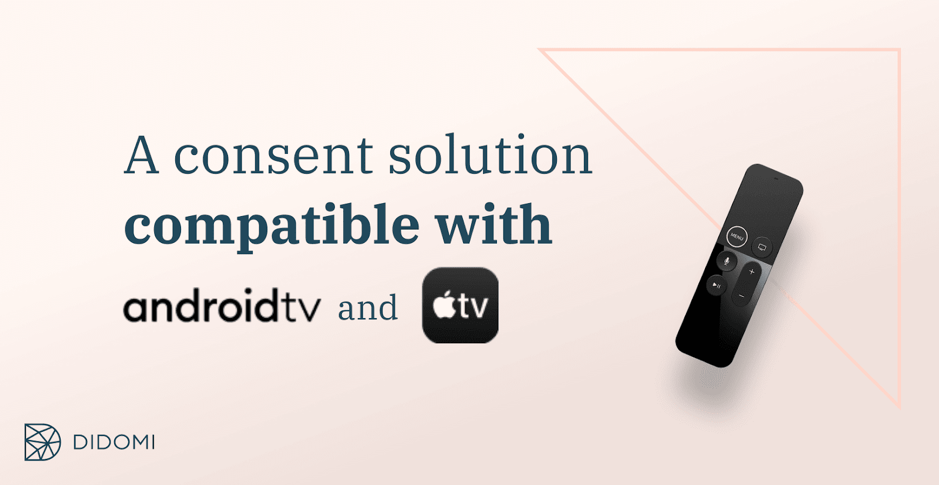 Compliance is undeniably a key priority, but this is not just a matter of compliance - it's also a matter of performance and profitability.
Connected TV plays an important role for the user regarding flexibility, variety and the ability to take part in powerful and personalised streaming experiences.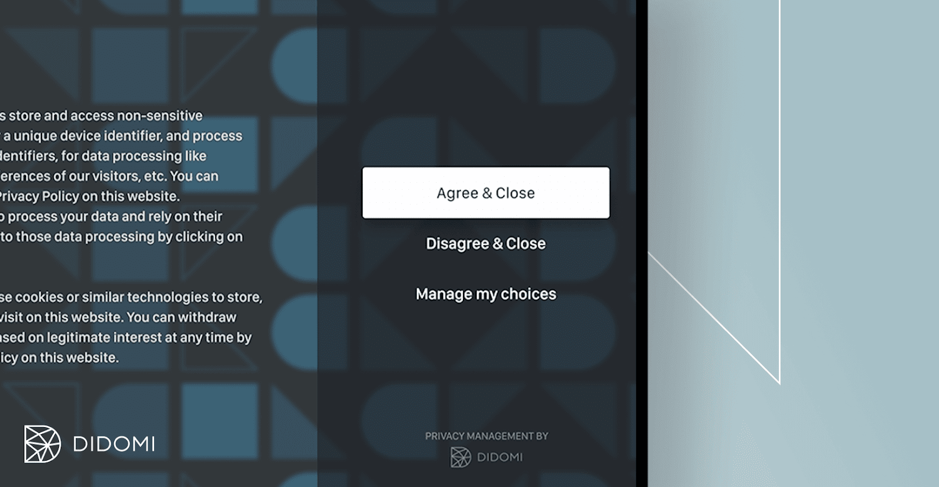 By investing in a bespoke consent management solution, broadcasting companies will be able to optimise user experience, run analytics on the Didomi Console, and monitor and optimise consent rates. 
Do not hesitate to contact Didomi for more information, or to schedule a demo to discuss how the connected TV solution can transform your company. 
This article was originally published on March 15th on the Didomi blog - http://blog.didomi.io/en/didomi-connected-tv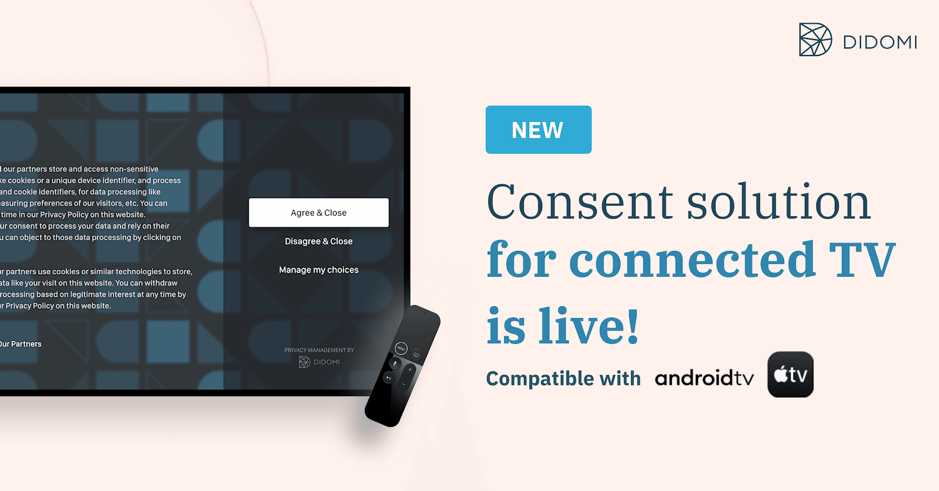 Didomi
Didomi builds technology that allows organizations to place customer consent at the core of their strategy. By making consent and preferences easily accessible, companies benefit from compliant customer data while seeing higher engagement and increas...
Powered by PressBox