Carbon Partners with Xandr to Enable Publishers to Deliver Machine-Driven Audiences into Major DSPs for Higher Programmatic Yields
by ExchangeWire PressBox on 5th Oct 2021 in News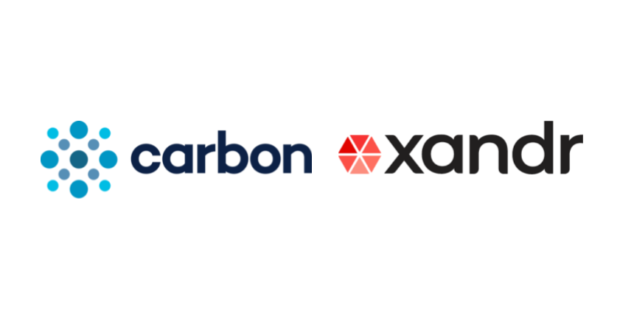 Carbon, the first-of-its-kind revenue management platform, has announced a new strategic alliance with Xandr, AT&T's advanced advertising company, to leverage Xandr Curate for improved audience deliverability and monetisation. Carbon combines automated categorisation and a scored data taxonomy with real-time revenue analytics to uncover unique first party audiences. This new alliance will enable publishers to activate those audiences built using Carbon, across major DSPs to generate higher yields.
Xandr Curate enables data owners – publishers, retailers, data providers – to leverage their unique assets and generate additional revenue by reaching programmatic media buyers. The Xandr Curate platform will allow Carbon and its publisher partners to create packages of curated inventory and sell them programmatically to monetise their proprietary data and unique addressable demand to global buyers.
Using Carbon's AI-driven audience data management - which leverages behavioural and contextual data with real-time revenue analytics - publishers can build & enrich their audiences. Carbon's automated data categorisation improves the quantity and quality of first party audience assets, with uniquely scored signals automatically mapped into a taxonomy built on IAB standards and layered with Carbon's unique brand and keyword signals.
By leveraging Xandr Curate directly from Carbon, publishers have a seamless way to automate the delivery of those audiences and deal IDs straight into the major DSPs. Commenting on Carbon's alliance with Xandr, David Snocken, VP of Commercial & Strategic Partnerships at Carbon, said: "Our alliance with Xandr helps us on our mission to make publishing more profitable by giving publishers the opportunity to reach the people they've profiled on-site, off-network, to increase yields, whilst preserving the quality of their audience development. On the flipside, buyers get easy access to high quality, well profiled publisher first party audiences for maximum results." David Snocken, VP of commercial & strategic partnerships at Carbon.
With the impending elimination of the third-party cookie, access to addressable audiences is becoming critical for media buyers. Carbon's multi-faceted and interoperable approach utilises a mix of first party & identity solutions alongside modelled and proprietary contextual solutions. When combined with innovative products such as Xandr Curate, publishers can continue to drive strong yields by providing addressable inventory to global buyers.
"Publishers, retailers and data providers often have valuable data assets that they are not monetising effectively due to the lack of existing sales channels that offer the commercial control they want, with the programmatic tradability buyers demand," adds Ben Kneen, senior director, product management, Xandr. "Xandr Curate solves this by making it easy to package and price proprietary assets against Xandr's global supply footprint into a single deal ID that's tradeable through any DSP in the market."

Xandr
Xandr is AT&T's advertising company and a leader in addressable TV, creating a better solution for advertisers and media companies. Xandr is making advertising matter and more relevant. Xandr Invest and Xandr Monetize, our strategic platforms b...
Powered by PressBox
DSPPartnershipPost-CookieProgrammatic