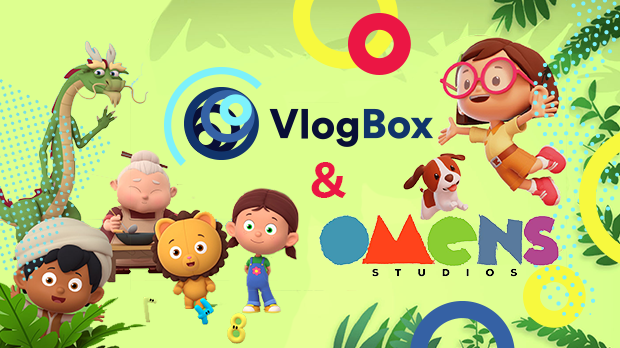 Award-winning Singapore and UK-based animation company, Omens Studios, has partnered with global video content distribution platform, VlogBox, to further extend the reach of Omens' hit series with two brand new AVOD and SVOD apps.
The initial roll out via VlogBox sees free, ad-supported and SVOD apps for the internationally loved series 'Leo the Wildlife Ranger' and 'Counting with Paula' launch globally with Roku, Android TV, and Amazon Fire TV. The apps will include eleven episodes and curated content from 'Leo the Wildlife Ranger' and 'Counting with Paula', as well as bonus content from each series, such as 'best of' Leo and additional nursery rhymes for the 'Counting with Paula' app.
Harry Teper, managing director at Omens Studios London, said: "'Leo the Wildlife Ranger' and 'Counting with Paula' have garnered a loyal global fanbase and this exciting partnership with VlogBox will offer international audiences a new avenue to access our content. As our first apps launch in the AVOD and SVOD space, VlogBox is the ideal collaborator for Omens, as its team's experience is unparalleled. We look forward to developing additional offerings with them for families around the world."
"Omens Studios is an endless source of creativity and inspiration for our team, and we're happy the company has joined our mediahouse. We believe that, with access to the majority of US households, Omens Studios will increase their audience and grow more fans." adds Nick Platonenko, CEO at VlogBox.
The first season of 'Leo the Wildlife Ranger' has sold in over 50 countries globally, and the second season of the adventure series won Best Preschool Program at the Asian Academy Creative Awards 2021 and was awarded the silver winner for Series – Television at the 2021 Telly Awards. The series aims to encourage knowledge and appreciation of wildlife and nature and to develop eco-awareness in young children. Aimed at 3–6-year-olds, the show features Junior Rangers Leo and Katie and their loyal canine companion Hero, on their quest to learn more about the beautiful animals and plants that surround us on this planet.
'Counting with Paula', aimed at children aged 3-6, is currently available in over 50 territories and follows six-year-old Paula and her friends making learning about numeracy, literacy, and social development skills fun, easy, and entertaining. The series features Paula along with friends - Tim, Billy, Chalkie, Calc, and the Numbers as they go on exciting adventures to colourful and exotic places, where they solve problems and make new friends.

VlogBox
VlogBox is a global CTV app development, content distribution, and monetization platform. With over 1000 live CTV apps and channels under their belt, VlogBox allows video creators to reach audiences across top CTV streaming platforms, including Roku,...
Powered by PressBox