JCDecaux & Tesco, Powered by dunnhumby, Create the UK's Largest Retail OOH Digital Display Network
by ExchangeWire PressBox on 17th Aug 2022 in News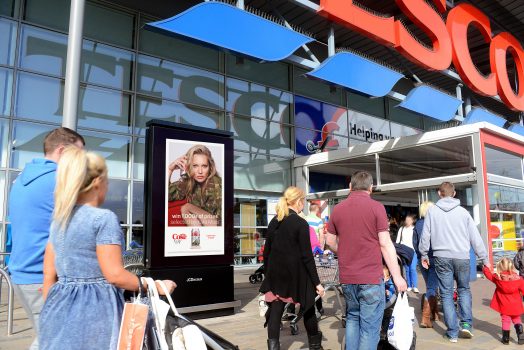 Tesco, dunnhumby, and JCDecaux have today (August 17th, 2022) announced the creation of the UK's biggest retail-based digital display advertising network – the result of a significant expansion to the Tesco digital screen estate.
The SmartScreen network, available through the Tesco Media & Insight Platform, combines JCDecaux's digital display technology – including programmatic buying capabilities - with dunnhumby's insight-driven approach to media, enabling ad scheduling to be optimised based on audience behaviours and sales. With over 400 digital screens installed outside Tesco stores since the launch in 2015, the addition of a further 100 displays means that the UK's largest grocery retailer now hosts the country's largest retail out-of-home screen network too.
"We've heard a lot about the rise of online shopping over the past few years, but we know that the majority of spend still takes place in stores," says Nick Ashley, head of media and campaign planning at Tesco. "Media installations like the SmartScreen network help us deliver a more engaging shopping experience for our customers, while providing brand advertisers with a valuable communications channel."
Six million shoppers a fortnight 
With 100 new displays in place, the digital out-of-home network covers a sizeable portion of the Tesco's store portfolio, meaning advertisers now have access to 63% of large-format Tesco stores. In real terms, the digital out-of-home expansion will provide brands with the opportunity to reach more than six million shoppers every fortnight via traditional and programmatic deals.
"The SmartScreen format allows brands to focus their advertising spend on the stores where they know it will have the greatest impact," says Stacy Gratz, regional managing director for Media, UK at dunnhumby. "Through our unique knowledge of customers, we can help brands reach those with the relevant customer lifestyle. It also means we're able to help brands understand who their 'best' customers are, and which stores they frequent, eliminating ad spend wastage in the process." 
Connected Store: a growing opportunity for advertisers 
The digital out-of-home network represents a key element in Tesco's 'Connected Store' approach to customer engagement, which sees the use of digital technologies, integration of online and offline journeys, and data-driven personalisation to deliver more cohesive and rewarding customer experiences. 
As well as expanding the network, a recent update helped simplify the media buying process for brands and agencies. Three new purchasing options – Broadcast, Optimisation, and Programmatic – allow media planners to buy advertising space in the way that matches their specific needs, supported by a new, dunnhumby-powered data dashboard that supports better-informed and more agile buying strategies.
"The Tesco out-of-home digital network has always represented a hugely powerful advertising opportunity for our clients," says Mark Bucknell, chief commercial officer at JCDecaux UK. "These new developments strengthen that even further, blending unrivalled reach with a customer-centric approach to planning and buying, making campaigns even more efficient and targeted."

JCDecaux UK
JCDecaux is the world's largest out of home (OOH) advertising company reaching audiences in over 80 countries. As the UK market leader, JCDecaux enables brands to reach consumers in airport, rail, roadside, and retail environments through tra...
Powered by PressBox
Customer ExperienceDigital MarketingDisplayRetail