Old El Paso, Mindshare & Captify Partner on Innovative Dynamic Creative Optimisation (DCO) Strategy
by ExchangeWire PressBox on 14th Sep 2022 in News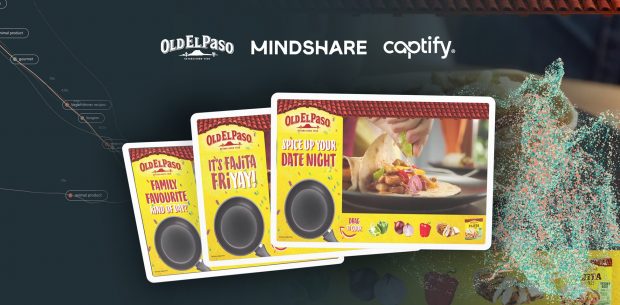 Old El Paso, the market leading Mexican food brand from American food producer General Mills, and Mindshare, the media services company that is part of WPP, today (September 14th, 2022) announced a joint partnership with Captify, the leading search intelligence platform for the open web, to leverage Captify Studio, the first search-powered creative studio, where dynamic data meets dynamic consumer experiences. 
Captify and Mindshare built and activated a DCO strategy powered by real-time search data from across premium publishers, designed to keep Old El Paso front of mind for audiences and establish connections that educate and inspire consumers to integrate Old El Paso fajitas into their weekly routines. The data uncovered the most receptive audiences to target, the most relevant moments to reach them and critical insight into creating a series of high-performing, creative assets. 
Creation and delivery of multiple creative designs were informed by search intelligence in order to: 
Adapt in real-time to ensure relevant messaging for a range of audiences to appeal to unique lifestyles; each creative communicated specific moments and needs in order to connect different audiences to Old El Paso

Incorporate dynamic creative driven by specific days of the week, ultimately driving a search uplift for Old El Paso of four times the normal increase for audiences.

Drive associations with pre-planned moments such as "Fajita Friday," to make Fridays synonymous with Old El Paso  

Keep a pulse on real-time data to target beyond OEP's core audience to reach smaller households and a new 'date night' audience, ultimately resulting in an increased engagement rate of 1.3%, compared to industry benchmark of 0.5%. 
"As a brand, we are on a mission that goes well beyond driving sales; we want to play an important role in our customers' weekly meals, spanning across all household types. Tapping into real-time search data to amend creative on the fly and deliver highly relevant content, without immense production costs, enabled us to establish a seamless moment that consumers now associate with our fajitas," said Aditi Hilgers, head of meals, General Mills UK. "We look forward to collaborating with Mindshare and Captify for future campaign innovations, learning from post-campaign insights to tackle further pain points and barriers, and bringing new families into our vibrant brand."
"For brands, DCO strategies have emerged as a critical campaign tactic to create connections with audiences that resonate at a more personalised level," said Stephen Lee, account director at Mindshare. "Today's consumers demand experiences that are meaningful to them, which means brands need to know what content to deliver to a specific consumer in the moment. Partnering with Captify's Studio to fuse DCO with search data enabled a better understanding of the motivations, mindsets, and emotions that drive consumer decision-making, resulting with Old El Paso's ability to establish a key moment with audiences and stay top of mind."
"Audiences are not one-size-fits-all and their experiences with brands shouldn't be either. Captify has long activated search intent to help advertisers uncover and target their most relevant audiences, and within the past couple of years we've been able to apply that power of search to creative with Captify Studio," said Steve Pereira, president of UK at Captify. "It's exciting to partner with innovative companies like Old El Paso and Mindshare that prioritise the role of data-driven creative in their marketing plans to drive engagement across prospects into meaningful brand experiences."

Captify
Captify is the leading Search Intelligence Platform for the open web and the largest independent holder of search data outside of the walled gardens, connecting the real-time searches from over 2 billion devices globally. Its Search Intelligence tech...
Powered by PressBox
AudienceCreativePartnershipTargeting