DMEXCO 2022: What the Industry Thought
by John Still on 29th Sep 2022 in News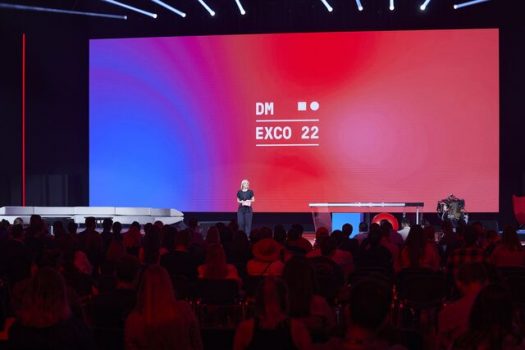 Cologne's DMEXCO conference returned in 2022 after a three-year hiatus, as the doors of the Koelnmesse were once again opened to the biggest names in ad tech, media, and marketing.
But what did the attendees make of the event? What were the major talking points, and how was the atmosphere as delegates got back into the swing of face-to-face networking on a grand scale? We spoke to some of those in attendance to gauge their thoughts on DMEXCO 2022.
What the attendees thought:
"Being surrounded by so many different minds across tech, digital, and media is always a motivator for me and kicks off inspiration. More importantly, being able to walk away with insights that are tangible and immediately actionable for me to future-proof my organisation and spur creative ideas on my return home."
Ellie Bamford, SVP global head of media & connections, R/GA
"I was excited to attend DMEXCO this year for a variety of reasons. Firstly, and most obviously, it has been great to reunite with so many of our colleagues and customers from across the globe. The work we do here goes beyond sales, with discussions taking place at this conference offering us the chance to connect with others who have similar interests and goals.
"In order to succeed, the ad tech industry must work together to reflect consumer sentiment and empower advertisers and publishers to prioritise privacy while also ensuring that they make money and grow as part of this advertising ecosystem. DMEXCO provides the industry with a chance to discuss this, and I'm thrilled to have been here to both learn and contribute."
Morika Georgieva, customer success manager for EMEA,  Permutive
"After such a long wait, it was great to be back at DMEXCO this year in person. One particularly pertinent topic surrounded the disparity between the efforts being put into CTV by streaming platforms and the programmatic revenue they are seeing from this. 
There are many reasons for this including technical challenges slowing the implementation process, and buyer and seller knowledge gaps, so it will be interesting to see how much this will have changed in a year's time."
Matthew Beck, VP of partnerships, Nano Interactive
"There was a good cross section of audio specific companies alongside the many stalwarts of digital marketing at DMEXCO this year. The overarching theme of the conversations centred around advancements in data and audio ad technology, and on the specific challenges and opportunities that this unique medium presents.
It was interesting to see that an increasing number of established ad tech and data companies are now focusing on evolving their product suite in audio. DMEXCO offers a great opportunity for reflection and long-term planning discussions."
Charlie Brookes, director of revenue at Octave Audio
 "Returning to DMEXCO after three years has given me this great feeling that life is finally returning to normal. It felt like a transitional year at the conference, helping us to gently readapt ourselves to big trade events. The conference itself wasn't as big as it used to be, which wasn't such a bad thing – after years of working from home anything more would have perhaps been overwhelming. Still, it was noticeable that the big German broadcasters and media groups, as well as some of the big social platforms such as META and TikTok were missing. 
 "We are definitely seeing the evolution towards a greater consciousness of our environment, social impact, and the necessity to take action. For example, Tina Beuchler, global head of media and partnerships at Nestle explained how they were integrating measurement and optimisation of their carbon footprint as an advertiser."
Caroline Hugonenc, SVP, research & insights at Teads
"Whilst this was my first trip over to Cologne, colleagues, clients, and partners commented on how it was much smaller than previous years, with a lot more sessions dedicated to German speaking companies. It will be interesting to see if this will be the case again next year.
 "Understandably, there continues to be a lot of talk about the impact of switching to a cookieless future. The current front runner seems to be that advertisers will turn to first party data when possible and contextual advertising when not. 
 "For audio, it's unlikely that there will be a change in the way that we advertise, given the fact that digital audio doesn't rely on cookies at all. However if contextual advertising becomes more prevalent across other channels and receives more focus from advertisers, it is only natural that there will be a renewed interest in digital audio context as well."
Harry Williams, senior marketing manager, A Million Ads
"With privacy at the forefront this year and other shifts impacting the ad tech ecosystem, like cookies and inflation, industry stalwarts are coming together to experience new technologies to revolutionise how they adapt to these challenges. Image streaming, which can support all players, from  publishers and advertisers, to content creators, is one of these innovations, helping to build a more ethical ecosystem for the image industry by building a transparent supply chain that also protects brand safety."
Andy Ashley, global marketing director, SmartFrame 
"It was great to see so many familiar faces at DMEXCO after a three-year hiatus. While the event seemed quieter than usual; the value of the conversations being had was greater than ever. Admittedly there was a notably reduced agency presence, possibly prompted by the current financial crisis, but that didn't stop the world of ad tech coming together to try and drive innovation and close a few deals face to face. From speaking to brands and technology partners, there was a general sense of caution around ad investment as a result of economic uncertainty. But there is also an appetite to make things better as a consequence. There is a continuing push to make all parties more accountable and transparent, to make the advertising better and make every dollar spent count. Ad tech providers need to be able to demonstrate how they can improve performance, minimise wastage, and boost brand preference with customers. And ideally all of this should be achieved with sustainability in mind!
"Now is not the time for wholesale spending cuts. Brands that maintain their presence through good times and bad are more likely to stay in the consumer consciousness and reap long-term rewards. Rather than restricting budgets, brands should instead optimise their spend, choosing their channels wisely, demanding more transparency over the suitability of their ad placements, and looking at how they can have more control over them."
Emma Lacey, SVP EMEA, Zefr
"It's a really exciting time to be working in ad tech, which became very clear at DMEXCO. Industry and business leaders all came together to discuss the best ways to future proof our solutions, as well as to see how technologies fit into the developing sphere of Web3 and IoT. It's clear that digital audio will play a large part in this, and as the fastest growing ad spend channel there is a lot of interest in its potential."
Michal Marcinik, co-founder and CEO, AdTonos
"This year's DMEXCO was well attended and an opportunity to meet and network with leaders from across the industry. Unsurprisingly, Google's delay to the deprecation of third party cookies was a hot topic.
It was particularly great to hear more about a variety of emerging topics such as frequency capping in the cookieless world and ad measurement solutions. Indeed, we had various meetings with measurement tech providers to discuss how to measure key parameters in branding campaigns, such as viewability and VCR (Video Completion Rate)."
Andrzej Surkont, Director of Global Inventory Partnerships at RTB House
"DMEXCO was once again a great chance to meet with familiar faces across the EMEA publisher landscape. Alongside excitement around the Metaverse and Web 3.0, identity continued to be a dominant topic of conversation.
"Following the ICO recommendations from this past spring to provide an 'accept all' and 'reject all' button on the same layer in the consent management platform (CMP), some publishers were concerned their ability to leverage sign-ins would soon be diminished. Many of my conversations were therefore made up of showing publishers the ways in which they can create and optimise the value exchange with their users."
Nora Schwab, Director, Publisher Development UK, LiveRamp
Ad TechAudioDigital Marketingdmexco