Odeeo Expands Offering to Bring Programmatic Audio Advertising to Millions of Mobile Gamers
by ExchangeWire PressBox on 29th Nov 2022 in News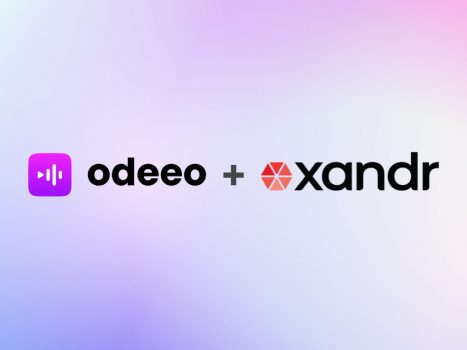 Odeeo, an in-game audio advertising platform, announced a first-of-its-kind integration with Xandr, a global marketplace for premium advertising, to bring in-game audio supply to its Invest DSP customers. The alliance will give Xandr's advertiser clients access to Odeeo's exclusive inventory in hundreds of the world's top mobile games, reaching millions of gamers.
Through this integration, buyers on Invest DSP and third-party DSPs via Xandr will be able to reach audiences with non-interruptive audio ads through one of mobile's biggest advertising channels – casual games. Odeeo's units keep players active in the game while also driving meaningful results for brand and performance advertisers. Odeeo's in-game placements provide 100% brand safety and control for advertisers, giving them full transparency across traffic sources, audibility, and viewability.
According to data.ai, more than a billion mobile games are downloaded weekly, and over three billion mobile gamers worldwide. At the same time, brands are investing more in digital audio, increasing investment 58% YOY – making it the fastest-growing media format. Odeeo's solutions unlock an even greater scale for audio advertising, enabling brands to boost the reach and effectiveness of their podcast and streaming campaigns.
Amit Monheit, CEO at Odeeo, said, "Coming from mobile gaming and ad monetisation, we wanted to capitalise on the potential of gaming for audio advertising. In-game audio is the best way for advertisers to get attention when their ad can be in the foreground, not in the background. Through our integration with Xandr, we're thrilled to be able to provide easy access to our chart-topping gaming partners."
Daria da Silveira, director, publisher sales and strategic partnerships at Xandr said, "Advertisers are looking for the most impactful and effective ways to scale their campaigns and reach their target audiences. Emerging formats like in-game audio combine audio's ability to drive brand awareness with the lean-forward mindset that comes with gaming. We're excited to offer Odeeo's unique solution and inventory via Monetize SSP to our buyers to help them scale their audio campaigns faster and more efficiently."

Sonic Odeeo
Odeeo is a fast-paced startup with a mission to create a better in-game user experience that respectfully connects gamers, developers, and brands through audio innovation. Our flagship product, PlayON™ SDK, introduces a new ad format that moves be...
Powered by PressBox