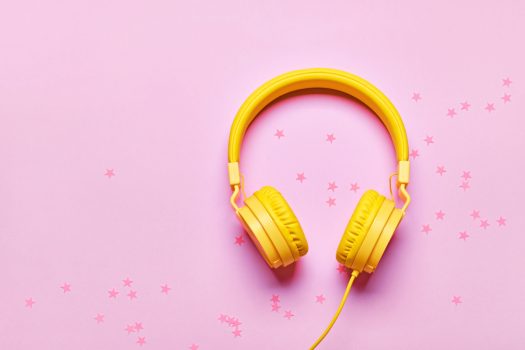 In a tumultuous year for tech, audio has boomed across markets and demographics. The global music streaming market is predicted to rise to USD$27.24bn (~£22.6bn) before the year is out, while 34% of the world's population listens to at least one podcast in any given month.
Video streaming, by contrast, has not felt so flush; as the world began to recover from the Covid pandemic only to be thrust into conflict and economic crises, video streaming saw a dramatic shift in fortune. From haemorrhaging viewers (Netflix) to failing to turn a profit (Disney+), SVOD has stumbled significantly throughout the year.
As the battle for consumers' attention intensifies, it would appear that audio is currently conquering, but is the medium set to overpower video for good? Let's look at some of the factors surrounding audio's rise to prominence, and whether a sea change is actually occurring.
The noise around audio in recent years has predominantly concerned two aspects of the medium: music streaming and podcasts. The popularity of music is nothing new - since the invention of the gramophone in the late 19th century, people have been willing to pay to be able to listen to music they like on demand. What has changed, however, is how easy it now is to access music in general.
Sure, vinyl records, cassette tapes, and CDs all offered consumers some degree of choice over the music they listened to and sometimes even introduced them to new songs or artists (looking at you, Now That's What I Call Music), however the rise of audio streaming has given consumers more control over the audio content they engage with than ever. Thanks to streaming behemoth Spotify, anyone with access to the internet can listen to over 80 million songs from an estimated 11 million artists at any time and anywhere for free (on the condition that they listen to the occasional ad). The same goes for podcasts which, although available on iTunes since 2005, have grown exponentially in popularity thanks to Spotify. When Spotify made podcasts available to all listeners in 2018, the platform saw people listening to podcasts soar by 175% by the end of the year. Now, in 2022, 32.5 million people listen to podcasts on Spotify each month and average ad spend on the platform is expected to surpass USD$190bn (~£156bn) in the US alone.
Arguably, the rise of video streaming closely mirrors that of audio, in that the advancement of technology has increased people's ability to access and dictate the content they consume. As connected TV becomes increasingly accessible in a number of markets, streaming platforms such as Netflix, Disney Plus, and Prime have rapidly built subscriber bases in the millions. In addition to providing subscribers with access to content they already know, these platforms have also had significant success with original video content; the most recent season of Netflix's Stranger Things, for example, amassed 287 million hours of views during its first week on the platform. The proliferation of these platforms' catalogues, combined with the rapidly growing global SVOD audience means that the medium stands shoulder to shoulder with audio in terms of demand and reach.
So, where do the two differentiate?
Crucially, the success of SVOD is much more dependent on external circumstances than audio, for better and for worse. Just a few years ago, when the Covid-19 pandemic consigned much of the world to their homes, video boomed; paid SVOD users globally rose an estimated 47 million in 2020 and, in 2021, the global SVOD market hit USD$87.3bn (~£72.59bn), a 24.5% increase on the previous year. As lockdown restrictions lifted, however, the medium fell just as swiftly as it rose; in the first quarter of this year, Netflix dropped a staggering 200,000 subscribers, prompting the giant to turn to advertising for the first time in its history. The onset of a global economic crisis in April, sparked by Russia's invasion of Ukraine two months earlier, saw thousands of households in a number of markets including the UK and US cancel their subscriptions to streaming services to cut costs. Once seen as a necessity to get through the long days of lockdown, external factors quickly turned streaming platforms into a luxury fewer households could afford, causing a significant knock to SVOD's once unimpeachable dominance.
Audio, by comparison, has maintained a quiet but consistent success. Yes, the medium has been making headlines in recent years, but since the birth of commercial radio over a century ago, audio has maintained a strong presence in multiple markets. Traditional radio revenue worldwide is expected to rise 0.47% CAGR for the next five years to hit a projected market volume of USD$35.65bn (~£29.73bn) by 2027, whilst streaming heavy hitter Spotify saw active users soar by 25.5% from Q4 2021 to Q2 2022. As audio has progressed, it has diversified, but not in the same way that video streaming has. While the rise of Netflix rivals such as Disney+ and HBO Max has only saturated the market by providing similar services and content to a limited number of households internationally, the nature of audio has allowed it to offer a variety of products to a much broader audience.
Certainly, a large part of this is down to the roles audio and video play in our everyday lives. Thanks to its adaptability, audio is a medium that can be accessed in a variety of environments and situations, making it far easier to integrate into a daily routine. Research from Pandora has indicated that this is exactly what listeners are doing, finding that 82% of listeners turn to audio to enhance their moods, and 67% for a welcome distraction, while 34% consider audio content such as podcasts and audiobooks to be routes to necessary companionship. By comparison, SVOD, although a saving grace for many during the peak of lockdown, is nowhere near as adaptable. Settling in for a session of binge-watching classic episodes of The Simpsons, although a fantastic way to spend a Sunday, is not something you can do in the supermarket, on a road trip, or whilst doing the laundry. Visual streaming requires time and effort that audio does not ask of its users, effort that has contributed to the phenomenon of streaming fatigue. In fact, WARC pinpointed that 56% of millennials and Gen Z find that audio content provides them with a necessary escape from too much visual stimulation.
Does the general fatigue for video streaming mean the medium is on the way out? Absolutely not. Indeed, Netflix has stumbled to crack down on password sharing, whilst Disney+ has, despite the company's best efforts, continued to bleed profits, but these hurdles are not enough to spell SVOD's end. Despite damning headlines, video streaming remains a behemoth on a global scale, with the medium's revenue expected to reach a market volume of USD$139.20bn (~£116.1bn) by 2027. As it stands, SVOD is currently too big to kill, although it stands in a precarious position: a recession, worldwide pandemic, or any other external factor could be the medium's salvation as easily as it could be its damnation – only time will tell.
Audio, on the other hand, is in a far more comfortable position. While the term "podcasting" is still regarded by many as relatively novel, it has actually been in use for almost two decades, highlighting that the audio landscape as we recognise it today has been in development from as early as 2004. Whilst we may view modern audio as only recently having stepped into the spotlight, it has been an integral part of our routines for longer than we may have previously given it credit for. The audio revolution may have been quieter in the past, but that doesn't mean it wasn't happening; it just means we're no longer experiencing it as background noise.