Broadsign Collaboration Bolsters StackAdapt's Programmatic DOOH Offering
by ExchangeWire PressBox on 24th Jan 2023 in News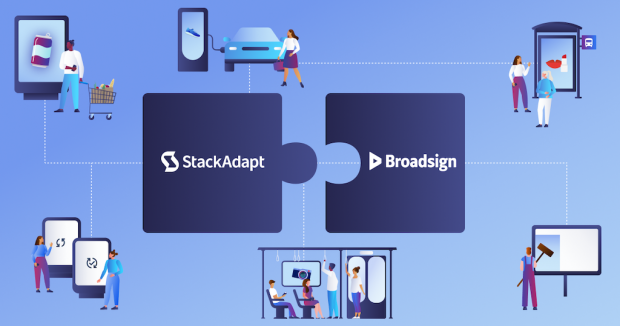 With demand for out-of-home (OOH) advertising continuing to surge, StackAdapt has announced a partnership with Broadsign that unlocks new OOH advertising opportunities for agencies and brands.
The ad tech collaboration strengthens the OOH inventory available on StackAdapt's multi-channel digital advertising platform, providing StackAdapt users access to premium international screens in highly trafficked locations that are available through the Broadsign supply-side-platform (SSP).
The integration of Broadsign's global SSP with StackAdapt's multi-channel digital advertising platform enables media buyers to seamlessly weave global digital out-of-home (DOOH) ads spanning roadside, retail, transit, and beyond into cohesive programmatic multi-channel campaigns. The combination of two leading ad tech platforms makes it easier for media buyers to expand audience reach and drive increased activity across other digital channels. It also brings StackAdapt users new ways to enhance brand awareness, and more meaningfully connect with global audiences.
"Demand for out-of-home advertising has risen sharply in recent years and continues to grow as more marketers double down on brand-building investments amidst the current economic climate," shared Lina Wangfang, Senior Director of Inventory, StackAdapt. "Our collaboration with Broadsign significantly expands the available programmatic out-of-home inventory on our multi-channel platform for agencies who may not have previously considered the medium. Out-of-home plays well with mobile, social, and CTV, and we expect this integration will help drive new growth here at StackAdapt, and fuel the continued evolution of multi-channel."
"Programmatic is the future of out-of-home, and our latest integration with StackAdapt will drive new attention to the medium to help spur the growth of out-of-home and multi-channel," shared John Dolan, VP global media sales, Broadsign. "We're thrilled to team with StackAdapt to bring more media buyers, including midsize agencies, access to a medium that's proven to boost brand awareness and online activation. We look forward to building on our partnership with StackAdapt."

Broadsign
Broadsign empowers publishers, agencies, and brands to harness the power of out-of-home and connect with audiences across the globe. Powering over 425,000 signs along roadways and in airports, shopping malls, health clinics, transit systems and more,...
Powered by PressBox