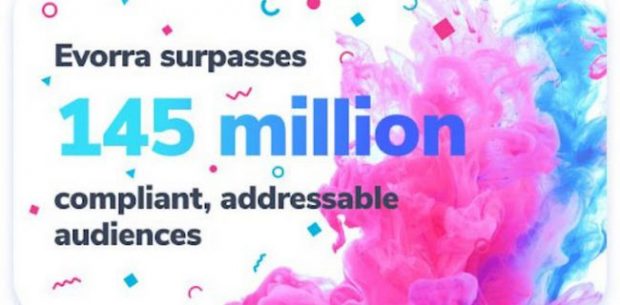 Evorra, the simplest-to-use next-generation SaaS marketplace for brands and agencies, has reached another milestone with over 145 million compliant and addressable audiences going live on its platform this week.
"We have been working hand-in-hand with some of the world's largest brands and websites to build a next-generation audience platform that ensures only the consented and fully secure use of data," said Aaron Ritoper, co-founder and CEO of Evorra. "This has been hard, but rewarding. We are increasingly bringing together the ability for companies to compliantly monetise their data with the brands and agencies who need to support their marketing communications and respect consumer privacy at the same time."
Evorra's growth to over 145 million compliant, addressable audiences is a clear milestone across the rapidly changing, digital advertising ecosystem. Evorra has a unique, SaaS approach in providing data-vault capabilities. The platform has been deliberately designed to follow minimal movement data principles, so both data owners and brands can maintain consumer data privacy for digital marketing without added complexity or cost. Efficiency and cost savings are important benefits in today's market conditions.
"We are on track to onboard close to a billion, addressable and compliant audiences by Q4," continued Ritoper. "This is even more impressive when you consider that Evorra de-duplicates audiences for our brands and agencies before they activate against them. We can do this because we only process deterministic identifiers with consumer consent for our audiences. Our brand and agency partners are excited about this proposition as it enables scale while respecting data citizenship."
Evorra continues to onboard agencies and brands across Europe, the UK and the US as these companies increasingly move away from lower-performing, cookie-based audience technologies in favour of compliant and future-proof approaches. As Evorra's audience footprint continues to skyrocket, their clients increasingly benefit from the unprecedented way Evorra enables them to build simple, cost-effective addressable audiences at scale. Given Evorra's trajectory to reach close to a billion compliant audiences by the end of 2023, these benefits are only set to increase.

Evorra
Evorra enables brands and marketing teams to build or monetise addressable, first-party audiences at scale. It allows digital advertising, leveraging clean-room technology, without compromising scale, cost, transparency, or privacy. Brands and age...
Powered by PressBox
AddressabilityAudienceDataMarketingSaaS