First Listener-Wide Study Reveals Brand Impact of Radio, Livestream & Podcasts
by ExchangeWire PressBox on 14th Feb 2023 in News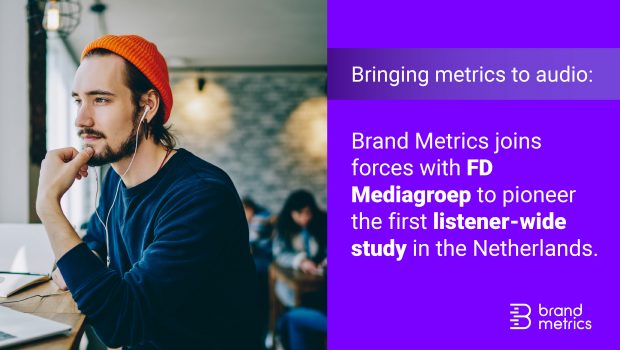 BrandMetrics has joined forces with FD Mediagroep and BNR to carry out the first listener-wide study in the Netherlands that also includes podcasts as an advertising medium.
A total of 32 audio campaigns by advertisers from 12 different sectors were studied in order to provide advertisers with an insight into the effect of the changing audio landscape.
The study found that if Radio, Livestream and Podcasts are used in combination, this achieves the highest performance in terms of brand lift at+17.3%. This high level of uplift is probably explained by the fact that 78% of BNR listeners listen very attentively.
In terms of increasing brand consideration and brand preference, the combination of Livestream and Podcast achieves the best results. When it comes to creativity, shorter audio campaigns (<20 sec.) achieve double the brand lift delivered by campaigns lasting longer than 20 seconds. This shows just how important it is to take time length into account when developing audio spots.
"In collaboration with Brand Metrics, we now offer evidence of brand effects of BNR audio campaigns. We're also building a database that offers insights on the effects of audio as a medium type, required volumes per channel, and audio spot length. I'm proud that we can compare the combined audio types and offer them to advertisers, even on a small-scale basis for each campaign,"– Jacomien van Doorn, head of digital sales & development at FD Mediagroep.
"There's no Brand Metrics user more appreciated than one who pushes us into uncharted territory. Developing a scalable measurement solution for podcasts and audio, in a pioneering partnership with FD Mediagroep, has proved to be an interesting and important innovation for us as an organisation. Now that development is in place, it has enabled a major study like this, which clearly demonstrates the brand-building power of the audio medium" – Anders Lithner, CEO Brand Metrics.

You can read the most important insights from this study in the FD Mediagroep White Paper. Download the White Paper here.

Brand Metrics
Brand Metrics provides the only platform to measure brand uplift for digital ad campaigns, including display, branded content and video to ensure publishers have tangible proof of their value for even smaller clients. Simple and powerful, their surve...
Powered by PressBox