NumberEight Partners With FourM to Solve Identity With Cohort-Based Marketing in the Japanese Market
by ExchangeWire PressBox on 6th Mar 2023 in News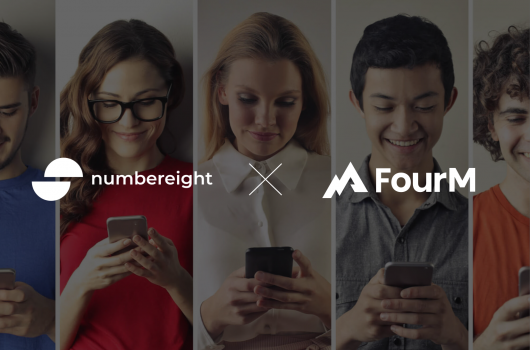 NumberEight and FourM - Japan's leading app consultancy and integration house, and a subsidiary of end-to-end commerce enablement company AnyMind Group - have signed a deal to empower Japanese publishers by providing them access to unique new first-party data. By activating features such as in-moment activity detection and cohort-based targeting, publishers will now be able to increase the value of their inventory significantly.
As consumers become increasingly savvy about their data usage and limit advertisers' access to it, privacy is a key element in any product offering. 
NumberEight's intelligence platform leverages edge AI to analyse users' data locally, allowing no raw data to leave the device and safeguarding users' privacy. By eliminating the need for IDs (or cookies), the platform increases publishers' addressability by 5x.
How does that work? 
NumberEight transforms raw mobile sensor data into a new type of 1st party data, predicting over 200 live moments  (e.g., walking, at work) and 70 behavioral cohorts (e.g., cardio champion, long hours workers). See all available moments and cohorts by downloading the taxonomy here. All computations happen on the end user's device for a privacy-by-design solution.
NumberEight's CEO, Abhishek Sen, said:  "I am thrilled to announce our partnership with FourM, Japan's leading app consultancy and integration house. This partnership will empower Japanese app publishers to access unique new first-party data, allowing them to deliver contextually relevant advertising and end-to-end personalisation across their apps. As consumers become more mindful of their data usage and privacy, it is crucial to provide a sustainable identity solution that prioritises privacy while providing audiences with the personalisation they deserve." 
FourM 's director, Shiro Sakumasu, shared:  "We are very pleased to introduce NumberEight's identity solution to the Japanese market through this business alliance. With consumers growing concerns about privacy protection and restrictions on the use of 3rd party cookies, it is important for app developers to be able to understand user behaviour and preferences more accurately and to provide a more accurate picture of the user experience. Also, it is imperative for app developers to understand user behaviour and preferences better and to serve ads accordingly. The NumberEight platform provides an effective means to solve this problem. We feel that through this partnership, we can better support app developers than ever before."

NumberEight
NumberEight's audience intelligence platform resolves the privacy problem by capturing users' live moments and behavioural cohorts. The platform allows publishers to significantly increase the value of their ad inventory by connecting to th...
Powered by PressBox
AddressabilityAppsCookiesPrivacyPublisher