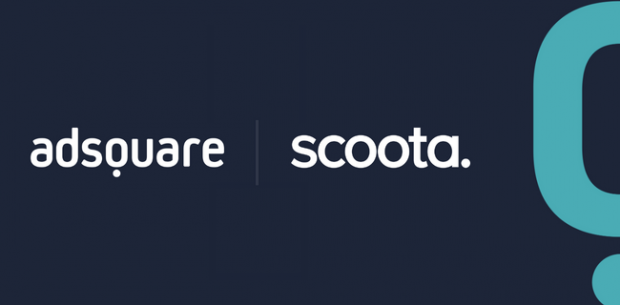 Scoota, a leading independent ad tech company, has announced an expansion to its partnership with Adsquare, an award-winning location intelligence platform. This latest integration sees Adsquare data accessible from within the Scoota platform for programmatic digital out-of-home (DOOH) planning and activation purposes.
This partnership offers marketers privacy-compliant, ID-free audience targeting for programmatic DOOH campaigns across multiple media owners and markets. Adsquare combines audience and mobile location data to then score each audience segment for unique locations, while Scoota's industry-leading dynamic creative capabilities and DSP allow brands to deliver multiple creative variations, in one go, with the assurance that each message will be delivered to the most relevant audience.
The buying flexibility of programmatic DOOH, combined with dynamic creative and audience data, eliminates the fractured campaign set-up used traditionally and instead provides a more accessible, streamlined approach.
"It's such an exciting time to be working in the pDOOH space, and partnerships like this one make it even more so. Our DCO capabilities for DOOH combined with the audience targeting that Adsquare provides, give new meaning to creative relevance, and make complex campaign set-ups a thing of the past. We're thrilled to be able to offer our clients and platform users access to ground-breaking technology made possible by these collaborative partnerships " Said Hannah Scott, VP, client services at Scoota.
"The OOH industry's capabilities continue to thrive as a central component to fully integrated, automated, and measurable campaigns. This partnership with Scoota enhances a relationship based on the highest standards of privacy and the goal of developing the most innovative customer solutions. This latest integration further underlines the commitment to efficiently driving campaign effectiveness as a priority," commented Adam Powell, global lead OOH at Adsquare.
"Scoota's platform and services work as an extension to our internal team, the latest integration with Adsquare has supported Threepipe in planning and delivering best-in-class DOOH campaigns with high accuracy against specific audiences for our clients," added Jack Ellis, business director at Threepipe Reply
This latest integration expands on the existing partnership between Scoota and Adsquare which already provides cross-channel retargeting opportunities and footfall attribution for measuring success against programmatic DOOH activity and is available to all Scoota platform users.

Adsquare
Adsquare powers marketers with geospatial data science to enhance omnichannel campaigns.We are an award-winning location intelligence platform and enable improved campaign planning and activation, as well as measurement and attribution for camp...
Powered by PressBox
Ad TechDOOHPartnershipTargeting