Initial Assessment by Scope3 Reveals Key Carbon Benefits of Teads' Direct Inventory 
by ExchangeWire PressBox on 12th Apr 2023 in News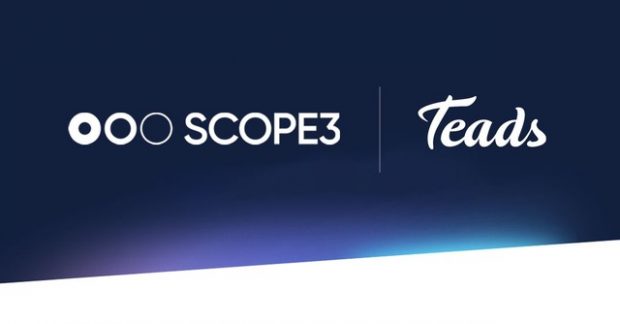 Teads, the global media platform, today (April 12th, 2023) revealed key carbon benefits of its direct inventory in an initial assessment by Scope3 analysing over 500 domains with direct integration.
This assessment comes on the heels of Jounce Media's findings ranking Teads as the leader in directness among omni-channel SSP exchanges. Further maintaining its top position as a category leader in SPO, Teads will utilise Scope3 data for internal analysis to continue to improve its own performance.
Teads will also leverage Scope3 data in its own solutions to help advertisers make easy decisions around decarbonisation. In using Scope3 measurement globally, Teads will bring sustainable advertising practices to the forefront of the industry and continue its focus on reducing the environmental impact of digital advertising and promoting transparency in ad delivery.
Brands measuring their full media plan will have access to a greater level of transparency to easily determine the most direct link to supply, and optimise efficiency in terms of carbon emissions compared to other platforms.
Remi Cackel, chief product officer, Teads, said: "We are thrilled to be partnering with Scope3 to drive change in the digital advertising industry. Sustainability is a core value for Teads and this partnership will allow us to make a real impact in reducing the environmental footprint of our industry."
Anne Coghlan, COO and co-founder, Scope3, said: "An initial assessment of our data revealed that buying Teads' direct inventory might be one way carbon-conscious brands can lower the emissions of their campaigns. Our emissions data pinpoints ad selection, which includes the full supply chain between a media buyer and a media seller, as a significant factor in the overall emissions of each ad buy. When analysing hundreds of domains directly integrated with Teads, we found that ad selection emissions were 99% lower than typical programmatic buying."
Martin Bryan, global chief sustainability officer, IPG Mediabrands, said: "Teads' leadership in delivering sustainable business outcomes, combined with Scope3's world-class emissions modeling, gives us the unique ability to optimally measure and reduce end-to-end for our clients. We're excited to continue championing this shift in media as part of our commitment to continuous emissions reductions and our broader Media for Good efforts."

Teads
Teads operates a leading, cloud-based, end-to-end technology platform that enables programmatic digital advertising across a global ecosystem of quality digital media. As an end-to-end solution, Teads' modular platform allows partners to leverage b...
Powered by PressBox
InventoryOmnichannelSSPSustainability