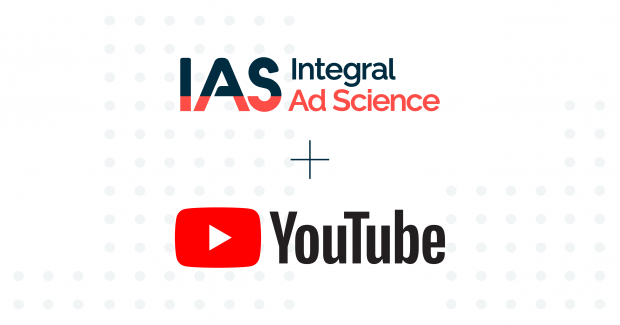 Integral Ad Science, a global leader in digital media quality, announced it has enhanced its partnership with YouTube to provide advertisers with industry-leading brand safety and suitability measurement across the online video platform.
Powered by cutting-edge, machine learning technology, IAS measurement will now deliver a more comprehensive analysis of video content on YouTube, providing marketers with even greater tools for safety and suitability. IAS's updated reporting is aligned to the Global Alliance for Responsible Media (GARM) brand safety and suitability framework, enabling granular campaign reporting for maximum impact.
"Consumers are spending as much time streaming content on YouTube and other platforms as they are watching traditional TV," said Lisa Utzschneider, CEO, IAS. "As the amount of content on YouTube continues to grow, marketers need sophisticated tech to keep pace. IAS's ongoing innovation with YouTube and Google is continuously adapting to provide marketers with the tools they need to take control of brand safety and suitability and ensure their campaigns are productive."
IAS's total media quality for YouTube uses a powerful type of machine learning to provide new levels of insight into video content and is currently being used on other social media platforms to analyse millions of videos per year for marketers.
The IAS YouTube brand safety & suitability measurement offering will provide:
● Deeper Insights: Machine learning-powered details about video content, giving advertisers best-in-class brand safety and suitability scoring.
● Industry Alignment: Scoring classification is consistent with the GARM brand safety and suitability framework.
● Granular Classification at Scale: Daily reporting across the GARM categories and four risk levels, ultimately providing brand safety reporting to allow advertisers to stay informed and take action.
● Global Support: Accessible across more than 30 languages.
"Advertisers require the ability to measure brand safety on platforms like YouTube without sacrificing premium placements or reach. Partnering with IAS enables us to access the power of granular classification to measure brand suitability for our clients and drive better campaign impact and control," said Julie Kandel, senior partner, director of brand safety North America at GroupM.
IAS is certified for both 'brand suitability and contextual targeting' and 'brand safety reporting' in the YouTube measurement programme (YTMP). The YTMP was created to offer advertisers an array of trusted independent solutions for driving and measuring marketing performance on YouTube.

Integral Ad Science
Integral Ad Science (IAS) is a global leader in digital media quality. IAS makes every impression count, ensuring that ads are viewable by real people, in safe and suitable environments, activating contextual targeting, and driving supply path optimi...
Powered by PressBox
Brand SafetyBrand SuitabilitySocial MediaVideoYouTube