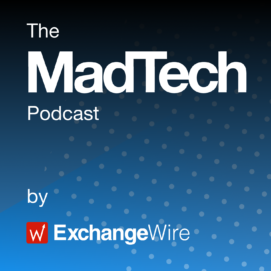 On this week's episode of The MadTech Podcast, ExchangeWire's Rachel Smith & Lindsay Rowntree are joined by Cristina Constandache, CRO, Viber, to discuss the latest news in ad tech and martech.
On this week's episode:
– Competition to Netflix is hotting up, leading to increased speculation around if, and when, the platform will introduce an ad-funded model to compliment their subscription service. Globo building a USD$50m (£41.4m) studio whilst refusing to sell content to Netflix; a drop in subscriber numbers in the US and the resultant 15% drop in share price; and news that Disney is set to bundle its content for a similar price to Netflix (at least in the US) all contributing to the streaming giant's woes.
– Facebook has paused its messenger monitoring process this week, which relied on contractors listening to users' messengers and transcribing them, to test the effectiveness of it's transcription tool. This was undertaken without users' knowledge or consent. Privacy concerns regarding this were raised to the ICO, who responded saying they were aware of a number of privacy concerns relating voice assisted technology and would be looking into this. How will privacy be protected in the use and application of voice assisted technology, will this be a GDPR minefield in Europe? FB continues to demonstrate that it has the power and tools to breach user privacy, albeit claim they don't intend to, yet their advertising continues to perform well – can they still promise audiences that advertisers are looking for?
– In further Facebook news, Whatsapp and Instagram products are now to be aligned with the FB brand, being called 'Whatsapp from Facebook' and 'Instagram from Facebook' respectively. Scott Galloway writes that this seems like a very bad idea from a brand association perspective, given all the negativity which surrounds the FB brand these days, and asserts that they must be doing this for the purposes of making those assets even harden to separate from FB, should competition authorities come knocking. Why has FB made this move? What will competition authorities make of this? Do FB care about the future prospects of these assets, or simply the wholesale ownership of all assets combined and the user data opportunities which they bring to the table? Who will stand in FB's way here?
The MadTech Podcast is also available on:
Spotify
TuneIn
Apple iTunes
Google Podcasts
Stitcher
Pocket Casts
RadioPublic
CastBox
Deezer