First Analysis of European Anti-fraud Efforts Shows 94% Fraud Reduction in Tag-Certified Channels; Akamai Acquires Janrain Inc.
by Romany Reagan on 11th Jan 2019 in News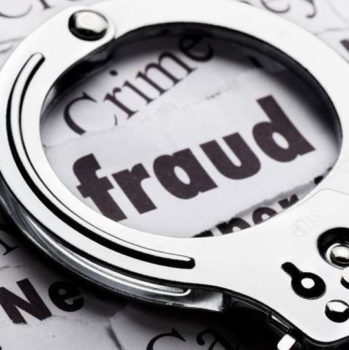 In this weekly segment, ExchangeWire sums up key industry updates on ad tech from around the European region – and in this edition: First Analysis of European Anti-fraud Efforts Shows 94% Fraud Reduction in Tag-Certified Channels; Akamai Acquires Janrain Inc.; RTL Group to Acquire Video Technology Company Yospace; and IgnitionOne Experiences Continued Growth with Market-Leading Customer Intelligence Platform.
First Analysis of European Anti-fraud Efforts Shows 94% Fraud Reduction in Tag-Certified Channels
The Trustworthy Accountability Group (TAG), an advertising industry initiative to fight criminal activity in the digital advertising supply chain, released on Tuesday (8 January) the first analysis of the effectiveness of ongoing industry anti-fraud efforts in Europe. The study, conducted by The 614 Group, found the use of TAG Certified distribution channels for digital advertising reduced the level of fraud by more than 94% from the broader industry average.
The study compared invalid traffic (IVT) rates in TAG Certified Channels against industry norms by measuring approximately four billion ad impressions from January-August 2018 from three major advertising agency holding companies across the United Kingdom, Germany, France, Italy, and The Netherlands. The results found a dramatic reduction in fraud rates across European markets from an industry average of 8.99% to just 0.53%, when using TAG Certified Channels.
Mike Zaneis, CEO, TAG, comments: "Ad fraud is a global problem; and addressing it will require our industry to work together across national and regional borders. Happily, this study demonstrates that the industry has developed an effective and scalable solution; and Europe is leading the way. This study proves the effectiveness of TAG's Certified Against Fraud Program in fighting fraud across European markets, both independently and through collaborative efforts like TAG's partnership with JICWEBS in the UK. By continuing to adopt TAG's rigorous anti-fraud standards, we can stop criminals who profit from ad fraud and ensure a safe and clean supply chain across the world."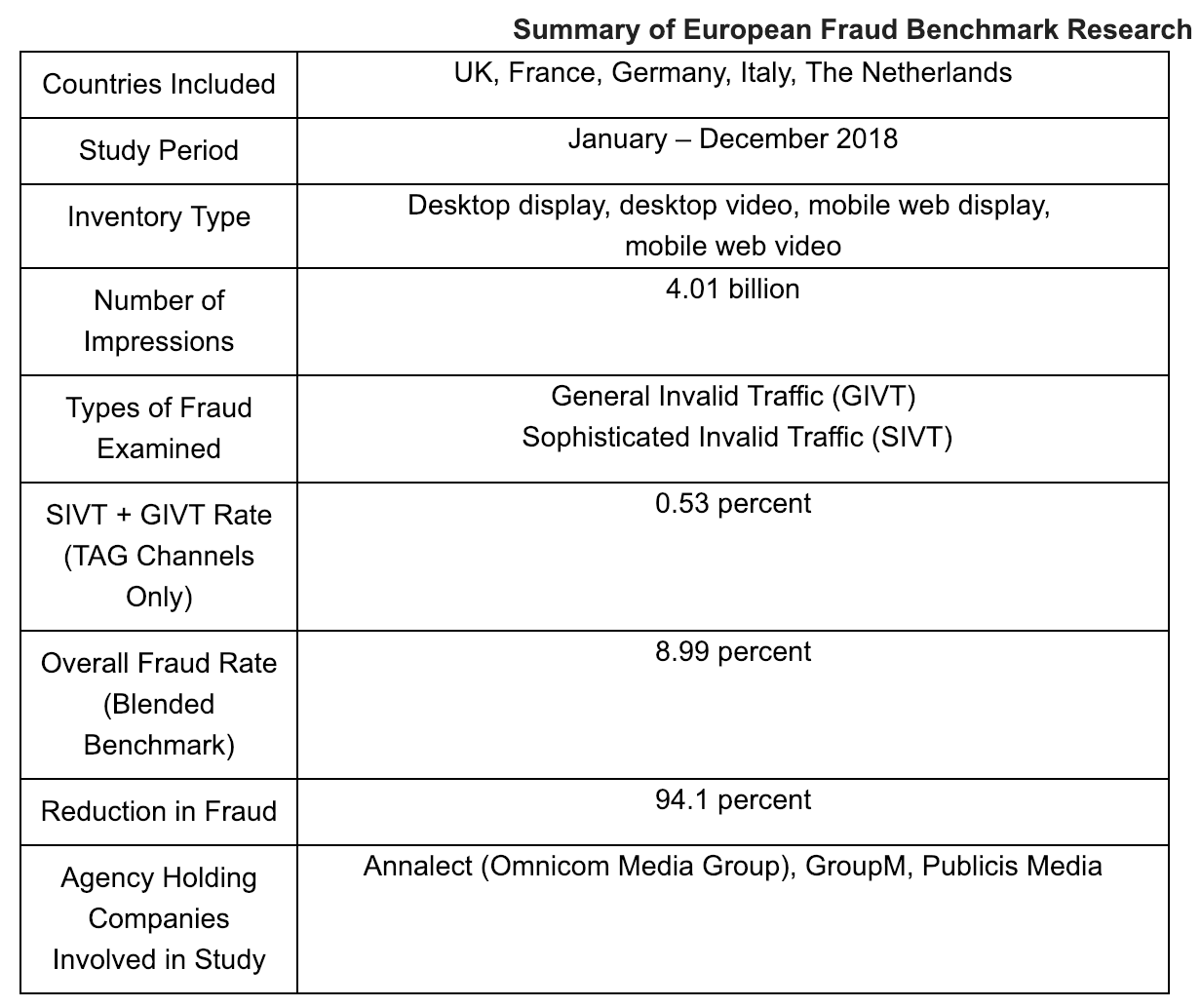 TAG first commissioned The 614 Group to conduct a benchmarking study of the U.S. market to examine the effectiveness of the TAG Certified Against Fraud Program in December 2017, and it conducted and released a follow-up study with The 614 Group earlier this fall. Both studies showed a dramatic reduction in fraud across TAG Certified Channels.
Rob Rasko, CEO, The 614 Group and project lead on the research, concludes: "This report answers the call for a clear fraud benchmark for the European market, which will serve as a baseline for measuring progress for years to come. The results of this study will help us better quantify and understand the success of industry anti-fraud efforts. I'm elated with the level of participation from the industry and look forward to seeing continuing progress like we have made in working with TAG in continuing to help eliminate the issue of ad fraud across the European markets."
TAG launched its Certified Against Fraud Program to combat invalid traffic in the digital advertising supply chain. Companies that are shown to comply with the Certified Against Fraud Guidelines are awarded the Certified Against Fraud Seal, which they can use to publicly communicate their commitment to combatting fraud. The Certified Against Fraud Program also provides companies a suite of anti-fraud tools to aid in compliance:
     The Payment ID System creates a chain of custody for digital advertising transactions, helping companies to ensure that payments made in the digital ad ecosystem are going to legitimate partners.
     The Data Center IP List is a common list of IP addresses with invalid traffic coming from data centres where human traffic is not expected to originate. TAG publishes this list on a monthly basis to assist companies in meeting the requirement in the Certified Against Fraud Guidelines that companies employ data centre IP threat filtering across all of the monetisable transactions that they handle.
     The Publisher Sourcing Disclosure Requirements (PSDR) foster trust in the marketplace by disclosing the amount of sourced traffic for a given publisher. This policy tool outlines the requirements for publishers to disclose the volume of traffic acquired through paid sources.
     The Ads.txt Specification creates greater transparency in the inventory supply chain by creating a public record of Authorized Digital Sellers, giving publishers greater control over their inventory in the market, and making it harder for bad actors to profit from selling counterfeit inventory across the ecosystem.
In the UK, TAG has partnered with the Joint Industry Committee for Web Standards (JICWEBS), and they have jointly agreed to adopt the TAG Certified Against Fraud Program in the UK beginning January 1, 2019.
Additional information about TAG's Certified Against Fraud Program and how companies from across the advertising ecosystem can received the TAG Certified Against Fraud Seal can be found here. The full study can be found here.
Akamai Acquires Janrain Inc
Akamai Technologies (NASDAQ: AKAM), the intelligent edge platform for securing and delivering digital experiences, announced on Monday (7 January) that the company has entered into an agreement to acquire Janrain, the company that pioneered the customer identity access management (CIAM) category. Janrain enables enterprises to enhance digital trust by offloading login and registration workloads, and its integration with Akamai's Intelligent Edge Platform is expected to provide world-class security, regulatory compliance, and massive scale to online engagements.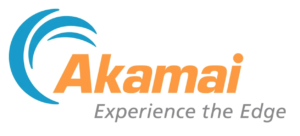 As enterprises continue to adopt cloud technologies and digitise their businesses, web security and identity awareness have become increasingly integral to keeping businesses safe and secure and establishing digital trust. Akamai already secures its customers' websites, apps, and APIs from DDoS attacks, application vulnerabilities, bots, and other advanced threats, with hundreds of millions of login transactions taking place daily on the Akamai Intelligent Edge Platform. The acquisition is expected to add critical complementary capability that will help Akamai's customers establish and maintain digital trust with their users by providing a highly secure and resilient environment for collecting and storing sensitive user information, managing privacy controls, defending against identity fraud, and improving engagement and brand loyalty.
Rick McConnell, president of Akamai Technologies and general manager of Akamai's web division, comments: "It is challenging to conduct business online without an inherent and expected level of digital trust. Janrain's Identity Cloud, working together with Akamai's Intelligent Edge Platform, will provide an added layer of security to allow our customers to know more about their end users and potentially drive additional revenues from that deepened relationship."
Integrating Janrain's Identity Cloud into the Akamai Intelligent Edge Platform is expected to provide immediate security benefits to CIAM customers in two critical areas: bot management and threat intelligence. Akamai Bot Manager mitigates the risks associated with credential abuse by detecting and managing bot activity at login and registration time and reducing fraud without negatively impacting the user experience. By leveraging Akamai threat intelligence, customers can make smart decisions about which users should be allowed to access registration and login pages based on reputation built on past online behaviour.
The integrated technology will also be designed to enable highly accurate, scalable, and secure risk-based adaptive authentication solutions to safeguard against malicious account activities including fraudulent account creation and credential compromise.
Jim Kaskade, chief executive officer, Janrain, adds: "Janrain has been focused on creating an innovative solution for establishing digital trust through authentication and authorisation for each individual consumer and even connected devices that interact with a digital enterprise. By combining the scale and intelligence of Akamai's Intelligent Edge Platform with Janrain's Identity Cloud, we believe we can realise the promise of delivering a more accurate and sophisticated customer identity management solution and enable trusted digital experiences that are unique for every user."
Janrain is a privately-funded company headquartered in Portland, Oregon. The all-cash transaction is expected to close early in the first quarter of 2019. Akamai anticipates the Janrain acquisition to be slightly dilutive to its non-GAAP net income per share for 2019, in the range of $0.05 to $0.06, and to become accretive in 2020. The acquisition is not expected to impact Akamai's previously stated goal of achieving a non-GAAP operating margin of 30% by 2020.
RTL Group to Acquire Video Technology Company Yospace
RTL Group announced Tuesday (8 January) that it has signed an agreement to acquire control of the UK-based video technology company Yospace. The transaction is expected to close 1 February, 2019.

Yospace has developed one of the most advanced technologies for Server-Side Dynamic Ad Insertion (SSDAI), which allows the replacement of existing commercials from a broadcast stream with more targeted, personalised advertising. SSDAI is expected to become the de facto standard to seamlessly serve advertising spots in premium streaming environments. In essence, the groundbreaking Yospace technology delivers the right advertising, at the right time, according to the rules established by the media owners. The Yospace technology currently serves major media owners throughout Europe, the United States, and Asia. Customers include BT Sport, TV4, ITV, and Seven West Media.
Yospace focuses on the premium streaming segment, which is also the fastest growing and most significant market for RTL Group's global ad-tech company SpotX. This market segment includes video on demand (VOD) and live video that is streamed to any internet-connected device. As a result, the acquisition of Yospace complements RTL Group's ad-tech stack by ensuring a key technology that can win, retain, and scale premium media clients, including RTL Group's broadcasters and streaming services.
Bert Habets, CEO, RTL Group, comments: "The acquisition of Yospace is an important step in building out our Total Video portfolio and will help drive two strategic goals at the same time. First, we gain a competitive, fully integrated and profitable solution, which is key to further growing our ad-tech business. Our goal is to continue expanding SpotX into a leading, independent monetisation platform for broadcasters, video on demand services, and publishers.
"Secondly, this acquisition will also help build local streaming champions in the markets where we have strong families of channels. The Yospace technology makes advertising on streaming services more personal, which means a better consumer experience for superior monetisation of our premium advertising inventory."
Tim Sewell, CEO, Yospace, adds: "Our clients make significant investments in their video offerings and content licenses. Yospace has proven that it can provide an unmatched quality of service, even with millions of concurrent users. This new relationship with RTL Group will not only allow us to extend our customer base to all entities of the biggest European broadcast and video network, but RTL Group is also fully committed to support the further roll out of our services to bring more innovative products to media owners around the world."
RTL Group will pay up to USD$33m (£25.85m) before cash and debt adjustments in connection with the full acquisition of Yospace, including upfront and performance-related components.
Under the terms of the transaction, RTL Group will appoint three of five members to the board of Yospace. Yospace CEO Tim Sewell and chief technology officer (CTO) David Springall will continue to manage the day-to-day operations of the company, reporting to its board.
IgnitionOne Experiences Continued Growth with Market-Leading Customer Intelligence Platform
IgnitionOne, a global marketing technology and services leader, announced on Tuesday (8 January) the company's annual growth and evolution of its platform, establishing the company as the key player in 'customer intelligence'. During the course of 2018, IgnitionOne brought on over 300+ brands and agencies in auto, hospitality, and retail.

2018 was a year when marketers encountered many new opportunities, including an increase in engagement channels, the use of first-party data, and getting more effective and efficient use of marketing spend. In addition, trends like direct-to-consumer, digital out-of-home, and in-housing models, bring along with them the necessity of advanced solutions in order to be successful. As a result, IgnitionOne continued to evolve its technology platform for marketers to assist in helping marketers make sense of data, make it actionable, and do it in real time. Customer intelligence works with or without a marketer's existing marketing stack to find, value, and engage customers in real time. IgnitionOne's CIP goes beyond traditional Customer Data Platform (CDP) capabilities, giving brands deeper insight for better omnichannel engagement. Advanced capabilities of IgnitionOne's CIP include:
Identity Resolution (IDR) Recognise each customer as an individual, no matter when or where they choose to interact.
Score Value your customer by understanding their levels of engagement, products of interest, and likelihood to undertake a desired action.
Personalisation Enable real-time, 1:1 messaging across addressable channels featuring up-to-the-minute products of interest.
Data Modelling Know your best customers so that you can uncover your next best customers.
Attribution Get a picture of what is driving your marketing results through a net of other channels.
Data Management Manage your data through agnostic data collection, profile management, and enrichment. Integrate your data (first-, second-, and third-party data) from a range of sources to tie back to a single customer record.
Engagement Collect, process, and take action on your data in real time.
Will Margiloff, CEO, IgnitionOne, comments: "We are continuing to experience incredible market success, helping marketers tackle their most pressing challenges to drive digital success, leveraging first-party data, personalisation in an omnichannel way, and bringing back some of the control of targeting to the marketer, as opposed to seeding control to Google and Facebook. While other companies are playing catch-up around customer intelligence, or selling year-long implementations, our platform has been at the forefront of innovation, providing marketers with a quick-to-implement, quick-to-see-results solution."
This year, 3Q Digital, a performance and digital marketing agency, utilised the IgnitionOne CIP to help scale remarketing efforts for a client campaign, leading to 50% higher CVR (conversion rate),14% more efficient CPAs, and 57% higher ROAS.
David Rodnitzky, CEO, 3Q Digital, comments: "The reduction in the CPA across Facebook Custom Audiences utilising IgnitionOne's Customer Intelligence Platform is absolutely dramatic. IgnitionOne proved to be a valuable component in scaling retargeting audiences. I never thought incrementality was possible in remarketing until we tried the IgnitionOne Customer Intelligence Platform."
In addition to platform developments, IgnitionOne also invested in its team. The company brought in industry veterans Danielle Gonzalez as VP of Hospitality; Muhammed Jawad as VP of Technical Operations; and David Dembowski as SVP of Sales to strengthen its management bench.
Ad FraudDataDisplayMarketerVideo