Gaming and Esports in APAC and Beyond: Q&A with Asim Rehman, Digital Turbine
by Grace Dillon on 9th Sep 2022 in News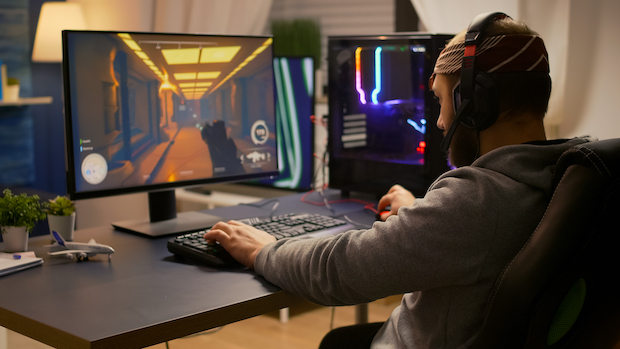 Ahead of ATS Singapore 2022, Asim Rehman, VP demand operation & supply APAC at Digital Turbine, gives an overview of the current gaming and esports landscape in APAC and beyond, and asserts that the future of both lies in mobile.
How popular are gaming and esports in APAC?
Gaming and esports have seen a significant uptick globally over the past couple of years as people turned to both for distraction and social interaction during repeated periods of lockdown. The surge in video gaming's popularity, in combination with the continued proliferation of mobile usage in emerging markets and rising awareness amongst brands of the opportunities afforded by esports, is estimated to see the global esports market climb to USD ~$12.5bn (~£10.8bn) by 2030.
APAC is no exception and has been leading the charge for esports for some time: the region is estimated to have accounted for 51% of global esports viewership in 2017 and 57% two years later. That's hardly surprising, given Asia's leading role in the cultural and technological development of gaming. APAC's global share of the esports market is only expected to grow, with China (which currently accounts for almost a third of global esports revenue) and South Korea expected to be at the forefront of this expansion. 
Despite being enjoyed across platforms, mobile is the primary frontier for gamers in APAC, unlike other regions where PC and console command the greatest share. Asia boasts the most mobile gamers globally, with almost 1.3 billion as of 2021.
How big an opportunity do gaming and esports present to marketers in the region?
Gaming continues to present a significant opportunity for marketers in APAC and across the world. This is particularly true of mobile gaming, which has drawn more revenue globally than PC and console combined, accounting for half of gaming. With more people than ever enjoying and investing money and time in games on mobile devices, the platform represents a prime opportunity for advertisers and marketers to reach their target audiences in the region. 
Mobile gaming ticks all the essential boxes for brands and is more consistently accurate than any other advertising surface. On mobile, advertisers know that their ads will be seen by a real person in a safe environment, drive brand uplift, and have the tools to measure viewability and understand consumer sentiment. 
Therefore, mobile gaming offers prime inventory for brands. And marketers are recognising this – from our position as a preferred SDK partner for several apps (many owned by the world's leading mobile gaming app publishers), Digital Turbine has seen first-hand how advertisers are experimenting with the channel. The awareness of this opportunity is also reflected by the fact that foremost marketing and advertising companies, such as Omnicom Group, have launched dedicated gaming groups and teams. 
The rise of esports has produced new avenues for brands to connect with their customers, and many are already exploring this opening. As of 2022, 69% of esports revenue is derived from sponsorships and advertising, with high-profile brands like KitKat and T-Mobile signing up as official partners of esports leagues and gaming tournaments.
How are brands already utilising the mobile gaming vertical?
Globally, almost every leading brand has incorporated gaming into its marketing mix by now. A lot are investing heavily in mobile gaming inventory, which includes ad formats ranging from rewarded video (which are opt-in by nature), to playable ads (which are highly engaging), to in-play ads (which are non-intrusive but rarely clickable/tappable). 
Over the past few years, Digital Turbine has been working with brands to help them discover the benefits of advertising in mobile gaming, and more and more are recognising its value. Our DT Creative Labs services have worked on numerous projects to create ad campaigns dedicated to the mobile environment (such as a recent, gamified French's Mustard campaign).
While interest is high, brands are still adapting to mobile alongside other advertising avenues. One tactic we've seen is brands repurposing their TV ad on mobile. Using the same creative is a quick way to showcase the brand; the mobile execution provides an opportunity to create a gamification experience within the ad environment to make it more captivating and engaging for the audience. 
What key challenges are currently impacting advertising within these verticals?
Following a period of ballooning, gaming's rise is beginning to slow following the easing of restrictions and some signs of a global recession. This deceleration could make some brands slightly wary of exploring the medium, but it's important to note that, for now, at least, gaming and esports are still growing. The same is true for mobile: its growth has become more modest compared to two years ago, but app store spending in Asia is still forecast to rise 8% to USD $91B (~£78.6B) by 2026. Only time will tell how economic trends and shifts in spending will impact advertising in these spaces (and more generally), so there is no guarantee that macroeconomic challenges won't shift ad spending on these channels.
Another pressing challenge is that, with more brands entering the gaming sphere, audiences are becoming increasingly aware of the creative execution capabilities within gaming. As an audience with high expectations for a creative experience and a historical aversion to disruptive forms of advertising, gamers expect brands to communicate to them in ways that benefit them and do not impinge on gameplay. Marketers must concentrate on designing ways to reach out to players without intruding upon the game's immersive experience while providing value, such as by rewarding players with additional lives or points for watching a video ad.
What do you think the gaming and esports advertising landscape will look like in a year's time?
We expect that the market will continue to grow with innovations that transcend beyond pure gaming: with a rise of in-game advertising and the use of virtual currency exchange, we believe it's highly likely that similar strategies will be introduced by players like Netflix, who are relatively new to the gaming sphere, as they explore ways to introduce ad-based models.
We believe that the future of the esports and gaming industries will be powered by mobile. As we've mentioned above, consumers in Asia are expected to up their spending on mobile apps over the next four years, and the mobile gaming segment is set to make up 45% of the total global games market this year. This will be a positive for the space and further reduce barriers to entry for even more gamers and fans to get involved with and enjoy competitive gaming, spurring brands to craft and deliver new, exciting experiences to engage with their audiences.
---
ATS Singapore 2022 will take place on 21st and 22nd September at Parkroyal Collection Marina Bay. Tickets and further information are available via the ATS Singapore 2022 event hub.
APACATS SingaporeBrandsesportsGamingMobile