Essence's Ryan Storrar on TikTok, the 5th Cookie, and Challenger Brands
by Mathew Broughton on 28th Feb 2020 in Podcast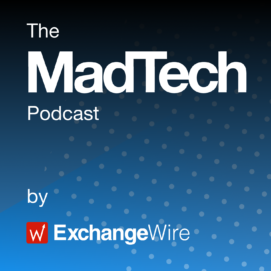 On this week's episode of The MadTech Podcast, ExchangeWire's Rachel Smith and Lindsay Rowntree are joined by Ryan Storrar, SVP, head of media activation EMEA, Essence, to discuss the latest news in ad tech and martech.
On this week's episode:
– While advertiser interest in video streaming app, TikTok, is growing, the company looks to expand product offerings across e-commerce, games, music streaming and financial services. This is seen as an effort to compete with incumbent heavyweights such as Tencent, owners of WeChat & WeChat Pay; AliPay; Spotify and others who are offering broad reaching financial and personal services. Advertiser interest from brands is growing, especially as TikTok influencers become more popular, and the platform continues to develop a self-service functionality for ad products enabling agencies and brands to buy advertising targeted by age, geography and interests. Can we expect to see a lot of growth in TikTok's advertising platform in 2020? Is this an example of how the disappearance of third-party cookie targeting will give birth to walled garden environments, which offer direct targeting capabilities for brands exclusive to that environment?
– There has been a proposal of a '5th cookie' by a coalition of tech companies – Axciom and Anosos, and a global think-tank, the Information Accountability Foundation (IAF) – as a response to the ICO's report into the RTB ecosystem. The idea here is that this coalition will look to develop a technical and organisational infrastructure which adheres to GDPR requirements and proposes an ethical way to undertake targeted advertising. It will propose a way to share data, segment data and apply and use data. Is this viable? How does it align, or otherwise, with other industry initiatives like project REARC? Will this be the year of proposed infrastructure solutions to cookieless targeting and if so, how will this play out from a practical point of view?
– DTC sector growth is reportedly slowing, Wayfair continues layoffs in the US as a result of profitability issues, and Target makes it into the list of top-ten US e-commerce retailers. Are we seeing a slow down in business growth and profitability for the 'challenger brand' category? Or is this a collection of unrelated stories? Are we seeing the e-commerce sector firmly dominated by the powerhouse brands of Amazon & E-bay further consolidate with legacy brands like Target and Walmart taking their place in this ranking, as opposed to challenger brands like Wayfair? If so, is this another story about building brand versus users/volume? What's the impact for advertising here?
The MadTech Podcast is also available on:
Spotify
TuneIn
Apple iTunes
Google Podcasts
Stitcher
Pocket Casts
RadioPublic
CastBox
Deezer