Q4 2017 IPA Bellwether Report Sees Ad Spend Slow
by Hugh Williams on 19th Jan 2018 in News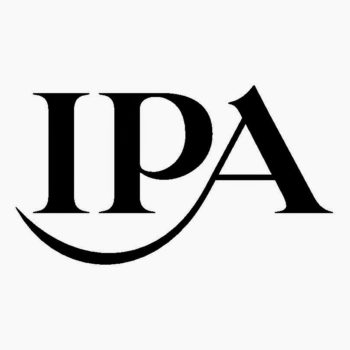 Marketing budgets grew at the slowest rate in nearly two years in the final quarter of 2017, reveals the Q4 2017 IPA Bellwether Report released this Wednesday (17 January). Although growth in marketing budgets is maintained, uncertainty and cost pressures are weighing on budgets.
Report highlights
- Internet remains the best performing subcategory, but main media underperforms
- UK ad spend growth showed resilience in 2017, but set to slow markedly in 2018
- Company financial prospects positive, but concerns over wider industry performance
The Report, which has been conducted on a quarterly basis since Q1 2000, shows that 23.9% of marketing executives raised their budgets during the latest survey period. However, there were reports of client caution and ongoing economic uncertainty weighing on sales; and these factors led to 15.2% of panelists reporting a cut to their total marketing budgets. The resulting net balance of +8.6% was down from +9.9% in the previous quarter and the lowest since the start of 2016.
Internet marketing still best performing subcategory
Internet marketing sees an increase in overall spend in the report, extending a run of growth in this category to eight-and-a-half years. However, the respective net balance of +10.9% was notably down on the previous survey's +17.0% and the lowest recorded since Q3 2016.
Mobile is on the up as well. The usage of mobile advertising continued to improve during the quarter, with the respective net balance rising to +6.0%, from +5.8% in Q3. Around 17% of marketing executives reported an increase in mobile advertising budgets, compared to 11% that indicated a decline.
ExchangeWire spoke to some of the online advertising industry's top thought leaders about what the latest report means:
Julia Smith, director of communications, EMEA, Impact Radius, says: " What is disappointing is that this report shows uninspiring numbers, possibly to be expected after a year of controversy and negative headlines on issues such as transparency. I'd have hoped for a more positive outcome, but since marketing budgets are slowing, the marketers of 2018 are now under pressure to show a turn in the tide on these issues. To do this, it must be driven by proving that we can deliver results, transparency, and quality."
Joanna Lyall, managing director, Mindshare UK, highlights a need to focus on outcome and performance media: "With a sharper focus on more granular analytics, each channel is under pressure to prove the incremental value it adds. While digital channels lead performance, TV still holds its own as the driver of volume and brand metrics. Clients call for faster optimisation and the management of live data is becoming the backbone of media agency operations."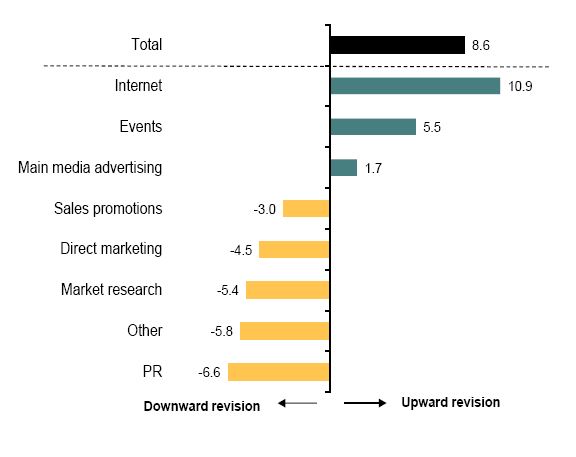 Simon Harwood, head of strategy, the7stars, outlines that "unstable times require dynamic, responsive decision making and an examination of the evidence available. The received wisdom of how to respond in a volatile market is to maintain advertising budgets and avoid over-spending in activation channels. This is because consistency of spend and message is crucial to avoid adstock depletion and maintain positive brand perception. It also takes a long time to recover sales levels after a communications break, and the effects on profitability in the mid-term are potentially more serious than those on cash flow in the short term".
Despite the findings, Carl White, co-founder, Nano Interactive feels that "if our industry can continue to grasp the nettle on brand safety and transparency, the cautious overall marketplace presents a growth opportunity for digital".
The effect of GDPR
Nelius DeGroot, CEO, mporium, notes that the report shows the "political, economic, and regulatory uncertainty". He points out that "the full impact of GDPR is not yet understood, but there is no doubt that the regulation will pose very significant challenges for many digital advertising participants. Many of the methods that have previously been used to target consumers will be impacted by the new regulation. The importance of first-party data will increase dramatically and advertisers will seek innovative solutions to ensure that advertising reach is not compromised".
Matt Byrne, UK director, FastPay, agrees that GDPR will shape the industry's future: "As boards start to create GDPR cash flow contingency plans to cope with significant impact on spend come May, they should consider not just how their own performance could be affected by a drop in spend, but also the impact on those higher up the payment chain, as this typically will result in slower payments to them and subsequently to their own suppliers. The good news is that this should only be a temporary blip as the industry comes to terms with the immediate reality of GDPR. But with the overall prospect of weaker ad spend this year, it is still vital for media businesses that don't have predictable, recurring revenue models to make sure they are in the best financial position sooner rather than later."
Mike Hemmings, marketing director, EMEA, Grapeshot, highlights that "with GDPR just around the corner, I predict we will see a rise in the adoption of new technologies with live context leading the way as a key method for driving value and relevance. Contextual marketing creates an experience with purpose and power in a way advertising simply does not. Brands that take note and step up will be the ones that continue to succeed".
Digital spend remains strong
Despite overall media spend suffering, Jo Sutherland, managing director, Fetch, notes that digital is still thriving: "Digital has extended its run of growth to become the main driver of overall media ad spend growth for brands. And it's still growing steadily against the backdrop of unpredictable times. In fact we're predicting that digital ad spend will surpass TV for the first time in 2018. The focus now should be on  improving the quality of digital advertising to make it additive and enjoyable".
Although internet advertising spend continues to grow, it seems as though the space faces challenging times ahead. Ed Preedy, MD, Europe, GumGum, notes that, despite this, there is still cause for concern: "The continued growth in internet spend demonstrates the valuable opportunity this channel offers in engaging consumers with creative and relevant messages at scale. However, with this growth the lowest since Q3 2016, it seems more important than ever that the industry drives genuine innovation in display advertising to sustain the health of the industry and demonstrate the return it can offer advertisers in uncertain economic times. With the Bellwether panel also expressing concerns about GDPR, it seems likely that a greater appreciation of contextually relevant online ads – as opposed to those relying on cookie data – will prove important to marketers seeking to realise the full value of digital advertising in the year ahead."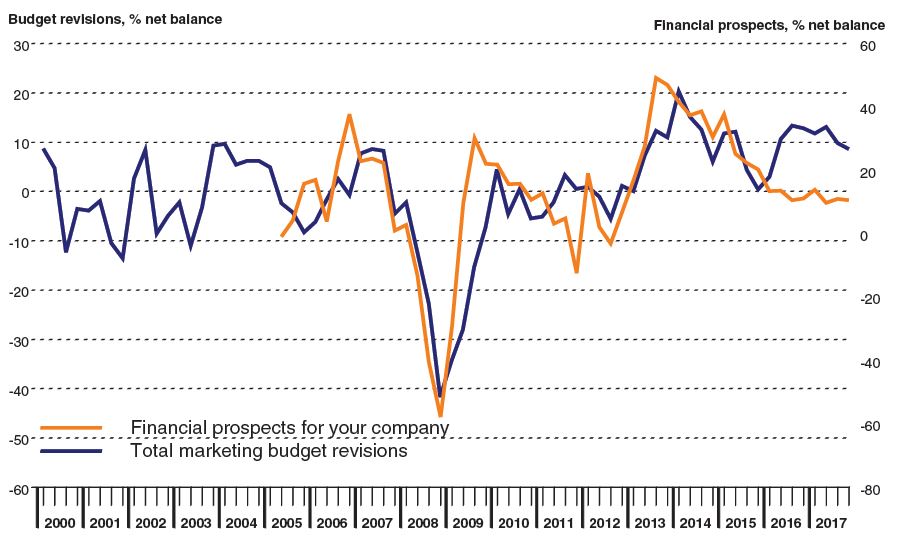 Nick Morley, EMEA MD, Integral Ad Science, says that "it's of little surprise the report finds that UK marketing budgets and ad spend growth are set to slow as we move into 2018. The inefficiencies in digital advertising resulted in major brands re-evaluating their digital ad spend to help drive improved performance. It's evident from marketer demands that there is a need for accountable and transparent practices to further improve the advertising industry and its performance. In 2018, we hope to see the development of a sustainable foundation across digital advertising".
Despite some of the challenges which are forecast to be faced by digital, Evangelos Sideras, joint managing director, UK, Media iQ, says: "Although the headline that marketing budgets are slowing might seem like doom and gloom for the industry, in continued growth for internet marketing, it still demonstrates growth among a sector that last year came up against some of its biggest challenges. While transparency and brand safety were big topics last year, it's promising to see that there's still some appetite to spend among marketers going into a new year. Internet remains the best performing subcategory; and with trends towards digital marketing continuing to see growth, there's a particularly positive attitude towards the capabilities of this sector."
Andy Evans, CMO, Sovrn, outlines "whilst it's exciting to see that digital ad revenue continues to grow, marketers are turning their focus on ROI. This is clear from other growth trends seen in this report covering search, SEO, social media tools, and events where brands can track more direct value from their investment. In the meantime, the digital advertising industry is wrapped up in brand safety, antifraud, and viewability – which are pretty much the table stakes for trading in digital advertising nowadays – when we need to make sure that we're offering real value to our buyers".
While internet is the best performing subcategory, Alex McIlvenny, UK country manager, Ligatus, says that "we know that consumers are unresponsive to the bombardment of intrusive bad ads and want a seamless discrete advertising experience, so as an industry we need to ring in the changes".
Carl Erik Kjærsgaard, co-founder and CEO, Blackwood Seven, outlines that "the ability to measure results more effectively on these platforms enables marketers to show their workings in ways that traditional mediums cannot do as accurately – which could explain the limited growth for main media advertising such as TV, press, cinema, and radio.
"These results, and prevalent uncertainty, signify the need for the industry to embrace technologies such as AI that enable us to understand the synergies between different on and offline media and their impact on sales and bookings. This will ensure marketers, in the face of tightening budgets, can confidently assess the effectiveness of all mediums, and focus less on those that can show views and clicks".
"It is encouraging to note that online spend continues to increase", says Andrew Buckman, managing director EMEA, Sublime Skinz. He says this reflects "the benefits of interacting with consumers in such a responsive environment. As such, it's important for the market to focus on the value that is being driven by these real-time interactions. It's time for the industry to put the customer first, listening to their needs to improve the user experience – securing digital advertising investment in the years to come".
Mobile is digital's main driver
The prevalence of mobile advertising continues to be the main driver behind internet advertising growth. Will King, commercial director, Voluum, says that "it is reassuring that in spite of some of the challenges that surround mobile advertising – including in-app –  mobile remains in such a healthy position. We must remember that we are still in the early stages of 2018, and a lot can happen in a year. We expect to see further growth in budgets as the industry regains confidence".
Richard Kidd, VP & head of business development, EMEA, OpenX, says that "recent developments within programmatic – including innovative new mobile ad formats and the sophistication of programmatic direct models – are helping to fuel the growth in ad spend. To thrive in an ever-demanding digital ecosystem, marketers must make use of these technologies to showcase a healthy return on investment (ROI)."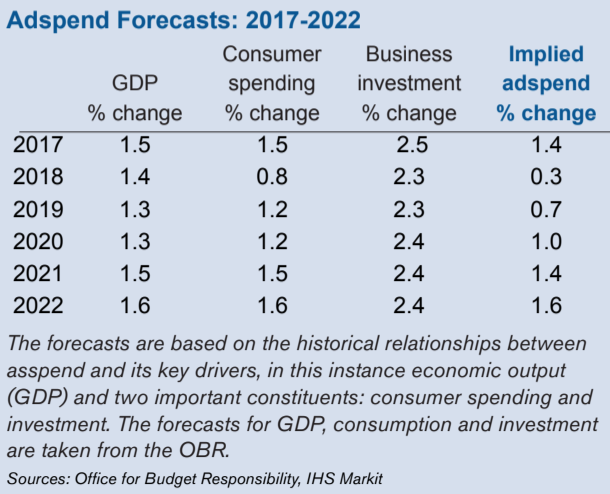 According to Mark Holden, global strategy director, Starcom, the growth in mobile expenditure "reflects a maturing of the understanding of the importance of mobile as a device to drive both influence and transaction. Mobile advertising has matured significantly in the last few years, playing a number of key roles across the customer journey, from complementing demand-generating media through to driving persuasion in proximity to key purchase moments. Most brands have recognised the need for mobile-specific strategies, destinations, and assets – investing to ensure their marketing effectively matches consumer behaviour and expectation".
Video, OOH & native
Mobile isn't the only category supporting digital ad spend growth. Grant Munro, general manager, Shutterstock Custom, says: "The fast-paced nature of the world we now live in presents marketers with a challenge to be able to constantly produce innovative, high-quality branded content. There are creative tech platforms that enable brands to customise their voice through the content they make, which are easy to use and on a budget. Vertical video is now key for brands to maximise their digital marketing strategy. Consumers want to watch content that is extremely visual and engaging, forcing brands to get creative with vertical video for their mobile-hungry consumers. With more and more businesses turning to social media tools to help with this constant demand for content, we would expect budgets in this area will continue to grow."
According to Ally Stuart, managing director EMEA, Sharethrough, the industry needs to "continue to innovate and adapt – and marketers are rightly placing the spotlight on budgets to ensure they invest in the right formats in the right environments to provide the best possible user experience and, in turn, the greatest return on investment. Engaging, content-driven, and context-based formats, such as native, will help build trust and transparency ensuring that digital continues to provide value to brands and publishers – and of course, consumers".
Despite poorer growth in main media budgets, Stuart Taylor, CEO western europe, Kinetic, points out this area is still seeing growth. He says "main media budgets, which includes Out-of-Home (OOH), are still experiencing growth, with a net balance of +1.7%. While this growth has slowed, we're confident the OOH sector will continue to experience a steady uplift in spend throughout the year ahead.
"Against a wider backdrop of uncertainty and caution, marketing directors are seeking reliable and cost-effective ways to create a 'brand fame halo effect' around their communications; and OOH offers a breadth of flexible opportunities, from traditional billboards to dynamic Digital-Out-of-Home (DOOH).
"In particular, we predict DOOH campaigns will continue to attract brands, as it delivers a similar priming effect as broadcast campaigns on big-ticket media channels such as TV, but with a smaller price-tag. DOOH has also been proven to be an effective complementary media channel for digital campaigns across mobile, a category which experienced growth in the last quarter and is forecast to continue in a similar vein in 2018/19."
Ad TechArtificial IntelligenceDOOHMobileTransparencyVideo