How Blockchain Is Set to Drive Commerce
by Hugh Williams on 16th May 2018 in News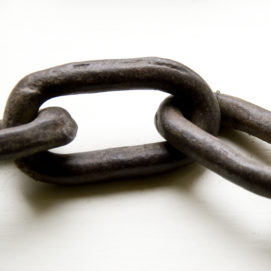 While blockchain is not new, it's a technology that's starting to make waves in the retail space and is increasingly one retailers can't ignore. In this piece for RetailTechNews, James Pruden (pictured below), studio director, Xigen, explains that, while blockchain made its name in powering cryptocurrencies, it can offer so much more in helping retailers to drive loyalty and deliver personalised experiences to customers.
However, it's in cryptocurrency where blockchain offers immediate stand-out opportunities for retailers.
Why cryptocurrency must be embraced 
Bitcoin firmly entered into the public consciousness at the beginning of this year, when its value reached a high of $16,522 per Bitcoin in January.
While the value of Bitcoin has nearly halved since that January high to fall to around $9,700, as I write this article in early May, it's worth remembering that in January 2017 it was $900 per Bitcoin.
The long-term trend, in my opinion, is growth in value, and therefore popularity, of digital currency, which is something all retailers must recognise, particularly as they are set to allow new, beneficial interactions between consumers and retailers.
The key benefits cryptocurrencies offer, include:
Cost – Both retailers and consumers benefit from transactions that use cryptocurrencies. Services like BitPay for Bitcoin take a flat 1% settlement charge. Whereas credit cards can take up to 3% in processing fees. Also, it's possible to accept Bitcoin without any middlemen with plugins on WordPress and Magento-built websites. With price predominately king in the e-commerce world, the ability to reduce the cost for customers who pay in a cryptocurrency will make that e-tailer even more attractive to consumers. However, what is important, if you are a retailer taking payment using a cryptocurrency, is that this is clearly advertised. It's surprising how many retailers don't highlight the available payment options, which could lose them potential customers and therefore valuable revenue. 
Speed – Bitcoin, along with other cryptocurrencies, speed up the transaction process for products and services, wherever the buyers and retailers are in the world. Transactions are broadcasted nearly instantly and are usually confirmed within ten minutes.
Fraud protection – Cryptocurrencies help provide protection against fraud and deliver an unparalleled transparency in transactions. Bitcoin payments are irreversible and secure, meaning the cost of fraud is no longer pushed onto the shoulders of merchants. The funds are locked in a public key cryptography system. Only the owner of the private key can send cryptocurrency. Also, the way the payment takes place in a decentralised blockchain provides a level of encryption that's almost impossible to break.
It's easier than ever for consumers to gain access to cryptocurrencies with the advent of fintech banks, such as Revolut. The result is that consumers will start to buy and become more comfortable with digital currencies and increasingly expect retailers to accept payment by Bitcoin or another cryptocurrency.
While there are issues with the fluctuations in the value of cryptocurrencies, the large number of investors in the market, and talk of potential regulation, has impacted the value of these currencies. I anticipate the market will soon settle down. In fact, the benefits of cryptocurrencies have recently been praised by the head of the IMF.
However, blockchain can offer much more than power a new and important form of payment for retailers.
Traditional loyalty schemes at a crossroads
Blockchain has the potential to revolutionise the loyalty world. But before that happens, retailers need to look at the bigger picture and realise that consumer interest in traditional centralised loyalty schemes is beginning to slow. In 2017 the Colloquy Loyalty Census Report found that loyalty programme membership grew 26% in 2014, but slowed to 15% in 2016. Also, there is a belief amongst consumers that it takes too long to accrue a meaningful number of loyalty points. A report from Maritz Loyalty Marketing discovered that 70% of consumers abandon loyalty reward schemes because it took them between six to nine months to accumulate enough points to redeem rewards. Consumers also face an increasing plethora of loyalty schemes, such as Nectar, Tesco Clubcard, Avios, etc, all offering different and often confusing reward values. It is therefore not surprising that an estimated USD$25bn (£18.48bn) worth of loyalty points expire each year prior to being used.
It is clear that traditional loyalty programmes increasingly aren't doing their job of encouraging consumers back to shop via their favourite channel. This makes such schemes devoid of any value and an expensive white elephant for the retailer.
Decentralised blockchains in loyalty
The main criteria for any reward scheme that wants to be successful is to provide valuable and useful rewards for customers, so that it becomes a no-brainer for them to take part.
For this to happen, there needs to be a fundamental change in how loyalty programmes are structured. This requires retailers to embrace new technologies and consider providing loyalty points or cash rewards as part of a decentralised network, powered by blockchain – one that can unify the fragmented rewards space and provide meaningful rewards that can be spent or exchanged anywhere. These need to offer a globally recognised cryptocurrency as the reward, something it would be just as easy for users to convert into fiat or traditional currency. This process will see consumers having their personal cryptocurrency wallet or ledger in the blockchain that automatically receives the digital currency when a purchase has been made.
The benefits of this type of loyalty programme, for both retailers and customers, is huge. Retailers continue to attract back customers, driving revenue, whilst also collecting valuable data on customer trends and spend; while customers will be paid in an easily transportable cryptocurrency that won't expire that they can spend pretty much anywhere. In fact, cryptocurrencies such as BitRewards and Elements are already moving into the loyalty space. 
Blockchain & the Internet of Things (IoT)
While most retailers know about the internet of things (IoT), they probably don't know the value that blockchain can deliver for them in the IoT age. For example, there's set to be new ways for retailers to offer, and customers to accrue, loyalty points or a cryptocurrency through blockchain technology. Rewards could be paid out to consumers for browsing for more than a couple of minutes on an e-tailer's site, or just walking into a shop, or going for a run longer than a mile – this could be a reward from a sports retailer.
Then there are platforms such as Nucleus Vision that use deep customer insight, along with proprietary blockchain systems, to help identify when a customer walks in-store and provide retailers with their buying intent along with both their previous purchase history and personalised artificial intelligence (AI)-based suggestions. This approach provides a truly omni-channel and personalised customer experience.
Seize the day 
Blockchain is set to have a huge positive impact on the retail space, by delivering exciting new ways for retailers and customers to engage, whether that's via highly personalised communications, loyalty programmes, or payment. Ambitious retailers must embrace the blockchain revolution and benefit from being one of the first to offer one of the many beneficial blockchain-powered technologies to their customers.
This content was originally published in RetailTechNews.