The Case for the 20% & Independent Ad Tech in a Consolidated World
by Ciaran O'Kane on 30th Aug 2018 in News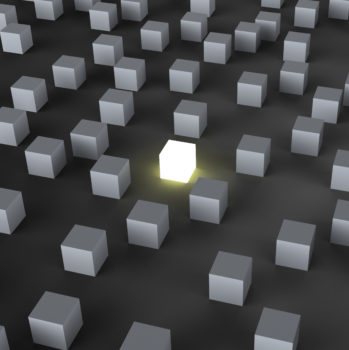 Is independent ad tech on the wane? Its most vocal champion, Brian O'Kelley, is now a paid employee of AT&T. His company, AppNexus – for the best part of ten years the standard bearer for independent ad tech – is now part of the biggest telco in the world. You wonder where the priorities will lie in the coming 12 months.
Will it continue to be the home of the innovative independent ad tech companies that built their business on top of its open platform? Or will its parent company pull rank and devote its tech resource to protecting its business against the encroaching duopoly. That's one for you, dear reader, to decide. But we all know the answer to it.
Throw into the mix the unstoppable march of Amazon, Facebook, and Google and it's easy to get despondent about the future of independent ad tech and martech. All three companies are growing their ad business at the expense of the rest of the industry. They reap the rewards of unchecked monopolistic ventures, pay next to nothing in taxes in any European jurisdiction, and squeeze the life out of local and independent tech and media players.
Despite all of this, I remain confident that we 20% will survive and thrive. Independent ad tech is required even more than ever. In the run up to our ad tech CEO panel at ATS London on 10 September, I am again going to set a nine-point plan for survival in the current ecosystem and where the opportunities will lie.
1. Big European (UK, the exception) publishers want off the Google stack
AppNexus' success in pulling large, scaled European publishers off DFP (which I should probably start referring to as Google Ad Manager, but old habits die hard) has probably been the biggest ad-tech story in Europe over the past couple of years. DFP is the dominant publisher platform in Europe, and globally. Through it, Google wields unreal commercial power over publishers.
Despite this, there are a lot of big publishers in Europe that don't want to run their business on top of Google's ad-tech stack. Axel Springer is one of these companies.
The story of how AppNexus won Axel Springer as an ad-serving client is a story for the ages. Much will never make it to print. But suffice to say, Google did everything in its power to keep Axel Springer on DFP – including using a large U.S. publisher to plead it to stay.
Now AppNexus is part of AT&T. How does that sit with its biggest clients, Axel Springer, Schibsted, and Yahoo Japan? In fairness, it probably makes little difference, given AT&T's neutral position in non-U.S. markets. I wonder if these publishers will approach AT&T with an idea to spin off AppNexus' sell-side business outside the U.S.
There is an appetite for European publishers; and this is where independent players could win on the sell side. Publishers won't go on record – and rightly so – about their animosity towards the duopoly.
Publishers will always take meetings from independent players – in the hope that they can rely a little less on the duopoly. Attention 20%: publishers love you.
2. Broadcasters want independence too
Very few European broadcasters want to use DFP. It is a segment that Google struggles with.
The idea that Google can offer a service to broadcasters at all is absurd. YouTube is trying to suck money from broadcasters. It would be commercial suicide to let Google into their business.
Many of the scaled video and TV ad-tech vendors are already aligned to big media companies. Is there an opportunity here for independent ad tech in the face of all this consolidation? This has to be one of the biggest opportunities in the industry right now.
Look at ITV, for instance. It is nearly a £1bn ad business. It is a linear TV player that is under threat from the duopoly. As it continues to move a lot of content online, it needs best-in-class ad tech to monetise its audience and content. Independence is a highly sought after criterion. Competitive advantage is everything for a company that's trying to protect its ad business.
More independent ad tech is required to help broadcasters meet the challenges of the digital age. Need to get building.
3. Attribution
Attribution is too important for it to be owned by Facebook and Google. How can you trust these companies to be independent? You can't. It's not their morality I question, it's their objectivity.
From a Google perspective, search works so well it needs 100% of your budget. Likewise, Facebook's ability to hit such a large audience so cheaply means it should, in its view, get more budget.
I can't tell you (AGAIN!) how monumentally stupid it is to use either company's attribution solution to measure the effectiveness of your media spend.
This is where ad tech could be – and should be – making huge strides. Marketers and agencies want independent attribution tools. The fact that companies haven't raised large amounts of capital to do this still surprises me. I think this is an area where blockchain tech could be applied. Maybe then you'll realise that last click shouldn't get all the credit.
4. I would say OOH, but Google is coming for you too
OOH was an area where I thought ad tech could thrive, but Google (the devourer of media) is coming to topple the OOH media owners off their perch. OOH is not accountable. It is a vanity brand channel with the softest of metrics.
Being able to apply more accountable metrics would make it a channel that could attract more programmatic budget. Google is now tying location data to OOH ads viewed to deliver a more data-driven opportunity for buyers. And all of this will be done through DBM, of course.
Unless JCDecaux, Exterion, et al start buying location-based ad tech, I think they will need to resign themselves to just being the dumb OOH pipe for Google demand. It'll be a reasonable business, but growth will be predicated by Google. Not a nice place to be.
Independent ad tech needs to help them build location into their media offering. The door is closing though as Google moves in.
5. Betting the house on OTT
OTT has been heralded as the 'big opportunity'. The success of Roku points to the potential of OTT. The problem is that many of these platforms might end up being walled gardens. Already Roku is building its ad business using its own ad tech. Independent ad tech would be better off partnering with the likes of Samsung, as they look to capitalise on their TV hardware market share.
From a 20% view, I think the opportunity in OTT is around media. Content is king. And licensing content could be a big opportunity. Aggregating audience through programmatic channels to build a DTC media business is the play here. Pushing audiences to your ad-funded OTT fishing channel on Roku will be a feature of this world. Think 'ad net for content' and you have the killer model for OTT. Of course, independent ad tech can help these new media companies grow their base.
6. Circumventing the Apple and Google mobile tolls
Apple and Google have a chokehold over the in-app world. Both companies take a chunky margin to sell apps and in-app on their respective platforms. App developers are becoming very vocal about the current 'app tax'. Some are even looking to circumvent the current system.
Apple has been very aggressive on cracking down on the practice, kicking off apps that contravene its rules. This is an area that will no doubt get the attention of EU competition enforcer, Margrethe Vestager, soon enough.
Unlike Apple, the Android platform is a little more flexible in adding apps that can get around the toll. Fortnite, Epic's wildly successful battle royale game, is currently looking to avoid these draconian platform costs.
They are directing users to download directly from their own site. Of course, this opens up the possibility of downloading malware from unofficial sites. A small price to pay for the tens of millions saved from paying Google.
Independent ad tech could help app developers by focusing on two key areas: build brand across digital channels, driving users to site for app downloads; and by building a customer base outside the Google ad complex.
I would suggest ad tech develop a scalable solution to help app developers to avoid the Google tax. It'll be a big growth area.
7. Closed ecosystems with no Google or Facebook are an obvious win
There are pockets of the media world where Google and Facebook do not prevail. Independent ad tech would be advised to find them fast and own them. It is hard to spot them, but they exist. Audio continues to be an interesting area of growth for data-driven ad buys. AdsWizz, a Belgian ad tech co, was an earlier entry into the audio programmatic space, building out a strong proposition before it was acquired by Pandora for the guts of £100m.
Other examples include the in-transit media space, where Inadvia are building the programmatic ad layer for the closed media systems running on airplanes, trains, and cruise ships.
Finding the niche has always been important for 20% to survive. These areas are difficult for the duopoly to penetrate.
8. Apple hates third-party cookies; time to contextualise
Apple is very important in the U.S. It represents nearly 43%. Its affluent audience is important to brands. Outside the U.S., not so much. Nobody needs that Fisher-Price phone to prove their status.
Apple has decided to declare war on the third-party cookie. It's killing ad tech on the Apple platform. Criteo, for instance, is struggling to make retargeting work on the Apple ecosystem. It is starting to hurt the company financially. Expect some acquisitions from Criteo and a pivot away from its retargeting focus.
Ad tech needs to look at Apple's hardline approach and build contextual solutions to allow advertisers to target Apple users. This is by far one of the biggest opportunities in ad tech right now. Oracle's acquisition of Grapeshot shows there are eager buyers.
9. E-commerce ad tech
When Hooklogic was acquired by Criteo for USD$250m (£194m), I was surprised it wasn't a bigger price. It felt like Hooklogic was only scratching the surface of a media business that could have been worth billions.
Selling sponsored listings on e-commerce sites is a huge opening for programmatic. I think Criteo has dropped the ball here, as it seems to have failed to have built on the Hooklogic business. These e-commerce sites want media revenue that connects to onsite sales.
Stepping away from the sell side, there also seems to be an opportunity around building tools for buyers to drive sales on their sites. Many have relied on bottom-of-the-funnel activities, like AdWords and Criteo, to drive sales.
The reality is that these tactics were only re-engaging existing users. And because of shitty attribution (see point 3) more money was piled into retargeting to the detriment of the brand.
But what about prospecting, you might say? What about new customers? Do these e-commerce brands have the tools to do this? Lookalike modelling? Targeting capabilities to hit new customers?
Where is the stack for those buyers who live and die by their margin? I think independent ad tech would be well placed to engineer tools for this important segment of the media buying market.
Certainly the duopoly and consolidation is affecting the durability of independent ad tech. But the points outlined above demonstrate that there is hope yet for the independents. Our CEO ad tech panel at ATS London on September 10 will tackle all these subjects and more.