How We 20 Percenters Survive the Duopoly
by Ciaran O'Kane on 29th Mar 2018 in News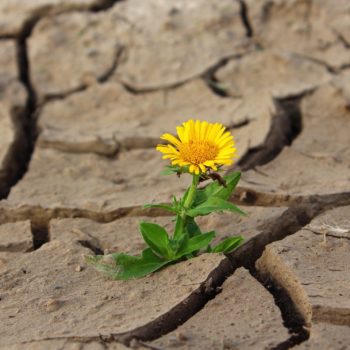 When an Irish person tells you in a moment of crisis that, "you'll be grand", you truly are in a world of trouble. Things are far from 'grand' in digital advertising. Google and Facebook completely dominate the market. Their market shares dwarf everyone – and they are still growing.
I have done some cursory analysis around what their combined market share of digital advertising might be in Europe (excluding Russia) – and it makes for painful reading. Even taking into account the search market (which is completely dominated by Google), the duopoly appears to be stronger in Europe than anywhere else in the world.
Why we are all 20 percenters now
Below are three charts outlining the dominance of the duopoly in Europe. How did I come up with these numbers?
Much of it is based on the duopoly's 2017 full-year results – as well as market data from Statista. There are some speculative numbers in there, particularly YouTube's European revenues (~USD$4bn [£2.84bn]). Those were gleaned from a JP Morgan analyst report on the estimated size of YouTube's global revenue (USD$13bn [£9.24bn]). All of Google's European revenue is calculated on a 32% share of its overall revenue – including its partner ad businesses.
It is not advisable to base any anticompetitive legislation, reports, or a VC pitch off the back of this. But it is does demonstrate the absolute power wielded by the duopoly in Europe.
There are three distinct groups outlined in the graphics: Google, Facebook, and the 20 percenters. The 20 percenters refer to every ad tech and publisher outside the duopoly working in the European digital advertising market.
The data looks grim, but all is not lost, as I believe the 20 percenters can easily survive, and even thrive, alongside these oversized platform/media behemoths. Below the market share graphics, I outline nine ways we 20 percenters can live alongside the duopoly – and perhaps even plot a route to 30% or 40% market share.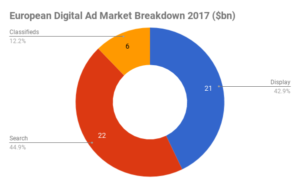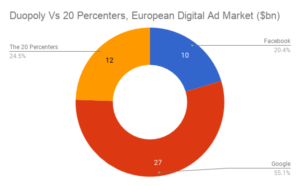 The 9 reasons why the 20 percenters will survive and prosper in a duopoly world
1. Everything is incremental for Facebook and Google
The duopoly has nearly tapped all its own digital ad inventory. You only have to look at how aggressively Facebook is pushing Watch. Everything from here on in will be incremental. That means that Google and Facebook's growth will need to come from its ad net solutions.
2. The buy side is asking for more, too
Buyers already allocate huge sums of marketing spend to the duopoly; but they will be looking for better results. Here lies the opportunity for the 20 percenters: it will be easier for them to get spend, as pockets of valuable audiences exist with them, which buyers won't find on Facebook and Google.
3. European TV is not prepared to acquiesce to the duopoly
It would be fair to say that both Google and Facebook are not liked by European broadcasters. Google's ad tech has had a difficult time infiltrating its way into this market. Both are competitive to TV and both will be kept at arm's length. A potential big win for ad tech.
4. OTT will be a big area of growth
OTT offers a huge opportunity for growth for ad tech. Given the conflicts Google and Facebook currently have around video, ad tech could steal a march on the duopoly – and help to monetise a whole new wave of OTT media companies.
5. The emerging programmatic channels
Google and Facebook will find it difficult to get into audio and DOOH, as again, media owners are wary of them. Other interesting, closed programmatic environments, like in-transit media, will also become impossible for them to access.
6. Facebook is hugely vulnerable
Unlike Google, which has built a solid utility in search, the Facebook media business is built on a quagmire. Its social business feels like it will not have the type of longevity search has – with recent user data pointing to a decline in MAUs (monthly active users) on its core property. Its video play has been patchy. And, it has spectacularly managed to piss off every global publisher. Add into the mix the growing clamour to legislate Facebook, and you get the impression the efforts to grow its advertising business will be blunted.
7. Nobody knows for sure what will happen after GDPR or e-privacy
My guess is, very little – despite the protestations of one or two vocal 'experts'. Nevertheless, brands will not risk the threat of a damaging court case – and spend will move away from retargeting and other forms of third-party cookie targeting. I am predicting a flight to contextual safety. Brands will look to publishers to provide brand-safe environments – and context will be king again.
8. Big media will turn to independent ad tech
The success of AppNexus in continental Europe has been noteworthy over the past few years. I see this trend continuing, with a few of the UK's publishers looking to move out of the iron grip of DoubleClick.
9. The identity ledger
I am still massively skeptical of the merits of blockchain transparency but, with regards to data sharing, it has huge potential. The 20 percenters are in a position to benefit here, as an open-sourced privacy ledger would allow everyone not only to compete with the duopoly on identity, but also comply with Europe's privacy laws.
Ad TechAdvertiserAgencyEMEAGDPRIndustry InfrastructurePublisherSupply SideTechnology