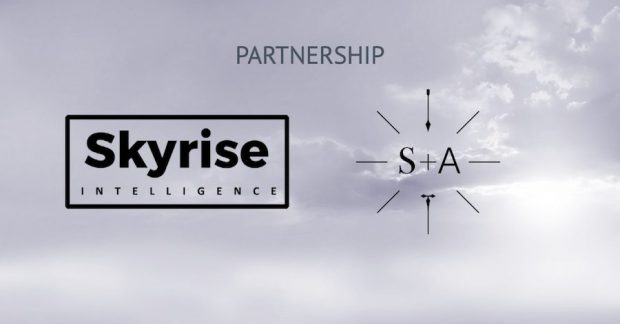 Skyrise Intelligence, the leading audience targeting solution, today (10 November) announced a first-of-its-kind partnership with Sage + Archer. The programmatic Digital Out of Home and Mobile buying platform has become the first DSP to integrate Skyrise Intelligence audience targeting solutions.
The partnership enables UK advertisers to leverage anonymised, aggregated mobile data for geo-contextual location targeting and more effective programmatic activation on Out-of-Home campaigns.
Sage + Archer are a European DSP, specialising in the automation of location based, real-time advertising for DOOH and mobile. Offering advanced capabilities such as creative automation, html5 and bespoke API integrations, Skyrise now provide additional unique audience insights directly into the planning tool
Skyrise Intelligence uses anonymised and aggregated data working in exclusive partnership with one of the UK's major mobile network operators, to give an unrivalled view of consumer and market behaviours, based on up to the minute and historical signals across a 20 million strong dataset.
With a uniquely connected view of digital web and app consumption joined to location and movement patterns, audience insights from Skyrise Intelligence help advertisers look at the past, evaluate the present and predict upcoming trends without any reliance on cookies or other individual identifiers.
Ben Wilkins, director at Skyrise Intelligence said, "we are delighted to announce our first DSP partnership. Sage + Archer shares the philosophy of Skyrise Intelligence that data innovation should be privacy-first. With advertisers increasingly wanting to streamline data-driven digital OOH and mobile campaigns, the partnership makes it easier for advertisers to understand an audience and reach them wherever they are."
The partnership is a first-to-market opportunity for advertisers to use insights from Skyrise Intelligence within a DSP platform in the form of easy-to-activate audience solutions, enhancing advertisers targeting effectiveness in the UK, and with full control and transparency of costs
Speaking about the partnership, Diederick Ubels, CEO and co-founder of Sage + Archer said, "we are proud to be first to market in the UK working with Skyrise. Such unique audience insights enhance our existing location and data driven offering, providing a full suite of automation tools for our customers, with real time OOH and mobile media planning."

Skyrise Intelligence
Skyrise Intelligence is a next generation media planning tool unlike anything else in market, harnessing the power of mobile phone data. Truly privacy first, with no reliance on cookies, MAIDs or other PII identifiers. We work with the UK's largest t...
Powered by PressBox
ContextualDOOHEuropeMobilePartnershipProgrammatic