Case Studies
---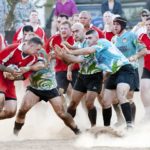 ---
View
Australian NRL team The Cronunlla Sharks have partnered with Ooyala to enable live video capture of their games. This case study is evidence of the power live video can have, not only in engaging current audiences, but also tapping into new ones.
The first live stream was played by over 30,000 fans. Interestingly, there was a particular success on mobile devices, which accounted for 60% of the devices playing the game.
The introduction of the live broadcasts is also helping extend reach. Almost two-fifths of the viewers were new to the site, and the steam reached viewers in 38 different countries.
---
Case Study Content
The Cronulla Sharks of the Australian National Rugby League (NRL) was looking to deliver live broadcasts
to its passionate fans.
The club, which had plans in place for live video capture, signed up to become the first club in the NRL to deliver live broadcasts. They worked with the NRL's digital rights partner Telstra and Ooyala to use the Ooyala Live platform.
Among the results: Ooyala helped deliver a match live stream to over 30,000 rugby fans in 38 countries. With the success of this effort, the club began to present regular live match broadcasts, along with a live pre-game show before each home match and a weekly live fan-commentary show, SharkCast TV.
---
Download case study
---