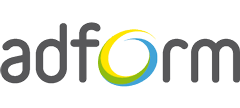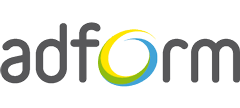 With the RTB market expected to be worth $20 billion by 2015, new findings from Adform have revealed that CPM rates for RTB-traded inventory have doubled over the past 12 months.
The research highlights the boom in the display market with demand for RTB-traded inventory having overtaken supply for the first time in Q4 2012. The increased demand has led to competitive bidding from advertisers, calling publishers to provide more real-time traded inventory.
Advertising on tablets attracted the highest engagement with a click-through rate 65% higher than that of desktops with mobile close behind with a click-through rate 50% higher. Until now, mobile devices have only represented a fraction of the total impressions in the European real-time bidding market. Previously, advertisers have also had concerns over the performance of mobile and tablet ads with a staggeringly low 2.1% of the total spend on RTB advertising allocated to these devices.
Gustav Mellentin, CEO at Adform comments, "The RTB industry is booming, but European advertisers are still testing the waters. To keep up-to-date with on-the-go consumers, advertisers need to run display campaigns on all the screens that consumers are using and over the sites that they're interested in. The fact that CPM rates have doubled over the past year shows that RTB-traded inventory is a 'win win win' for publishers, advertisers and consumers."
The Sleepy Giant Awakens
Many have claimed RTB will replace direct sales and the insertion-order process altogether.
After a slow first half of 2012, the beginning of August saw an explosion in RTB spend in Europe. That growth was accompanied by an uptick in other key metrics that certify the overall healthy RTB market.
- CPMs for RTB-traded inventory have increased by 140%, providing a long-needed incentive for publishers to make a greater portion of their inventory available to the RTB markets
- RTB-traded mobile inventory is now commanding higher CPMs than its desktop counterpoint, another boon for publishers given the consumer's obvious preference for accessing their sites via mobile devices and tablets.
- Campaign performance on RTB-traded inventory is strong, particularly for banners above the fold. This insight will help advertisers better plan RTB campaigns, and provide publishers with insight into the true value of their inventory.
After a slow start, RTB spending experienced rapid growth beginning in August 2012.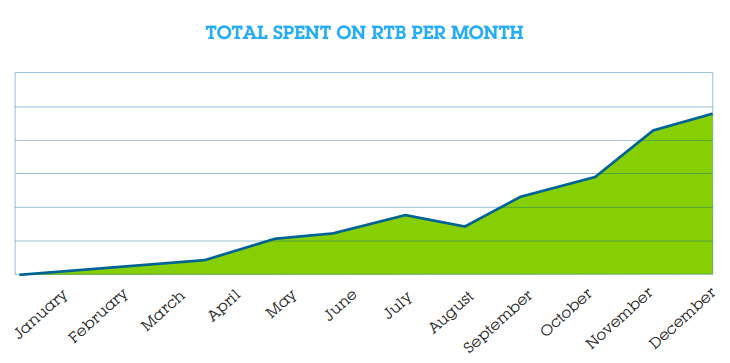 Possible Reasons:
Laws of Supply & Demand at Work
Publishers are offering more of their inventory to the RTB market in response to increased buyer demand and higher CPMs earned. With media agencies and advertisers showing a stronger commitment to programmatic buying, publishers must meet their demand in order to stay relevant.
Buyer Maturity
Agencies and advertisers are now further along in the RTB learning curve. With data and RTB experts in their ranks, and significant experience under their belts, buyers have moved beyond the experimental stage, applying real budgets to RTB.
Advanced RTB Ecosystem
In the past few years, new and advanced technologies have emerged to support the RTB ecosystem. Buyers have embraced a range of solutions that make RTB both more efficient and convenient, including dynamic creatives, Deal IDs, campaign analytics and very large cookie pools.
Campaign Creatives Catch-up
A unique benefit of RTB is the way in which it allows the marketer to glean insight into the user behind each impression. Now, thanks to a wide array of rich-media ad formats and dynamic creative optimisation, marketers can customise their ads by audience, and offer a more engaging and relevant message.
General Growth in CPMs Earned for RTB Inventory
Beginning in May, CPMs began a steady climb; by November, CPMs increased 140% from its low. Prices fell slightly in December, possibly in response to the end of the holiday shopping season.
During the first half of 2012, CPMs for RTB inventory were relatively flat, moving just a few points in either direction.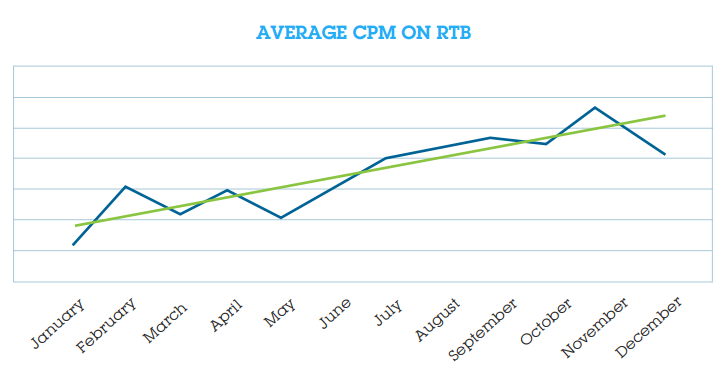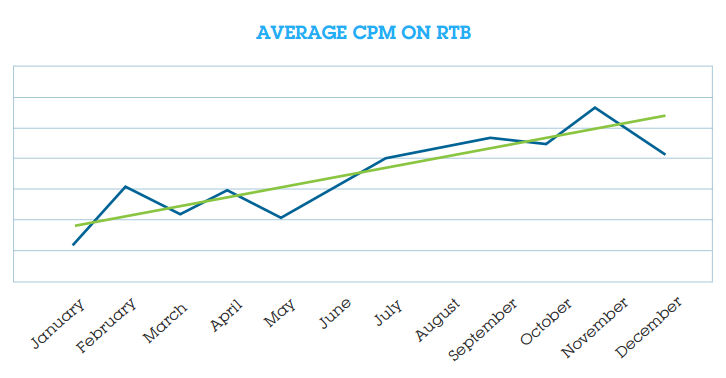 Possible Reasons:
More Demand Leads to Competitive Bidding
As demand for RTB inventory increases, advertisers must compete harder for it in the real-time auctions. The result is higher CPMs for publishers.
Higher-quality Inventory
As publishers earn higher CPMs in the RTB markets, they lessen their reluctance to offer more premium inventory to RTB buyers. Higher quality inventory also leads to higher CPMs earned.
Ability to Protect Valued Relationships
Technologies such as private exchanges and direct integrations enable publishers to protect their relationships with premium advertisers, while satisfying buyer demand for programmatic buying. Moving higher-valued transactions into the RTB spheres will boost CPMs.
For RTB to achieve its full potential – both in terms of market share and campaign ROI – publishers will need to fully embrace the technology.
The increase in CPMs are further proof that RTB is following the fundamental rules of supply and demand, and will eventually stabilise. Market stability occurs when both sides of a transaction benefit equality. Thus, while RTB is still in its infancy, the RTB ecosystem is entering an early phase of stability.
Banner Formats
Generally speaking, European advertisers have shown a preference for standard banner formats when acquiring inventory in the RTB markets.
In 2012, three formats (i.e. the Big Three) have emerged as clear favourites, earning over three-quarters of revenue spent:
- Standard rectangular banner (300 x 250 pixels), also known as the "article" banner
- Standard top banner (728 x 90 pixels)
- Standard skyscraper banner (160 x 600 pixels)
The megaformat (930 x 180), a popular format used in directly-sold campaigns, accounts for just a fraction of the RTB spend.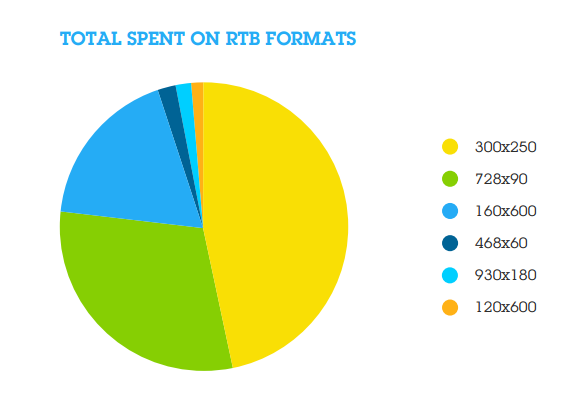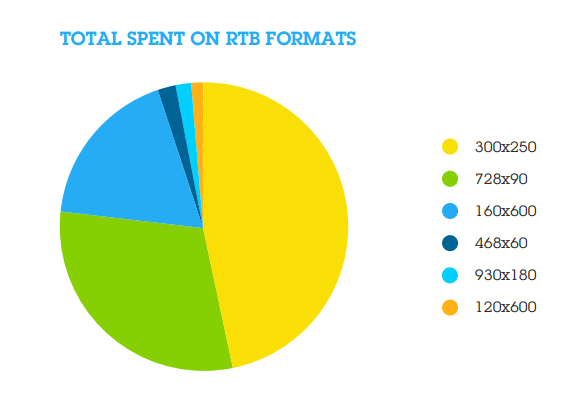 Banner Formats:
CPMs by Format: Interestingly, the megaboard format earned CPMs that were 2x higher than the popular article banner (the second highest earner).
CTR by Format: In terms of clicks earned, the megaboard is the clear leader, earning much higher rates than its closest rival, the article format.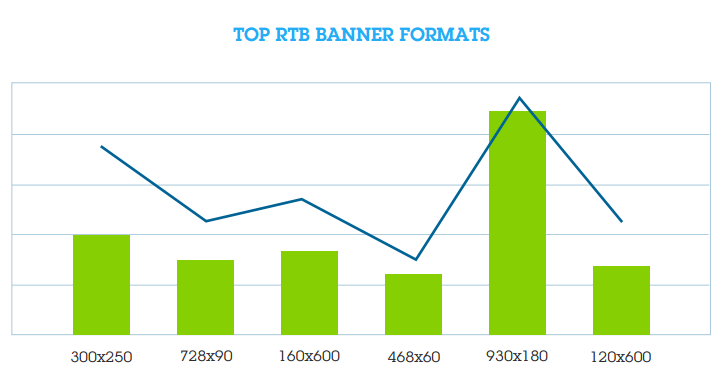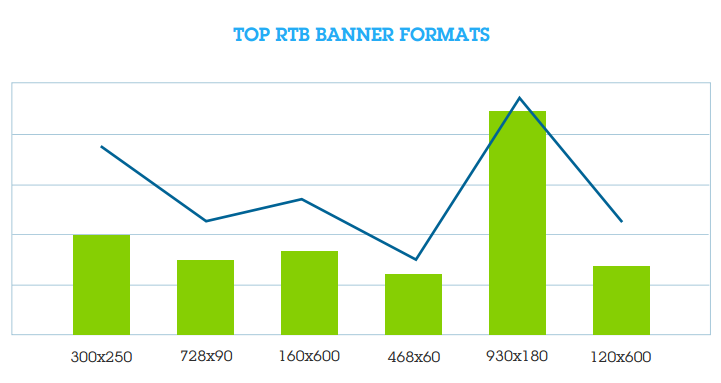 Devices:
Impressions destined for mobile devices have been underrepresented in the European RTB market, accounting for just a small fraction (2.1%) of total impressions exchanged.
This will inevitably change given the high adoption rate of mobile devices and tablets among consumers, and the marketer's desire to benefit from mobile engagement opportunities.
At the same time, some industry insiders and pundits have voiced concern over the performance of ads seen for mobile devices and tablets. Given the small-form factors and the relative infancy of the market, these pundits warned that mobile advertising wouldn't match the success of desktop ads.
Adform's research, therefore, comes as potentially good news for both publishers and advertisers. RTB-traded inventory for mobile devices and tablets earns higher CPMs than desktop inventory, providing another opportunity for publishers to boost the eCPM for their RTB sales.
There was also a sizable boost in click-through rates for RTB-traded mobile inventory, which may be a positive sign for advertisers. If click-through rates remain strong, they will validate the channel for advertisers, and provide a strong incentive to focus on the screen that consumers interact with nearly every waking hour.
Adform is mindful of the 'fat finger' effect on mobile CTRs, where users accidently click-through ads on small screens – not unlike the early days of the web when users clicked on banner ads in an attempt to close them. The industry is beginning to respond to the fat-finger issue by offering click-verification and other tools. It is anticipated that, as mobile users and mobile advertisers gain experience, the number of accidental clicks will decrease and CTR will be more reliable.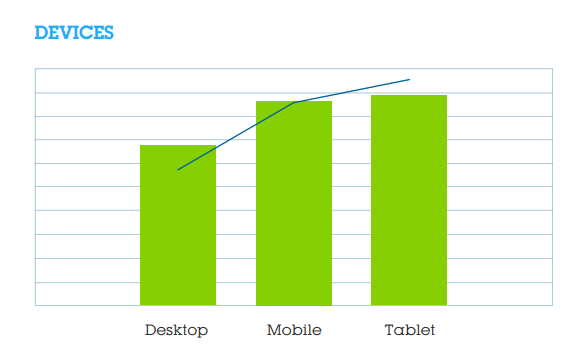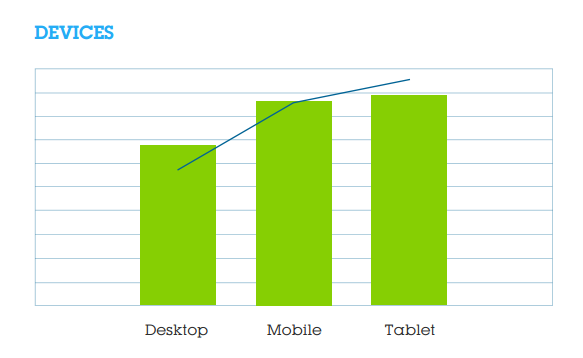 Above vs. Below the Fold
Adform's research validates the widely held belief that ads appearing "above the fold" perform better than those below the fold.
In fact, the click-through rates for ads above the fold are twice those of ads below it.
Logic then tells us that the CPMs for ads above the fold should be twice as high as CPMs for ads appearing below it. However, research indicates that above-the-fold CPMs are only slightly higher than below-the-fold CPMs. Thus, when planning campaigns, advertisers should take the time to compare the average price and performance of the above-the-fold and below-the-fold placements they may wish to purchase.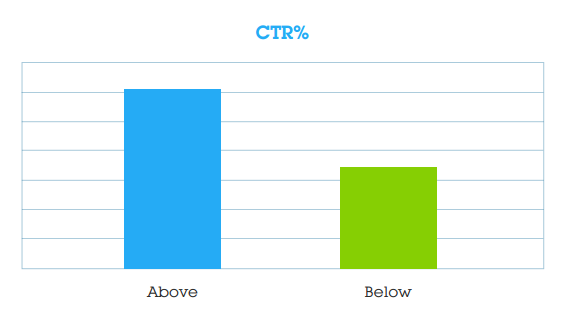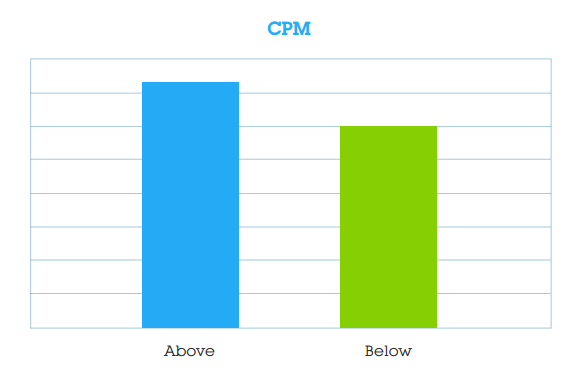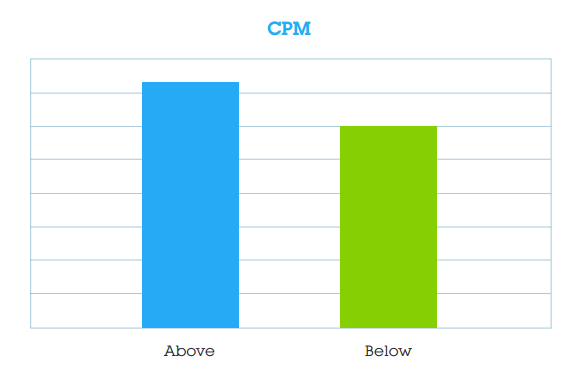 A Look Forward
For Advertisers:
- Increase budget allocation on programmatic buying. RTB is growing because it provides tangible benefits to advertisers, including outstanding ROI and audience insight.
- Embrace the mobile channel. Mobile phones and tablets are flying off the shelves, outnumbering desktops and laptops.
- Moreover, consumers are never far from the mobile devices, checking in with them even while working on a computer or watching television. While the click-through rates reported here appear to reflect the consumer's high level of engagement with their mobile devices, stay mindful of the fat-finger impact on CTR.
- Emphasise viewability when planning campaigns. Ad placements above the fold perform better than those below it, and can be purchased at relatively low costs (for the moment anyway).
For Publishers:
- Offer more inventory to the RTB market. With CPMs on the rise, RTB has become a more profitable channel to sell your inventory.
- RTB-selling is highly efficient from both an operational and sales point of view. Operationally, because a real-time bid always indicates a willing buyer, discrepancies, latencies and defaults are virtually eliminated; and RTB exposes your inventory to a great pool of global advertisers, enabling you to get a foot in the door of brands and accounts your sales teams are unable to call upon.
- Offer more banner options, particularly the megaformat ad format. Thanks to its high-click through rates, advertisers are willing to invest in the format, as evidenced by the CPMs it receives today.
- Invest in mobile, whether that's building a mobile site or introducing mobile apps. Mobile ads receive higher CPMs and the more mobile inventory you can offer to the RTB markets, the more revenue you'll bring in.
AdvertiserDisplayDSPMobileProgrammaticPublisherSSP