Reliance on Mobile, Adoption of DMPs & First-Party Data Challenges: The LATAM Programmatic Market
by Hugh Williams on 2nd Mar 2018 in News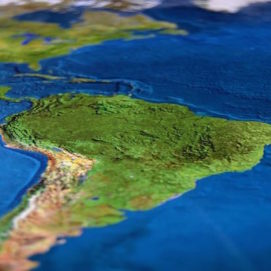 The LATAM digital advertising market is booming. Though not yet on the same scale as the likes of Europe and the U.S., it is home to some of the fastest growing digital markets in the world. The smartphone market continues to grow, helping mobile to be the main driver behind overall digital ad growth, while the adoption of DMPs is helping professionalise programmatic. This piece examines what will be the facilitators behind LATAM's programmatic development, and what issues the region must still seek to tackle.
While not the largest market in the world, LATAM is one of the quickest growing. Its digital ad market is projected to reach USD$41bn (£30bn) by 2021, with digital ad spend set to grow 9.9% in LATAM in 2018. This makes it the fastest growing region for digital advertising in the world, with the fastest growing market, Argentina, supporting a large proportion of this growth.
However, Argentina isn't the sole driver of this growth. U.S.-Hispanic major-media spending may have only edged up 1.2% between 2016 and 2017, but the main growth category behind this was digital, which was estimated to have increased by 16.9% to USD$2bn (£1.5bn).
What's supporting the boom?
One factor behind the ongoing development of LATAM on the global digital advertising stage is the prevalence of mobile, with 66% of smartphone users making a purchase from their mobile devices in the second half of 2016. The LATAM region represents 9.6% of the world's smartphone users, and in 2014, 47% of WhatsApp users in the U.S. were Hispanic, a trend which we are seeing continue today.
Given these statistics, it is hardly surprising that 70% of LATAM's digital budgets will go towards mobile by 2020. The possibilities in this space are by no means exhausted yet, either. Adoption of smartphones in the area is being driven by telecom companies heavily subsidising smartphones and tablets, meaning they are more affordable for consumers. However, at present, unlimited data plans are not widespread. Once these are rolled out (which may involve some more subsidising), adoption will continue to rise.
The are also major opportunities to be tapped around mobile video. Almost two-thirds (59%) of Hispanic Americans turn to their smartphones to watch video, before turning to any other device. What's more, 53% of Hispanic video viewers are more likely to watch ads on their phone than the general population. Three-quarters (75%) are also engaging with mobile video ads by going to YouTube to find out more about a product or service.
DMPs & evolving models
Although LATAM isn't as big as the likes of Europe and the U.S. in terms of digital ad market development, the issues faced are largely the same. For instance, 60% of marketers in the region say they are willing to pay 50% extra to find safer media, which can guarantee more visibility, while 50% say they are having problems with brand safety.
The signs indicate that there will continue to be developments, as LATAM catches up to markets with more developed digital ad markets. To do this, we are seeing:
– Publishers professionalising programmatic buying (by collaborating with DSPs)
– Changing the way media is bought (so it's not only against performance)
– Developing better segmentation, through improving data quality
Low usage of first-party data remains a challenge
However, there are still undoubtedly challenges faced by the LATAM digital ad market. Principal among these is the fact that a limited number of brands are currently using their first-party data to drive their campaigns. Adoption of first-party data is expected to be slow because of the learning curve required, meaning there has to be a focus on helping brands to get more from their own data, with a particular focus on how to enhance it with second- and third-party data to improve programmatic targeting and results.
There are also reputational issues to overcome with programmatic, before buying really flourishes. Poor-quality inventory, unfavourable position of ads on the page, and cheap remnant inventory were all seen as issues faced by the LATAM programmatic market at the outset of 2017. These are all key issues which will need to be addressed, as the market continues to evolve.
These trends, and more, will be discussed further at ATS Miami, which takes place on 8th March. ATS Miami 2018 will focus on the technology and tools that underpin programmatic and data-driven advertising, current challenges facing the industry, and future trends and developments witnessed across global markets. To purchase your tickets for the day, please click here.