Admixer will be the title partner of Conference for Marketing & Media Buying Specialists
by ExchangeWire PressBox on 1st Sep 2021 in News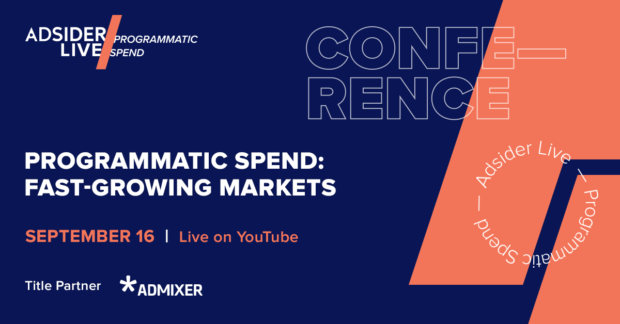 One of the main aims of Admixer is to support projects and initiatives that educate the digital advertising community by delivering accessible high-end field expertise.
During Adsider LIVE / Programmatic Spend fifteen experts from the leading industry companies, Admixer, PubMatic, Algorix, Adtarget, Awarion, and Unruly will explain how their clients managed to succeed in crisis and explain the upcoming changes in the advertising industry.
Speakers and lecturers of will give their take on the most pressing issues on the programmatic market:
How to return advertising investments?
How to succeed with new user acquisition channels?
How to target users in the latest data privacy reality?

On the 25th of May 2021, IAB Europe published its annual AdEx Benchmark report, covering 28 countries in the region. The results showed 10–35% growth in the markets of Turkey, Ukraine, Serbia, Czech Republic, Bulgaria, Romania, and Germany during the COVID-19 pandemic.
The rapid growth in advertising budgets stimulates competition for impressions. Brands must find a more balanced strategic and tactical approach to allocate their funds.
The conference also will cover:
Programmatic trends of the rapidly growing ad markets in Europe.
Programmatic tools for increasing user acquisition and boosting the efficiency of the ad campaigns in 2022.
Programmatic-advertising 2.0: AUDIO, CTV, OTT, and DOOH.

The conference will be followed by a panel discussion on Fraud, Brand Measurement, and b(Ad) spendings.
Adsider LIVE / Programmatic Spend in partnership with Admixer will benefit medium/large business owners, media and advertising agencies, publishers, and everyone who wants to find new channels for growing their business through digital advertising.
Participation is free:
https://spend.adsider.com.

Admixer
Admixer is an independent adtech company, providing full-stack programmatic solutions for all market players. Since 2008, the company has been developing an ecosystem of interconnected products to meet the needs of both the buy- and sell-side. The Ad...
Powered by PressBox
Ad TechAdvertiserAdvertisingDigitalEventsPerformanceProgrammatic