The State of Programmatic in JAPAC: Current & Future Drivers of Growth
by Lindsay Rowntree on 21st May 2020 in Reports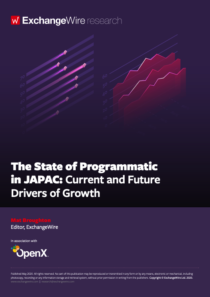 Over the previous 12 months, 76.6% of media professionals across the Japan & Asia Pacific (JAPAC) region increased their programmatic investment, according to a research report published today [21 May 2020] by ExchangeWire, in association with OpenX. 
Multiple factors were cited as driving marketing budget towards programmatic, with effective use of data (61%) and trading efficiencies (60%) identified as the most significant of these. The high quality of inventory available through the channel was also cited, and will remain critically important going forwards.
Header bidding is set to power the overriding majority of programmatic trading in JAPAC, with over 90% of the market using the technology. However, there is a wide disparity in the number of header bidding partners used across the region, particularly in emerging markets.
Ads.txt adoption remains inconsistent within the region, with only 6% of media professionals believing that all of their traded inventory is ads.txt verified. Initiatives to promote the use of the protocol throughout the market could prove instrumental in alleviating concerns over resources required to trade programmatic inventory, in turn driving further increases in investment towards the channel.
Speaking on some of the observed differences between markets within the JAPAC region, John Harvey Faurholt, Head of Native & Display Advertising Partnerships, APAC, Microsoft, adds, "The Australian market is very broadcast-led, which can offer a diverse range of formats across multiple platforms. Traditionally, this offering is supported by a more direct-sold sales motion with programmatic playing the role of backfill. However, the market is rapidly accelerating toward programmatic, and due to some of the exciting developments in programmatic TV and DOOH in the region, I would expect the percentage of programmatic trading to accelerate in 2021. The Indian market is heavily weighted toward mobile and video, due to the explosion of affordable data plans and incumbent OTT players and YouTube. This combined with very savvy trading strategies and a heightened focus on ROI, has resulted in a sophisticated programmatic ecosystem." 
Looking ahead, digital out-of-home (DOOH) seems set to capture increased programmatic spend, with 44% of respondents across the surveyed markets identifying it as the most promising channel, with strong support from across the full supply chain. In-app and audio advertising are also set to flourish, driven by mobile-centric audiences across the region.