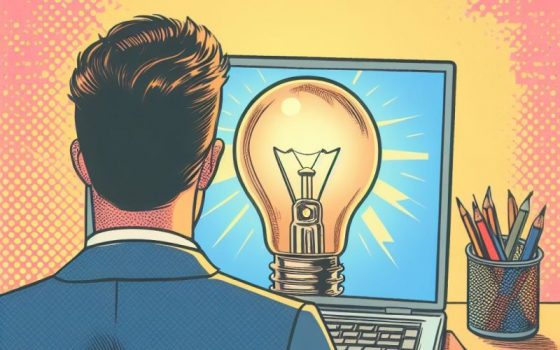 Ciaran O'Kane looks on the bright side, and dives into the eight areas of focus that give adland reasons to be cheerful.
The title of this post might suggest I am looking to ape Marc Anderseen's verbose libertarian essay on why tech is great.
Even ChatGPT struggled to summarise the piece in less than 150 words - a testament to one man's long-winded way of saying, "let's build more great stuff like - ahem - Web3".
In fairness to Marc, he is a perma-optimist. And the man has built some great companies. So, kudos.
Optimism is hard to find in our own slither of the technology landscape. Negative stories permeate the trades and podcasts, throwing shade on the infrastructure layer of a $5trn (~£4.1trn) marketing ecosystem.
Despite the loss of ID signal and soon-to-be-deprecated Chrome cookie, ad tech remains in a strong position.
Through a tiny lens you can easily fall victim to your own confirmation bias. What befalls struggling news publishers or a small subset of the open web is not indicative of an enormous media and marketing ecosystem that is powered by ad tech.
Walled gardens might seem to be eating adland alive - but it's not the case. Loss of signal and lack of quality inventory in these environments is affecting key buyers like DTC - who are struggling to make customer acquisition work.
A refocus on attribution and a move away lower funnel tactics will see spend move elsewhere.
Focus on the opportunities
ExchangeWire is excited about the opportunities that lie ahead for the industry. Our team is putting together Industry Review for the year ahead, focussing on eight pillars around which we believe ad tech will thrive in the year ahead.
Each pillar will come with an exclusive MadTech Sketch, giving insight on how it will affect the buy and sell side. We will also have exclusive commentary from industry operators. We will be hosting an evening event in January to officially launch the Industry Review. Now is the time to get involved.
So, what are we most optimistic about?:
Curation: The death of OMP (Open Marketplace) is nigh. But don't worry because curation is fast becoming the go-to for programmatic activation. Less reliant on cookies/IDs and more environmentally sustainable, curation offers buyers a more bespoke way of aggregating inventory and activating specific data signals.
Next generation TV: TV is a complicated beast. It is a little disingenuous and reductive to suggest the industry is going to be CTV only. The inventory pot will remain complex for many years (programmatic, linear and walled garden). What we need is focus on making TV more data-driven instead of skin grafting a display advertising tech framework.
Gaming: How is gaming not getting more brand budget? It is a fundamental failing on the part of marketing budget allocation - gaming has the eyeballs and attention. Targeting and measurement is now meeting agency standards. 2024 will change brand perception.
Sustainability and DE&I: These two areas will continue to dominate the space. With financial outcomes now being benchmarked against senior agency and brand execs, expect to see more investment in these areas.
Attention: Attention has come of age. It will not only replace viewability as a core KPI, it will move beyond vanity metric to become an essential cross-device measurement currency. Activation will be a key application also, as useful data signals get whittled down to a handful of scalable options.
Retail media: Everyone wants to copy the Amazon playbook on retail media. It's not going to work. Scale will be the ultimate issue. The future of retail media is all about aggregation and endemic advertising like PLAs. The initiatives around OpenRTB for Retail Media will move the needle for the non-Amazon segment. The opportunity for ad tech long term dwarfs anything else in the industry.
Post-cookie technologies: What will work in a post-cookie world. Will it be probabilistic and deterministic ids? Will it be clean rooms? Will it be contextual? Will panel measurement reign supreme? The PCT pillar is the most fascinating of this year's IR. Let's see who makes the grade.
AI: Arguably the most discussed topic of the year. How will it affect media and marketing? Content creation and creative design seem to be the obvious areas it can be applied immediately. It's inevitable that it will underpin a lot of planning and programmatic trading functions. We think it's more of an enabler than a job killer - evolving the media buying and selling process. Synthetic media is an immediate problem for everyone, as misinformation and crap AI content floods the open web. There are big opportunities for ad tech in the area of AI in 2024.
This is the time to get involved in IR. Get in touch, and make sure you have your say in ad tech's big year. Remember: there is always upside when you are an ad tech optimist.
Addressable TVAIAttentionCookielessCTVCurationGamingIndustry ReviewRetail MediaSustainability