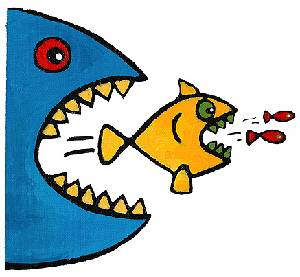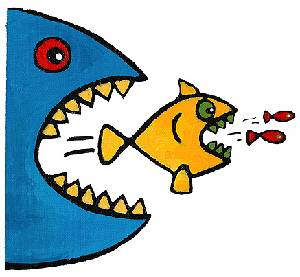 M&A deals in the ad tech sector in 2014 were worth double that of the previous year, according to a report from investment advisory firm AGC Partners, with demand for video and data management platforms (DMP) driving growth in the sector. 
The report – entitled AdTech M&A in 2014 and Beyond: Trends and Drivers in an Evolving Landscape – claims the growth in investment in the ad tech sector has been driven by a 36% compound annual growth rate (CAGR) in programmatic ad spend (citing figures from IDC Group), plus the growth in mobile advertising, which is set to hit $73bn by 2018, according to Magna Global.
Programmatic advertising is set to hit $20.8bn a year by 2017, according to the figures cited, with AGC's figures noting that 14 of the major deals in the sector were valued between $100m - $400m, adding US-based firms such as Adobe, Twitter, and Yahoo are leading the surge.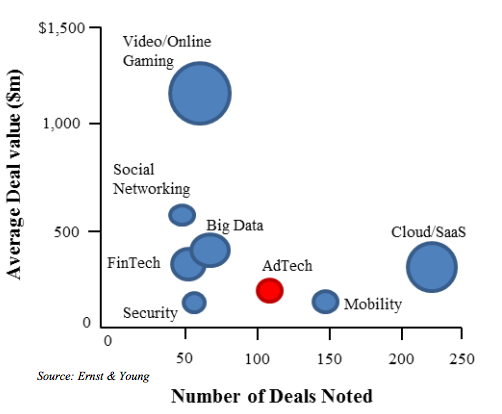 AGC Partners further break down the "AdTech" sector into distinct categories (see chart), identifying further sub-sectors, and noting how demand for video and DMP firms drove interest in the "ATech" sector denoted in red above.
The report reads: "According to Ernst and Young's Q3 2014 Technology M&A Report, the total value of global Tech M&A activity in Q3 of 2014 was $73.7bn.
"This broke the previous 'post-dotcom bubble' Q3 record of $71.2bn in 2013. AdTech was targeted in over 100 deals in Q3 and $1.5bn has been spent on AdTech M&A in 2014 as of September."
This subdivision of the sector reveals that "adtech" was the third-most targeted sector – with just over 100 deals taking place in the subdivision – behind cloud/SaaS providers and mobile advertising outfits, according to Ernst & Young.
Anticipation of the higher yields produced by video ad units (compared to display ad units) drove this trend, with notable transactions in this sector including Facebook's acquisition of LiveRail for $382m and Opera MediaWorks' acquisition of AdColony for $75m, not to mention the $640m purchase of BrightRoll by Yahoo, or the purchase of Videoplaza by Australia's Telstra this last quarter.
The report reads: "Video deal activity jumped from seven transactions in all of 2013 to 14 in 1H, 2014 alone."
Meanwhile, DMPs also proved popular with both buyers and investors in 2014, especially as enterprise software vendors look to increasingly involve themselves in the ad tech sector.
Notable purchases in this sector include; Oracle picking up BlueKai for a price tag of $408m and Rocket Fuel buying programmatic marketing company [x+1] for $230m in August this year, plus Publicis Groupe's purchase of Run.
The report continues: "Software vendors have enhanced their focus on the aggregation and application of data. This data is leveraged to drive audience profiling and ad targeting in order to drive higher ROI."
This spells good news for venture capital firms that were quick to invest in ad tech firms in the formative days of the technology.
However, the report also notes that 'traditional media' companies, such as agency holding groups and broadcasters, are now also eager to invest in ad tech, as opposed to invest in their own R&D in a bid to roll out such capabilities. A trend that would indicate they are in a rush to catch up with ad tech providers (perhaps for fear of being dis-intermediated?).
WPP & Publicis Groupe
Active players in AdTech include media giant WPP, who has participated as a buyer in five transactions in 2014 so far.
Foremost among its shopping spree was the purchase of a 15% stake in AppNexus for $25m in 2015 – a deal which also saw its Xaxis arm sell-off Open AdStream to AppNexus. WPP CEO Sir Martin Sorrell said the transaction meant it was way head of its rivals, given that it leaves with only Google and Facebook to turn to when it comes to buying digital media programmatically. The risks of which have been spoken about at length by AppNexus CEO Brian O'Kelley throughout 2014.
Not tot be outdone, French rival Publicis Groupe has also been investing in ad tech, particularly towards the end of the year, including the $40m purchase of a 20% stake in Israeli ad network Matomy, plus the purchase of its own DMP Run.
However, this acquisition spree was crowned with the colossal purchase of Sapient for $3.7bn. While this move may have made ruptures throughout the traditional agency world, in investment circles it raised eyebrows, prompting prominent financial advisor Brian Wieser from Pivotal Research Group to ask if the Sapient purchase actually added any value?
This would indicate that purchasing ad tech – as opposed to market share via way of agency consolidation – seems to curry favour with investors.
RTL & SpotXchange 
The report goes on to note the continued growth of mobile devices and the emergence of connected TVs have incentivised advertisers to be adept at serving ads to these channels as more and more consumers consume online video content.
It goes on to say: "One recent transaction that reflects this rationale is RTL Group's $144m purchase of SpotXchange, which provides behavioural in-market targeting among other services. These trends have manifested themselves in the transactions of active buyers in the space whose names include some of the biggest players in the digital universe."
This begs the question: Who will buy big in 2015, and just what will they be interested in?
Facebook has already come out and said that 2015 will be a massive year of investment in ad tech in its most recent earnings call, with company COO Sheryl Sandberg also saying it was "vitally important" to the company's future.
Meanwhile, Yahoo, fresh from its multi-billion windfall post the Alibaba float, must also be eager to further its interest in ad tech. But the big bets are on enterprise software companies such as Adobe, et al, will further their interest in the ad tech sector, particularly on the buy-side of the market.
Whether this M&A activity will continue at the same pace as it has over the last 12 months is still debatable, but if the year in ad tech that was 2014 is to be defined by one trend then surely 'strategic investment' has to it.
A full version of the report can be downloaded here
AdvertiserDataDigital MarketingDisplayDMPMartechMedia SpendMobileProgrammaticTargetingVideo