AOP Chair: 'Alliance Will Give Publishers Strength of Scale'
by Ronan Shields on 23rd Mar 2015 in News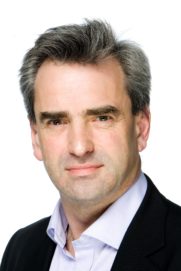 Tim Faircliff, AOP, chairman, discusses the mechanics of the recently announced premium publisher alliance – or co-op – that is to be powered by AppNexus, which has several of the UK's tier-one publishers as founding members.

EW: What does the new set-up look like, and what publishers are in the alliance?

TF: At launch, the AOP Premium Publisher Alliance will include inventory and audience data from Telegraph Media Group, Time Inc., Haymarket Media Group, Dennis Publishing Ltd, Auto Trader, Future Plc, Sift Media, and Bauer Consumer Media Ltd.
Further publishers will be announced shortly.
EW: What is the rationale behind the formation of this publisher co-op?

TF: The unprecedented growth in advertising technology and automated ad platforms presented a real challenge to publishers looking to operate within a premium marketplace environment. The AOP is working collaboratively with its members to maximise ROI and deliver one marketplace comprising brand-safe inventory from the UK's leading publishers.
The AOP Premium Publisher Alliance delivers a Private Marketplace (PMP) that offers buyers a carefully curated, brand-safe and context-rich source of inventory and audiences at scale.
EW: Is this effectively unsold inventory from participating publishers, run as blind (but still premium and bot-free supply) impressions on the AppNexus exchange?
TF: The inventory will be semi-transparent, as a minimum, with a white list. The alliance will offer premium, prioritised-look inventory segmented across audience, data, cross-platform, and context-based advertising.
The alliance will also categorise the inventory across ATF (above-the-fold), BTF (below-the-fold), channel, format, and platform. Ideally, the alliance will be first-look and will sit beneath their own direct sales, but ahead of their PMPs (private marketplaces) and open RTB (real-time bidding). This, therefore, will not compromise deal IDs so our publishers' existing PMPs will not be in competition with the alliance.
EW: Will the impressions be enriched with first-party data from participating publishers – or is it standard inventory buy?

TF: Each publisher will be able to use their own first-party data and any third-party data segments to which they have access. These segments would be managed in their DMP (data management platform) of choice, which would then be synced with the AppNexus platform on an ongoing basis.
EW: How will the relationship with AppNexus work – is it just a buying point for the market for RTB buys? Are you looking to widen the arrangement to include programmatic direct also?

TF: AppNexus will deliver a fully managed service of technology and demand enablement as we will be layering a yield optimisation technology tool on top of the platform. AppNexus is integrated and connected to all buying points and can deliver a bespoke solution for this unique offering.
EW: Does this deal include mobile inventory – or is it just desktop?

TF: At launch, the alliance will offer [only] desktop inventory, but mobile will be included in the near future. Video will also be included when supply increases.
EW: Will this new alliance have the scale to compete with Google, Facebook, Pangaea and the rest?

TF: The AOP Premium Publisher Alliance will give publishers strength of scale to allow them to compete in a more equal setting than currently exists as individuals. The alliance is an alternative marketplace for agencies to buy premium inventory, which is content-rich, as well as representing reach and scale.
The AOP Premium Publisher Alliance will work with a wider scope of publishers than Pangaea providing much more content reach across far more varied genres. It will focus on the UK market and will be substantially larger in terms of numbers of publishers and vertical interest categories.
TagsAutomated GuaranteedDataDigital MarketingDisplayEMEAExchangeMedia SpendProgrammaticPublisherSSPTargetingTrading