UK Ad Spend to Continue Rising; Tech-Savvy Users at Highest Risk of ID Fraud
by Sonja Kroll on 4th Aug 2016 in News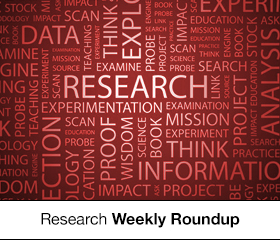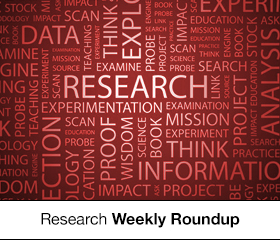 ExchangeWire Research's weekly roundup brings you up-to-date research findings from around the world, with additional insight provided by Rebecca Muir, head of research and analysis, ExchangeWire. In this week's edition: UK ad spend to pass £20bn in 2016; ID fraud risk higher for tech-savvy consumers; and 80% of UK businesses fear being displaced by tech-focused competitors. 
UK ad spend to continue rising
Based on their latest expenditure report, the Advertising Association/Warc predicts UK ad spend to grow by 4.2% in 2016, and continue increasing by 3.8% in 2017, with the Brexit vote apparently not hindering advertising expenditure in the near future.
The first quarter of 2016 already started strong with a 4.3% rise in ad spend, reaching more than £5bn – the first time that ad spend has passed £5bn in a first quarter. Total UK ad spend is forecast to hit almost £21bn in 2016.
Including mobile advertising, the report estimates internet ad spend to have grown 15.3% in Q1 alone, reaching a total of £2.34bn, with most of the growth due to mobile (96% of total internet growth). Mobile ad spend increased 55.9% year-on-year, to an estimated £830m during Q1 2016. For the full year, the Advertising Association expects internet ad spend growth to reach 12.3% in 2016, with a further 10.1% forecast for 2017. At the end of next year, the market is expected to be worth over £10bn.
According to the data, news brand and magazine ad spends continued their downward spiral in Q1, while TV and radio ad expenditure increased by 3.3% and 2.9%, respectively.
ID fraud risk higher for tech fans
Being a technology fan does not save you from ID fraud, a new study finds. Contrary to the assumption that tech-savvy users know how to avoid fraud risks on the internet, the study by Experian proves that consumers with strong affinity with technology, and who are the group who spend the most time on mobile devices and social networks, made up 23% of all ID fraud victims in 2015 – despite representing only 7.7% of the population.
Experian's fraud expert Nick Mothershaw: "Those who embrace technology most enthusiastically make tempting targets for ID fraudsters, even though one might assume that tech-savvy users would be more aware of security risks and safeguards."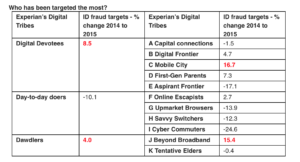 Mothershaw suggests that combating fraud is the responsibility, not only of the users themselves, but also of businesses: "Aside from the fact that fraud costs the UK economy almost £200bn a year, by engaging and helping to protect their customers, businesses can foster even higher levels of loyalty to their brand and help to prevent them becoming victims."
The group of tech-savvy users saw the biggest jump in ID theft, rising by 16.7% over the previous 12 months. Older and retired households, predominantly living in rural areas, also suffered from a large 15.4% increase in ID fraud year-on-year.
The survey is based on Experian's 'digital tribes', which identify 11 distinct groups of the UK population in relation to their internet usage behaviour.
UK businesses still overwhelmed by technology
Being displaced, not only by startups, but also by established competitors, is the biggest fear of UK businesses; 80% of them fear competition despite being aware of their own failings, a new study by digital experts Squiz finds.
In a survey of over 200 UK decision makers, the vast majority of respondents (70%) conceded that digital technology is at the heart of innovation, yet at the same time 38% also responded that they need more technology experts in their organisation to stay ahead of the competition. Marketing and advertising are key skills cited by 37% of the respondents. Data and analytics is at number five of the wish list, with 31% of respondents saying that skills in this area will have to be acquired within the next five years.
However, despite the acknowledgment that digital technologies are imperative for future success, a large number of UK businesses admit that their organisations are slow to innovate and effectively prevent innovation: 34% of UK businesses ignore the power of progress by failing to encourage and celebrate innovation, Squiz says.
This attitude is also reflected in the fact that less than a quarter of UK businesses (24%) are currently using AI and VR. Surprisingly, this low rate is not only representative of businesses outside the major technology hubs, but also applies to London, for instance, where Squiz found only 27% of businesses based in the capital working with VR, and only 29% working with AI technologies. However, for those that are planning on using VR, 46% cited marketing and events as the key use.
Coupled with the fact that over a third (36%) of UK businesses still do not have a mobile app or mobile website, Squiz's findings could be seen as a wake-up call to businesses: "Businesses have recognised that innovation will be the key to their survival, giving them time to change their approach", says Stephen Morgan, co-founder of Squiz. "For the 40% of businesses that said they are slow to innovate, it is vital that they find the point of vulnerability within their business and act to bridge the gap it presents, before another business swoops in to do it for them, offering a better alternative to customers."
Ad FraudAd TechAnalyticsDataDigital MarketingExchangeWire ResearchMedia SpendMobileProgrammaticTechnologyTV