BAT Influence Stifling Ad Tech Competition in China; AU TV Ads Hit £1.24bn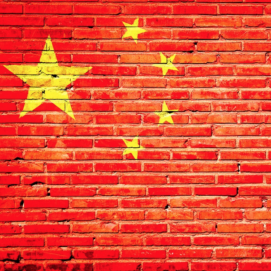 In this weekly segment, ExchangeWire sums up key industry updates on ad tech from around the Asia-Pacific region – and in this edition: BAT Influence Stifling Ad Tech Competition in China; Alibaba to Grab 9.8% of Global Ad Revenue; AU TV Ads Hit £1.24bn; YouTube Expected to Dominate APAC Videos; Criteo Unveils Reseller Scheme in APAC; DoubleVerify Opens in Singapore; Essence Ramps Up Asia-Pacific Presence; and MediaMath Offers Programmatic Training in APAC.
BAT Influence Stifling Ad Tech Competition in China
Programmatic spending on display ads in China will reach USD$22.81bn (£16.1bn) this year, fuelled largely by the country's three internet giants: Baidu, Alibaba, and Tencent.
Commonly known as 'BAT', the three companies would account for the bulk of programmatic ad budgets in China, according to market researcher eMarketer. In addition, mobile would contribute 83.7% of the total spend on programmatic display ads in 2018.
By the end of 2019, programmatic display ad expenditure in the Chinese market would hit USD$29.61bn (£20.9bn), accounting for 69% of total digital display ad spend. Mobile would remain a key growth driver of programmatic ad spend in China, eMarketer said.
The research firm's senior forecasting analyst, Shelleen Shum, noted that the increasing influence of BAT would push programmatic ad budgets in China.
Shum said: "While over 60% of digital advertising spend already goes to BAT, their influence on the programmatic market is even more dramatic. Despite the relatively sophisticated ad-buying technology on the BAT platforms, players outside the big three remain few and undeveloped."
She added, though, that China's programmatic market still lagged behind the US and the UK, as BAT's significant influence had stymied the growth of a competitive ad tech ecosystem.
Alibaba to Grab 9.8% of Global Ad Revenue
In a separate note, eMarketer also predicts that Alibaba will grab 9.8% of the global digital ad market, which is expected to be worth USD$266.04bn (£188.06bn) this year.
This would be an increase from its 8.5% share last year, with Baidu's share expected to remain at 4.3% this year, the research firm said.
In terms of mobile ad market, estimated to be worth USD$181.59bn (£128.19bn), Alibaba was projected to also increase its share from 11.6% last year to 12.2% in 2018.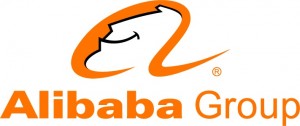 Last year, Alibaba outpaced Google to become the world's second-largest, in terms of display ad revenue, and was expected to capture 15.1%, worth USD$19.62bn (£13.85bn), behind Facebook's share of 37.6%.
In China, Alibaba would grab 45.8% of the mobile ad market, which was expected to hit USD$48.1bn (£33.96bn) this year. Baidu would account for 17%, down from 18.4% last year.
eMarketer's senior forecasting analyst Shelleen Shum said: "Alibaba's influence on China's digital and mobile advertising market will be even more prominent in 2018 as the company focuses on marrying data and technology to create custom shopping and ad experiences.
"Alibaba's rich trove of data about its customers, spanning across all its platforms from e-commerce to entertainment [such as] Taobao, Tmall, Alipay, Youku, and Alibaba Music, puts it in good stead to capture the growing advertiser demand for data-based targeting."
AU TV Ads Hit £1.24bn
TV advertising dollars reached AUD$2.17bn (£1.24bn) in Australia for the second half of 2017, dropping 0.7% over the previous six months.
For the second-half 2017, the metropolitan free-to-air TV ad market grew 1.4% to AUD$1.5bn (£858.36m), according to latest numbers from ThinkTV. Including broadcast video-on-demand (BVOD), this market climbed 1.9% in total to reach AUD$1.54bn (£881.25m), fuelled by advertisers returning to broadcast TV, due to its effectiveness, as well as the continued growth of BVOD platforms such as Foxtel Now, 9Now, 7Plus, and Tenplay.
BVOD ad revenues, which included ad revenue from online catch-up services and live online streaming TV, increased 23.9% year-on-year in the second half of 2017.
ThinkTV's chief executive Kim Portrate said: "The total TV ad market performed well in fiercely competitive conditions, with the rapid growth in BVOD revenue reflecting marketers' confidence in the power, reach, and efficacy of today's multi-platform TV.
"TV is an experience available on any device at any time, offering catch-up shows, archived programming, BVOD originals, and live-streaming, all showing professionally produced content that is safe for brands."
The total TV ad revenue figure included metropolitan free-to-air, regional free-to-air, and subscription TV. However, as SBS declined to provide its aggregated revenue figures, ThinkTV said its revenue figures for first-half 2016 had been subtracted to facilitate a direct comparison.
YouTube Expected to Dominate APAC Videos
YouTube is projected to emerge as the most popular video-viewing platform in Asia-Pacific, capturing 45.5% of digital video viewers.
This means 576.8 million viewers in the region will regularly watch video via YouTube's app or website this year, up almost 13% from last year, predicted eMarketer.
In Australia, 70.4% of internet users regularly access YouTube, clocking the highest penetration rate for the video platform in Asia-Pacific.
Across the region, more than 80% of digital video viewers will do so via a mobile device. In fact, mobile video usage has grown in double digits over the past five years in Asia-Pacific, where the number of consumers watching videos on their mobile is projected to climb 14.5% in 2018.
eMarketer's senior forecasting analyst Oscar Orozco said: "YouTube usage is on the rise and has become the most popular video streaming service throughout Asia-Pacific, except in China where it is censored.
"While regional Netflix adoption is still low, awareness and intent to subscribe is growing. We expect Netflix adoption will continue to expand, while at the same time providing much-needed competition and influence on local streaming providers."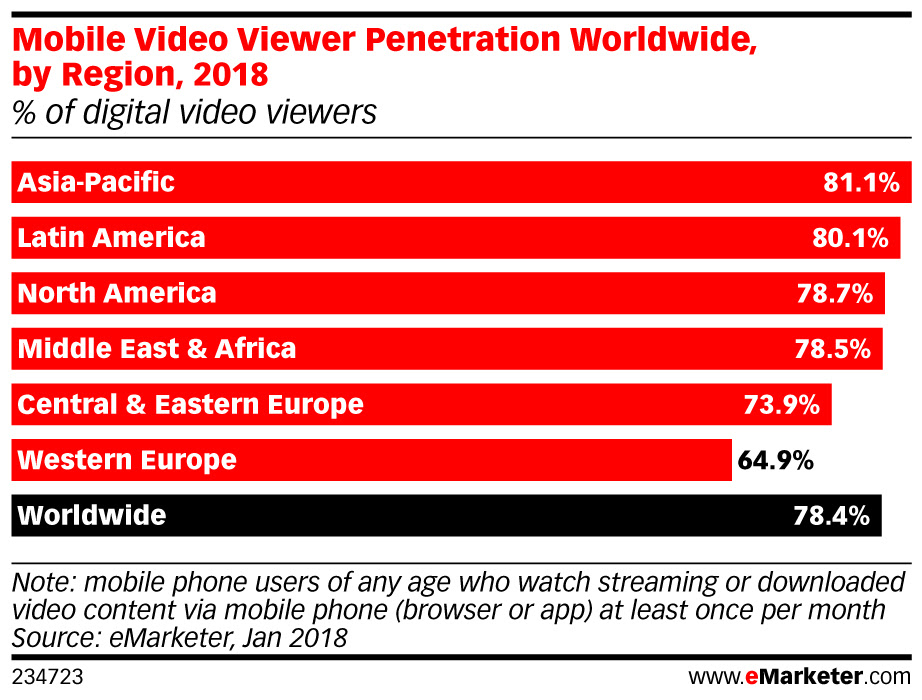 At 65.8%, China has the highest proportion of online consumers accessing video via their mobile, with Youku, Tencent, iQiyi, LeTV, and Sohu amongst the country's most popular video platforms.
Mobile video consumption rate will hit 62.9% in Australia this year, while Indonesia's penetration rate will reach 61.7%.
India and Indonesia will be the fastest-growing mobile video markets in Asia-Pacific, growing by 25.3% and 18.2%, respectively.
Orozco said: "Online video streaming is on the rise in Asia-Pacific, [where] viewing is primarily occurring on mobile phones. In China, the availability of content has increased tenfold over the past year, with Baidu's video platform iQiyi inking a content licensing deal with Netflix, while Alibaba's Youku Tudou reached a similar agreement with NBCUniversal and Sony."
Criteo Unveils Reseller Scheme in APAC
The ad tech vendor has introduced its reseller programme in Asia-Pacific, enabling online marketplaces to resell Criteo Dynamic Retargeting to merchants and other affiliates on their platforms.
It said the scheme was designed to help online marketplaces and their merchants tap the region's growing e-commerce market, which is projected to cross USD$3tn (£2.12tn) and account for 25% of total retail sales by 2021.
The Criteo Reseller Program provided an application programming interface (API) that online marketplaces could tap to simplify campaign management, for instance, enabling merchants to manage and adjust their ad spend and cost-per-click (CPC) prices to boost sales under the marketplace's dynamic retargeting campaign.
"Online marketplaces do not need to manage ad spend and budgets on behalf of merchants. The marketplace manages the technical integration, with no further technical development required from merchants themselves", Criteo said.
DoubleVerify Opens in Singapore
The digital media measurement vendor has set up shop in Singapore, where it aims to drive the company's expansion in Asia-Pacific.
The new outfit would be led by newly appointed Asia-Pacific managing director, Jordan Khoo, who was previously Asia-Pacific vice president of Sizmek.
Khoo said: "Today's media landscape has made brand safety and digital ad fraud a highly visible issue around the world. I look forward to supporting our customers and partners in the region to drive better ROI (returns on investment) from their digital media investment and protecting their brand equity."
DoubleVerify CEO and president Wayne Gattinella added: "DoubleVerify's expansion into Asia is a natural next step for our company. We are committed to delivering a seamless solution that protects the brand safety and media integrity of our clients around the globe.
Essence Ramps Up Asia-Pacific Presence
The GroupM media agency has doubled its offices in Asia-Pacific to 10, setting up new outfits in Bengaluru, Jakarta, Melbourne, and Mumbai.
Essence said it was beefing up its operations in the region to help brands build better relationship with local audiences. It also has offices in Singapore, Tokyo, Sydney, Shanghai, Delhi, and Seoul, and currently employs some 300 people across the region.
Its new office in Jakarta marked the agency's foray into the Indonesian market, where its local operations will be led by Central Asia managing director, Kunal Guha.
GroupM's Asia-Pacific CEO and China chairman Mark Patterson said: "Essence is a key element in our continued transformation, leadership, and growth as a group in the region. This next phase of expansion is great news for Essence and its clients."
MediaMath Offers Programmatic Training in APAC
The ad tech vendor says it has provided programmatic training for more than 4,000 marketers in Asia-Pacific through its education business unit, New Marketing Institute (NMI).
Amongst such training sessions was a Programmatic 101 session for Dentsu Aegis Network, during which MediaMath worked with the agency group's programmatic brand, Amnet, to train more than 220 participants from Hong Kong and Southeast Asia.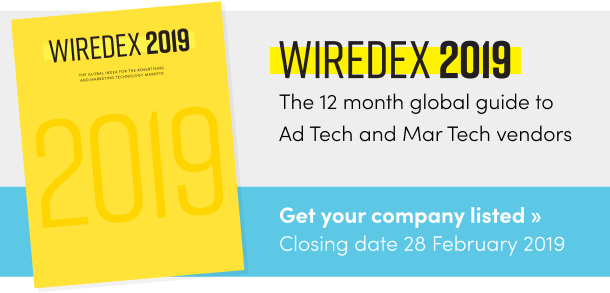 TagsAd TechAdvertiserAgencyAPACecommerceMeasurementMedia SpendMobileProgrammaticTVVideo