AU Marketers Unable to Deliver Cross-Channel Personalised CX; Data Breach Affected 1M Facebook Users in PH & INDO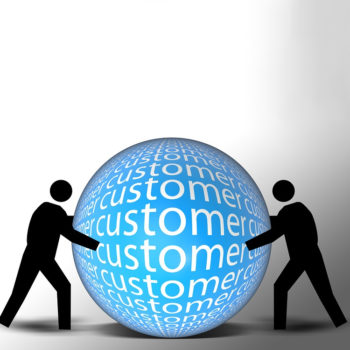 In this weekly segment, ExchangeWire sums up key industry updates on ad tech from around the Asia-Pacific region – and in this edition: AU Marketers Unable to Deliver Cross-Channel Personalised CX; Data Breach Affected 1M Facebook Users in PH & INDO; Publicis Media Launches Commerce Practice; AU Consumers Listen Over Breakfast & Watch Over Dinner; Screen Media Sets Up in SEA; and Dentsu Makes Acquisition & Investment in U.S.
AU Marketers Unable to Deliver Cross-Channel Personalised CX
Some 67% of Australian marketers regard optimising customer experience as a company-wide priority, but just 21% believe their organisation effectively delivers personalised experiences across online and offline channels in near- or real-time.
They are, however, tapping their marketing budget to deploy customer-focused technology, according to Capgemini Australia's Digital Marketing and Customer Experience Maturity Report.
In fact, 65% said they spent up to half of their budget on deploying and using such tools. Not surprisingly, then, 28% did not think they were realising the potential of their new customer technologies, while 44% felt that they were.
Another 61% believed deploying such tools provided a competitive advantage, although 8% did not feel like they did.
Capgemini's marketing and digital lead, Paul Bennett, urged marketers to identify efforts that would help drive business results. "Marketing is increasingly being looked at as the growth driver of organisations and, in many instances, marketing already has the tools. It is the techniques and operating models to make the most of these tools that are yet to be industrialised.
"The customer focus and infrastructure is increasingly there, but in many instances old models are hard to apply to the new technology-enablers and, in fact, to new consumer expectations."
Data Breach Affected 1M Facebook Users in PH & INDO
Almost 1.18 million Facebook users in the Philippines and 1.1 million in Indonesia are amongst accounts whose data may have been improperly shared with Cambridge Analytica.
Together with the U.S., the two Asian countries were the top three most affected in the global breach, which also impacted 532,455 in India, 427,446 in Vietnam, and 311,127 in Australia.
Worldwide, some 87 million people might have been impacted by the data breach, including more than 70.63 million in the U.S. alone, wrote Facebook CTO Mike Schroepfer in an update on the company's website.
The breach prompted the social media platform to make several changes to user privacy settings, as well as how data was shared with third-party data providers. These included plans to shutter its Partner Categories, which had allowed third-party data providers to provide their targeting services directly on Facebook.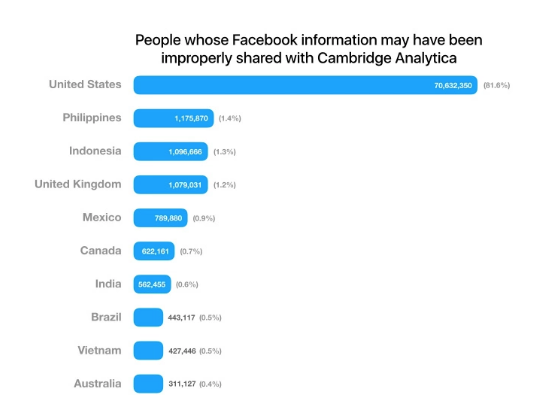 Publicis Media Launches Commerce Practice
The Zenith communications agency has unveiled a new global practice focusing on commerce and marketplace investment as well as content and merchandising.
Headed by commerce global practice lead, Ali Nehme, the new business unit would work alongside Publicis.Sapient and Publicis Communications to offer a suite of enterprise commerce services encompassing technology infrastructure, media, and creative.
Nehme would be responsible for driving the new unit's capabilities and would spearhead a team of regional commerce leads in the Asia-Pacific, EMEA, and Americas regions.
His team would focus on three main areas comprising Strategy and Acceleration, Media and Investment, and Content and Merchandising. These would include services to help e-tailers with their content design and improve their brand visibility and customer experience, said Publicis.
AU Consumers Listen Over Breakfast & Watch Over Dinner
Australians prefer to listen to the radio over breakfast, but turn on the TV at dinner time, according to data from Roy Morgan Research.
Some 27.9% turned up the radio in the morning, in comparison to 3.6% who did likewise after dinner. Another 16.1% also picked up a newspaper at breakfast, compared to 2.5% who did so in the evening. In addition, 13.8% preferred print newspapers while 9.4% turned to the online platform.
Some 58.2% watched TV at dinner, compared to 21.9% who did likewise over breakfast.
Across the board, total media consumption was higher after dinner, with 88% consuming some form of media in the evening, compared to 75% at breakfast.
Consumption also differed depending on age groups, with more than 80% of Pre-Boomers and Baby Boomers consuming media at breakfast, while an average of 73% across Gen-X, Gen-Y, and Gen Z did likewise.
Online platforms including social media, though, saw growing consumption across generations ranging from 5.5% of Pre-Boomers to 33.1% of Gen-Z who used social media, as well as 7.3% of Pre-Boomers and 31.9% of Gen-Z who used other online platforms.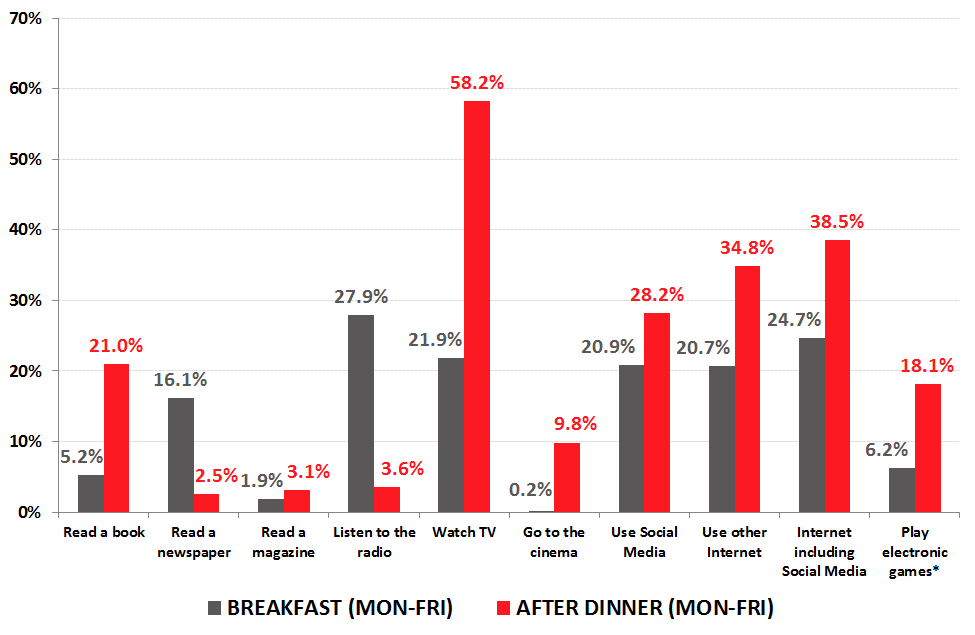 Roy Morgan CEO Michele Levine said: "Exploring media preferences in detail is an essential input for developing effective media strategies to reach existing and potential customers. It's so easy to assume the traditional media belong in the past. This new research [...] shows clearly that TV is still the preferred media after dinner; radio rules at breakfast. However, the overall trends are all foreshadowing a move to a more digital media world."
Impulse Screen Media Sets Up in SEA
The Australian media tracker has launched its first international operations in three Southeast Asian markets, setting up data centres in Singapore, Bangkok, and Jakarta.
Impulse Screen Media offers solutions that monitor visual and audio TV content and provide data insights for marketers to improve their digital media ad placements, attribution, and measurement.
Its technology was touted to be able to push cross-media digital ads that better tapped TV ad spots by analysing keywords or TV image content. This would enable brands to trigger their search or display ads to run within shows that were relevant to their products or run ads on specific products depending on the current weather.
According to Impulse Screen Media, its technology interoperated with platforms such as Google Analytics, AppNexus, MediaMath, and The Trade Desk.
Its co-founder and CEO Paul Garrity said: "As more and more consumers are multi-screening across different devices, brands are realising the significant improvements in consumer engagement and metrics that our technology enables."
Dentsu Makes Acquisition & Investment in U.S.
Dentsu Aegis Network has announced plans to acquire U.S. digital agency M8, in a move the former says will beef up its Hispanic capabilities in the region.
The acquisition also would bolster its operations in Latin America, said the Japanese agency group. It added that M8 would be "aligned with" Dentsu's iProspect brand and rebranded 'M8, an iProspect Company'.
Founded in 2001, M8 is headquartered in Miami and also has an office in Cordoba, Argentina. Its services include digital marketing, creative, and performance marketing.
In a separate announcement, Dentsu said its venture capital arm had made an investment in U.S. production company, Arraiy.
"Dentsu Ventures believes Arraiy's platforms will lower the barriers to content creation and contribute to broadening the base of high-quality content", Denstu said. "Going forward, the Dentsu Group will support the technologies developed by Arraiy and its business growth through the establishment of alliances with Arraiy business partners and the creation of a business ecosystem related to content."
AdvertiserAgencyAPACattributionCross-ChannelDataE-CommerceFacebookPersonalisationTargeting