Indonesia & India to Drive APAC Ad Spend; Smaato Eye China Growth from Spearhead Acquisition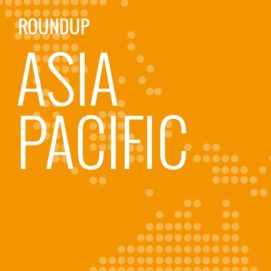 In this weekly segment, ExchangeWire sum up key industry updates on ad tech from around the Asia-Pacific region – and in this edition: Indonesia & India to drive APAC ad spend; Smaato eye China growth from Spearhead acquisition; Thai publishers form co-op to plug inventory gap; Rally changes to Society in Malaysia; and Dentsu lose president in employee suicide fallout.
Indonesia & India to drive APAC ad spend
Indonesia and India are expected to play key roles in driving ad spend in 2017, with the Asia-Pacific region driving global revenue growth.
Worldwide advertising revenue was projected to expand 11.1% next year to hit USD$590bn (£480.74bn), according to IHS Markit. The strongest growth would come from the Middle East and Africa, followed by the Asia-Pacific region, where India and Indonesia "will steal the show", said the market researcher.
"Developed markets are likely to slow down in an 'event-light' year, following the high spending for the Olympics and the US elections", it said, adding that online would continue to be the fastest-growing medium at 14%.
However, IHS noted an expected slowdown in the revenue growth of Google and Facebook, which it said were not attracting TV budgets to their online video offerings "as fast as they had hoped".
Its estimates put 2016 global ad revenue at USD$532bn (£433.48bn), up 7.1%, fuelled by growth in real private consumption. The figure would account for 0.69% of global GDP in 2016, compared to 0.66% the year before.

IHS added that China's 2016 ad revenue was expected to grow to USD$97bn (£79.03bn), from USD$81.6bn (£66.49bn) in 2015. The country's online ad revenue was projected to be 17%, or USD$15bn (£12.22bn), more than TV ad revenue.
"The most mature markets are mostly high GDP per capita markets", it noted. "Israel topped the list at USD$719 (£585.85), followed by Switzerland, and the US. China generated only USD$65 (£52.96) per person in advertising, despite being the second-largest advertising market."
Smaato eye China growth from Spearhead acquisition
Smaato now is officially a Chinese-owned company, following the completion of their sale to Spearhead Integrated Marketing Communications Group for USD$148m (£102m).
First announced in June last year, the acquisition was formalised after the necessary regulatory and board approvals were secured. Smaato would retain their branding and remain independent within their parent company. A new integration team also had been established to focus on creating new marketing tech offerings.
Describing the merger as "synergistic and timely", the two organisations said mobile ads had been experiencing growth worldwide, especially in Asia-Pacific. Beijing-based Spearhead would pave the way for Chinese brands to run their global mobile campaigns on Smaato's platform.
"Spearhead offers Smaato an anchor in China and the greater Asia-Pacific region, to more effectively reach these burgeoning mobile- and app-first markets, and the resources to accelerate the development of new, innovative mobile ad tech, products, and services", they said.
Noting that Smaato had opened their first Asia-Pacific office in 2010, the company's CEO and co-founder Ragnar Kruse said China had been an important market to cultivate. He added that there was increasing demand from Chinese brands to reach international audiences.
Thai publishers form co-op to plug inventory gap
A dozen publishers in Thailand have come together to form a new co-op aimed at addressing the lack of quality inventory and data in the country.
Called Online Premium Publishers Association in Thailand (OPPA), the group of 12 would include Kapook, Nation, and Sanook, and was expected to launch officially next month. D.A.Consortium and its business venture ally, Innity, had been engaged as consultant and technology partner to roll out a consolidated platform for the co-op.
OPPA told ExchangeWire that Thailand currently lacked a "qualified and scalable" inventory pool that utilised quality data. The co-op said they hoped to fill the void and offer more options for marketers to run effective campaigns.
For more details about the new publisher group, read our Q&A piece.
Rally changes to Society in Malaysia
Rally Worldwide have been rebranded as 'Society' in Malaysia, in a move that will see the IPG Mediabrands social media unit now focused on data-driven content marketing.
The agency said they would aim to include real-time targeted content that builds brand loyalty and boosts sales. They also launched a content development platform, Society 48, touted to enable marketers to create trending dialogues among online consumers within 48 hours.
Society Malaysia said they were looking to expand their current team of 75 by 15%, as part of efforts to tap the anticipated growth in global social advertising revenue. The agency's managing director, Stanley Clement, noted that brands in the Asian market had been looking to build original and immersive online content.
"With the sheer volume of conversations happening daily in Malaysia alone, it is not just about creating content, but about creating the right kind of content", said Clement. "It is no longer just about content amplification. Meaningful and engaging content drives brand affinity, which then translates to commerce."
Dentsu lose president in employee suicide fallout
Dentsu President Tadashi Ishii has resigned to claim responsibility for the December 2015 suicide of an employee, whose case has been classified by authorities as death by overwork.
While the agency's official statement did not state the reason for his resignation, Ishii told Tokyo reporters he "will take full responsibility" for the employee's demise. According to Japan Times, the Dentsu executive said the company had failed to improve the issue of overwork despite putting in place various countermeasures.
Tokyo labour authorities had labelled the suicide as "karoshi", or translated as "death by overwork", following their investigations that unveiled the employee had clocked more than 100 hours of overtime work a month.
TagsAd TechAdvertiserAgencyAPACChinaIndiaMedia SpendMobilePublisher