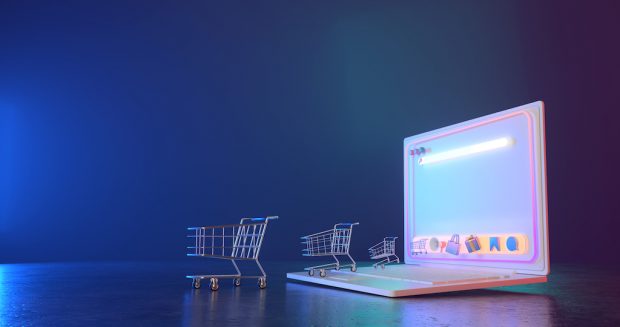 Retail media is a highly exciting and rapidly-growing global phenomenon. However, while it has been embraced by retailers, platforms, and marketers on a worldwide basis, there are sharp contrasts and clear similarities in how retail media is evolving on both a national and regional level. In this article, we explore these variations and how market participants can implement learnings from other markets to enhance their retail media efforts.
APAC
Given retail media's symbiotic relationship with e-commerce, the sheer size of the Asia-Pacific (APAC) market should whet the appetites of those exploring this emerging channel. Digital retail sales are estimated to have hit close to USD$3tn (£2.3tn) in APAC through 2021, surpassing revenues in North America and Western Europe by factors of 3x and 5x respectively. While China continues to dominate global rankings in terms of e-commerce revenue, growth is strong elsewhere within the APAC region, with India (+27%), the Philippines (+20%), and Vietnam (+18%) the most notable examples.
This in turn has driven an extraordinarily high interest in retail media. In APAC's largest market, China, retail media spend is projected to reach USD$55.6bn (£43.9bn), representing an astonishing 40.7% of all digital ad spend within the country. Comparatively, retail media spend in the US is predicted to amount to USD$35.96bn, representing 14.5% of total digital ad sales, suggesting there is plenty of room for future growth within North America.
While China reflects the US in the sense there is a relatively limited selection of scaled retail media behemoths (eg Alibaba and JD.com), the rest of the APAC market closely resembles the somewhat fragmented nature of the European market, with operators working on both a regional and multi-national basis. Retail platforms operate on both a multi-national basis within the SEA region, with examples including Shopee; Lazada; Zalora; and Qoo10, while other successful examples focus on a single country, for instance Tokopedia; Bukalapak; Blibli (all Indonesia); Tiki; and Sendo (both Vietnam). The ability for singular markets to sustain multiple platforms generating billion-dollar-plus revenues acts as both a bullish signal for future retail media growth in APAC, and as antithesis to concerns in Western markets that retail media is a "winner takes all" game to be played only by the likes of Amazon and Walmart.
Given the omnipresence of e-commerce in APAC, aided by the presence of utilitarian "super apps", it is unsurprising that retailers and marketers are constantly trialing cutting edge technologies to bolster their retail media efforts. In recent years the region has seen a surge in social commerce and use of livestreams and short-form video as a purchasing tool. While similar tools are in their infancy in North America and Europe, it is important for retailers to consider how to support such options on their own marketplaces, and for marketers to examine how they can leverage these emergent streams.
Europe
While market fragmentation in Europe is traditionally seen as a barrier to entry and expansion in some cases, this is not true for retail media. The diverse range of languages and consumer digital shopping habits allows for both national and vertical champions to develop, which can then scale internationally, akin to the demonstrable success of participants within the South-East Asia (SEA) region such as Shopee and Lazada.
This diversity is also reflected in the ways in which European retailers are managing their tech stacks for retail media. Partnerships, such as those brokered in the last year between Carrefour-Criteo and Boots-Infosum, are proving the typical route for retailers in managing their retail media stacks within Europe. However, several are pursuing an owned-and-operated strategy via M&A and strategic investments, with a notable example being Tesco's platform, managed by its owned Dunnhumby subsidiary. Brand investment in retail platforms with the aim of bolstering their e-commerce performance, and potential retail media initiatives, have also been seen recently in Europe, for instance Volvo Cars' purchase of a minority stake in carwow.
In the absence of APAC-esque super-app setups, loyalty card schemes are being used as a cornerstone of retail media in EMEA and North America. Speaking in ExchangeWire's recent voxpop on retailer opportunities and challenges in retail media, Boots' Ollie Shayer commented, "Increasingly the data we hold is the currency and is so valuable to retailers because it allows us to really understand consumers. Loyalty card schemes are a big part of that as they provide consumers with a value exchange," adding, "Consumers are increasingly savvy about the way in which they use data and how brands, suppliers, and retailers, use their data, so unless there is a great value exchange they're not going to offer their data to us."
In the years pre-dating the coronavirus pandemic, GDPR was a mainstay of headlines across the majority of digital industries, and Europe continues to be at the forefront of legislative efforts to promote consumer safety. The proposed Digital Services Act, while carrying clauses targeting scaled big tech platforms, also carries further rules on targeted advertising based upon sensitive behavioural information. Such rulings stand to benefit retail media participants, given the medium's first-party and intent-based nature. However, it is advisable that retailers familiarise themselves with the act, given it contains wider rulings on e-commerce practices, such as minimising the sale of counterfeit goods and ensuring accessibility to retail platforms across the EU.
The Americas
Looking at the Americas as a whole, at first glance the conjoined continents strongly mimic APAC in terms of their retail media development. The dominant market of the US is highly exposed to a single player (Amazon), while growth elsewhere is surging. Brazil (+26.8%); Argentina (+26%) and Mexico (+21.1%) join the aforementioned swathe of APAC countries in the top ten by growth.
Turning back to the US, Amazon's sky-high share of total retail media dollars (77.7%) should not prove discouraging to retailers and their technology partners. This high over-exposure simply represents the growth opportunity for other providers, one already being explored by Walmart, Target, and Kroger. The competitive margins of 70%-90% in retail media vastly surpass those of strong-performing verticals such as beauty (38%) and home improvement (34%) will likely lead to further retailers joining the fray, along with movement from non-goods retailers, with the travel/airline industry cited as one sector ripe for retail media expansion.
Of US retailers exploring retail media, one notable factor is their openness to third-party partners. Whether it's Walmart's collaboration with The Trade Desk, or Target's work with Citrus Ad, US retailers are recognising how partners can help their brand partners, and ultimately their customers, via additional functionality and further closing the loop between sales data and marketing output. Kroger has taken this one step further, opening its platform to a number of partners such as Pacvue, Skai and Flywheel Digital from day one, and displaying a willingness to work with multiple others. Speaking to ExchangeWire, Michael Schuh, VP of media strategy at Kroger Precision Marketing, explained how this accountability piece is critical for the future growth of the business, stating, "Retail media is setting a high bar for media performance and accountability in North America. Kroger created our retail media business – Kroger Precision Marketing – over four years ago to help CPG brands be more effective in advertising. The closed-loop reporting of retail media - the ability to compare a media exposure to online and in-store sales - means that greater-accountability for performance is baked-in to our business. Equipped with this first-party sales data across thousands of brands, retail media solutions are delivering sophisticated ad targeting and powerful measurement to CPG advertisers."
As in Europe, loyalty cards are at the heart of North American retail media efforts. As noted by Schuh, "At Kroger, we think about the value-exchange for our customers every day. Millions of households use loyalty programs because they understand that simple exchange: the more you shop, the more you earn in savings, fuel points, cash back, and community rewards. The result is that 96% of our sales are connected to a loyalty account."
Exploration of both on-site and off-site activity, including activation across other rapidly-growing channels, such as CTV. Shuch provided an example of this, stating, "On-site advertising - like product listing ads – will continue to be the core of most retail media business as e-commerce expands. But additional growth is coming from off-site media. For example, Kroger Precision Marketing has launched a private ad marketplace which allows brands to use our first-party sales data for programmatic ad targeting and optimisation. Brands can see actual business outcomes like sales, household penetration lift, and return on ad spend. We also have a partnership with Roku to leverage our sales data for targeting and measurement in streaming TV."
A critical point to conclude upon is that, regardless of market, maintaining consumer trust in retail media is vital for its continued success. As surmised by Schuh, "Consumer trust is the foundation. The premium performance of retail media data is the result of a trusted customer value-exchange. The data is earned and consented. As retail media grows globally, it is imperative to keep earning and protecting consumer's trust."
APACEuropeMarketingMediaNorth AmericaRetail Media